There are dozens – if not hundreds – of food stalls selling nasi katok across the Sultanate. The combination of fried chicken, sambal and a heaped serving of rice for just $1 is immensely popular – but it usually carries razor thin profit margins for those selling, which is why you'll find the majority by the roadside or at small takeaway stalls where overheads are low.
There are exceptions to this rule – Kaka restaurant springs to mind – but for most, scaling nasi katok anything beyond a small-time operation will be a challenge.
Dapur Nenek Mama, located within the first phase of Jerudong Park's (JP) food court, might just be the next exception – because not every nasi katok business can sell hundreds of bottles of their sambal in just a few days.
"We were really caught by surprise at the MSME Festival," said Dk Norafizah Pg Omar @ DKYaty, whose mother develops their recipe and products. "Not only did we sell out most of our flavours – but we were also selected to pitch to supermarkets about getting our product into their shelves."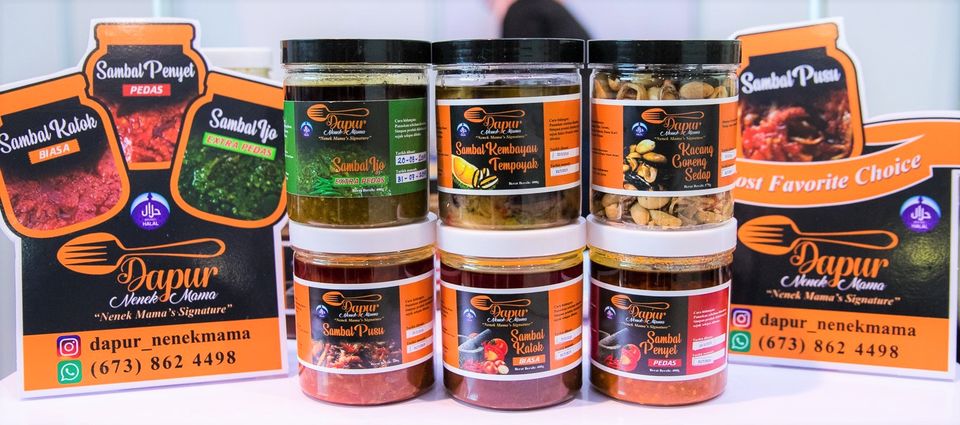 Dapur Nenek Mama is fairly new – less than two-years-old infact – but the matriarch driving the business Norma Hj Daud recently turned 60-years-old.
With just one assistant at home, she prepares sambal in 10kg batches, stirring patiently for at least three hours until the mixture of blended tomatoes, onions and chilli form a thick paste with the oil rising atop.
"For nasi katok, a good sambal is what makes the difference," says Norma. "When it's (sambal) is watery or bland, I immediately know that it's been rushed or not cooked right."
Norma – backed by her seven children – dreams of turning Dapur Nenek Mama into a household name that her family will carry on, long after she's gone. It's her final chapter she says – but the journey has turned out to be anything but smooth sailing, with the family already navigating one store closure within their first six months.
Dapur Nenek Mama debuted at the Promart Food Court at the Abraco Industrial Park in Lambak Kanan in May 2017. The location was close to their home, but rental was steep at a few thousand dollars monthly. The mains on the menu were nasi ayam berempah, mee jawa and nasi lemak pandan, sold between $3 to $5. Business was brisk in the opening weeks, but the overhead proved to be too much for the young business to support – and like many other residing vendors, they vacated towards the end of the year.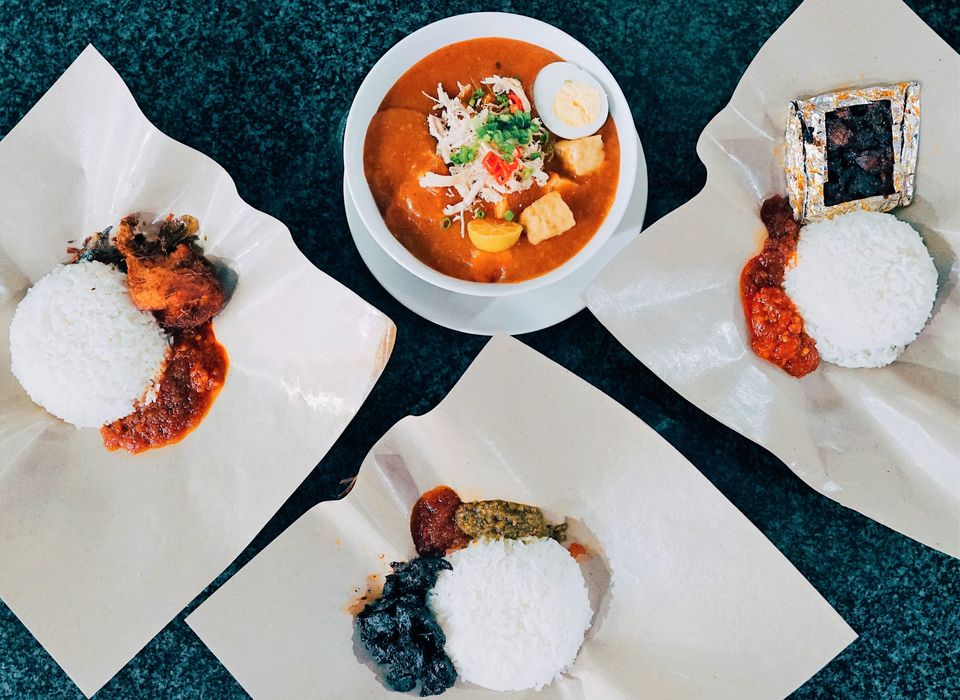 To continue momentum, they operated from home. DKay, who forked out most of the capital to start at Promart, began scouting for alternative locations. They settled on a roadside kiosk at Spg 194 in the residential area of Kg Manggis 2, while applying for halal certification for their home kitchen which they converted into their point of centralized production.
They also pivoted the business to selling $1 to $2 takeaway food, reworking many of their dishes into more affordable versions. "The nasi ayam berempah we made into a $1 version by replacing the whole chicken leg with smaller cuts (of chicken), and we added other nasi katok varities like pusu and pais daging as well," said DKay.
The move paid off. Their sambal coupled with the spiced marination for their chicken without flour was unique enough to earn them a following amongst the dollar crowd. Last November – almost a year after they closed at Promart – Dapur Nenek Mama bounced back by opening their second outlet at JP's food court.
Today, each sambal Norma releases seems to be a hit. Their sambal kembayau served with tempoyak – a form of pickled durian – already has a waiting list. Perhaps the bigger question is why did Dapur Nenek Mama only start two years ago?
"My mother had always dreamed about being a cook and running her own small business," said DKay. "But to raise us when money was very tight, she had to give a lot of that up. She put us first. She made sure we did well in school and when we were older, she sacrificed her savings so that we could study abroad.. and along the way and I think she forgot what her own interests were."
On Mother's Day two years ago, DKay and her elder siblings gathered together and told their mother that as their gift back to her, they would back her financially to realize her childhood dream.
"Now it is her time to shine."