Out of luck in searching for jobs related directly to their academic backgrounds, a group of six Bruneian graduates in science, engineering, technology and linguistics arrived at the doorstep of Brunei's biggest textile production facility located in Jerudong in the final quarter of 2017.
Lead by its owner Stephen So, Famous Textiles (FT) produces some 250,000 shirts monthly – almost entirely for export – which are supplied to renowned brands including Disney, Hard Rock and Universal.
FT's 42,000 square feet factory with 360 sewing machines and 200 employees has been a well-oiled machine since setting up in 2003 as an extension of its parent company, Hong-Kong based Booma Fat Garment. But it's So's role in mentoring the six Bruneian graduates – who entered FT under the government-sponsored i-Ready apprenticeship programme – that's set to make local headlines.
"They (the i-Ready trainees) have decided to set up their own garment manufacture company called Cerita Fabrikku," said So. "It will be locally run, locally owned with 100% local sewers.. which I think might be a first for the garment industry in Brunei."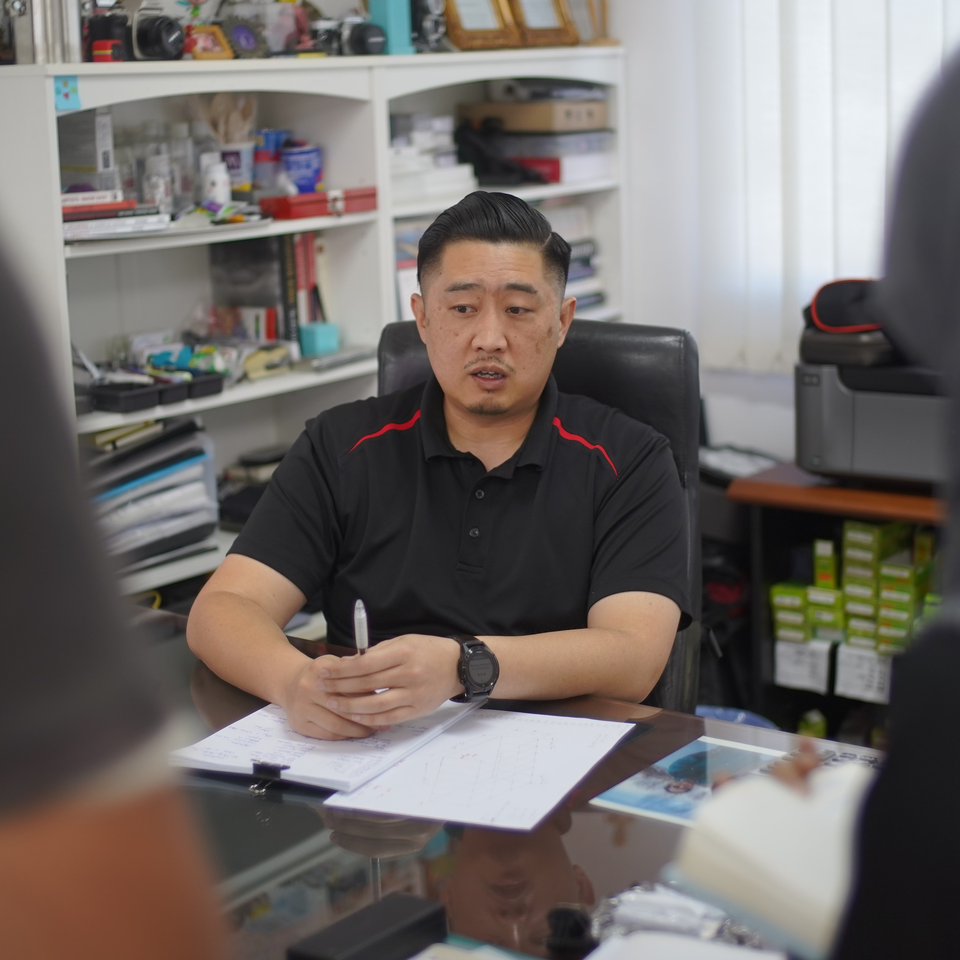 Since setting up at the Ministry of Culture, Youth and Sports' (MCYS) Youth Development Centre (YDC) two months ago, Cerita Fabrikku has made over 5,000 shirts for Hard Rock and Universal Studios through a sub-contract supply agreement with FT.s
"When FT started in Brunei nearly 20 years ago we began with 400 staff, about 10% who were Bruneians," said So. "Within a week they had left. But now we are starting to see a (gradual) shift, and Cerita Fabrikku is at the centre of that change."
Building local competency
If Nurul Fatini Hj Abdul Malik had to guess what her first formal apprenticeship would be after graduating from the UK three years ago it would be working inside a laboratory and not a factory.
The diminutive MSc in Medical Molecular Microbiology and Immunology graduate from the University of Aberdeen's response to being unemployed was to keep an open mind and upskill through taking a short sewing course making baju kurung (traditional Malay dress) at IBTE.
On September 11, 2017, she got her opportunity, submitting an i-Ready application to be a production supervisor trainee at FT through JobCentre. Eight days later she began her first day with five other Bruneians, not knowing that she would go onto start and lead her own garment company two years later.
"It was what I (initially) expected; there was no air-conditioning and we sat for hours on the sewing machines learning all the basic processes," said Nurul, who is now the CEO and product development officer of Cerita Fabrikku.
"What made things challenging wasn't just the learning curve (at FT) but the fact that not many around me (friends and family) understood why I would put up working in a factory; something entirely outside what I had studied in university. But it was absolutely necessary for us to function effectively as supervisors, and looking back it was even more important for us because without it there would be no way we could have started our own garment company."
After Fatini's batch, another four i-Ready graduates arrived as trainee supervisors, designers and programmers. Collectively, they were the first batch of Bruneians to work at FT in several years, and their rapid development renewed discussions amongst FT's management if locals could be trained not only as supervisors but also as sewers.
Six months after the i-Ready trainees began, So entered discussions with the Centre of Capacity Building (PPK) – who provide vocational training to secondary school leavers – to develop a two-month sewing operator course for Bruneian youth.
So then put pen to paper and committed 100 conditional offers of employment (COE) to FT for those who completed the course. FT would also lease machinery to PPK for the training and develop the course's content, that is today delivered today by the six founders of Cerita Fabrikku.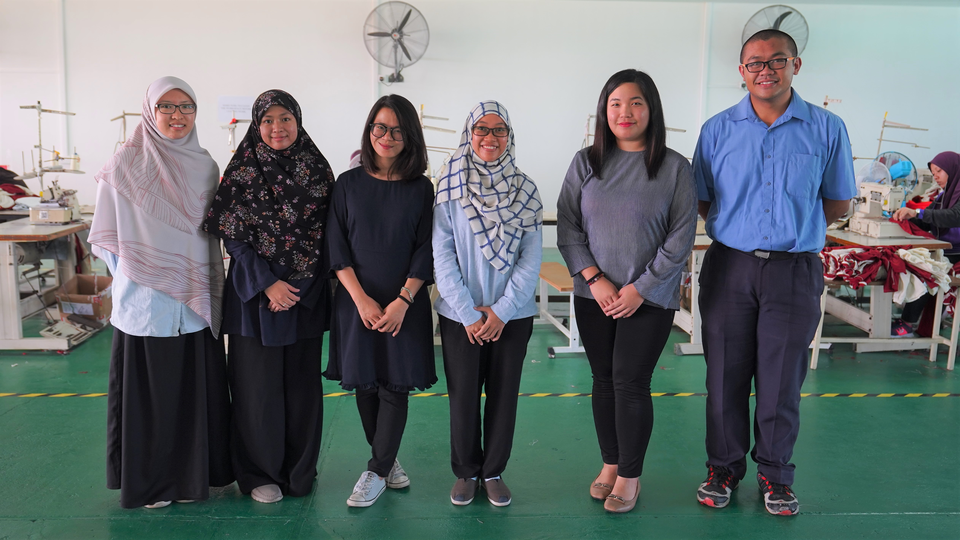 The Cerita Fabrikku experiment
A basic pipeline for a local workforce in Brunei's garment industry was beginning to take shape; with Bruneian designers, sewers and supervisors filling the ranks of FT gaining experience producing export quality garments.
About 18 months in, the six production supervisor trainees saw their development matched by those of the local sewers they trained, and felt the time was right to initiate a discussion on a potential business idea they had been mulling over with So.
"From our research, we learned that Brunei once had a growing textile industry (in the late 1990s) but many closed down around 2002 due to the economic downturn," said 28-year-old co-founder and procurement officer of Cerita Fabrikku Mohd Zulhilmi Hj Chuchu.
"Today, FT is the largest (producer) for export and AEWON is the largest (producer) for the local market. There are not many new manufacturing-based garment companies entering the industry, which opens up an opportunity for us (graduates) to try and create our own local operation."
So – who had already been mentoring local clothing startups – welcomed the proposition, and seeing the potential in them as business partners leased them equipment and provided them a contract to supply to FT. He also introduced them to an acquaintance and board member to Darussalam Enterprise (DARe) – Brunei's national body for SMEs – YB Hafimi Abdul Haadi.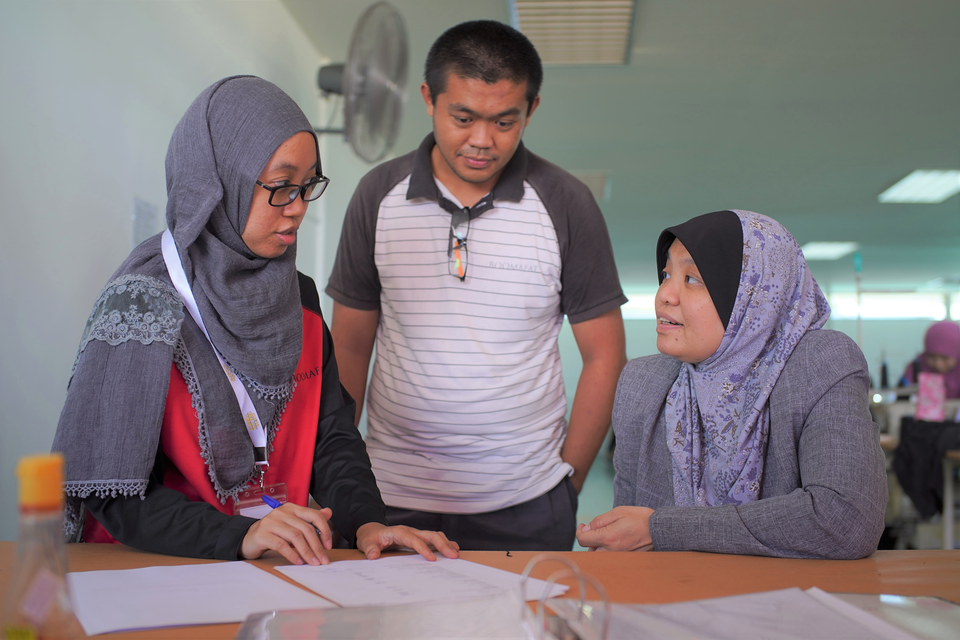 "It was through YB Hafimi's mentorship that we were able to put together a business plan proposal for MCYS to use their space at YDC," added Mohd Zulhilmi, a Biomedical Science graduate.
"With the space, equipment from FT, we then absorbed 11 PPK graduates from FT into our operation and began Cerita Fabrikku."
A collective effort
A month after graduating from Universiti Brunei Darussalam with a degree in Applied Physics, Julia Berawoh – much like her counterparts – applied to FT without any experience in sewing or garment manufacture, desperate not be left out of a potential employment opportunity.
Today, the 28-year-old has her hands full; splitting time between managing Cerita Fabrikku's production line and teaching sewing at PPK.
At their site in YDC – a single, open workshop room – Julia explains that production begins with receiving product specifications and bundles of pre-cut fabric which are then stitched together in parts, each by a different operator, progressing down an assembly line until the garment is complete and ready for inspection.
There are 12 steps to make a t-shirt or pants and 16 for a polo shirt. It's labour intensive; sewers must be skilled in using single needle, overlock and flatlock machines. Designing and printing is still done by FT, but the founders plan to one day execute the full suite of garment manufacturing in-house.
So believes that Cerita Fabrikku can absorb 10% of FT's production in the short-term, but the startup ultimately hopes to grow beyond subcontracting in building an operation that can one day rival the likes of FT's export.
"We hope to be Brunei's biggest all-local textile producer in the future, but for now we have to focus on the challenges in front of us which is raising the funds for sustaining (or initiating) routine operations, before we can roll back the sales to cover back (the costs)," said Fatini. "We need $20,000 (about half for salaries) for the initial startup cost for the first three months, and we are still looking for investment, grants and loans."
Over the next few months, Cerita Fabrikku has set an ambitious target of taking local orders while continuing subcontract work, and will aim to have a minimum output of 5,000 pieces a month.
"How they've (the founders) have come together and gelled almost like a family, despite not knowing each other two years ago, shows that our youth have the will and teamwork to break new ground," said YB Hafimi. "But it's also showed us the role government agencies and bigger businesses have to play in enabling startups to have a supporting environment to thrive in."