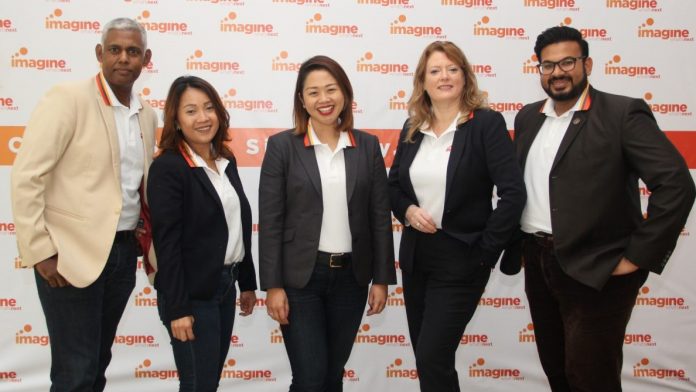 TelBru's new subsidiary imagine will be rolling out mobile services in 2020 and is promising potential customers that they'll be able to keep their existing phone numbers while switching providers.
In a press conference last Friday to announce their rebranding, imagine's CEO Suzanna Suharju said that they would also be retailing mobile phones to complement their mobile coverage plans.
"We will be offering competitive bundled packages (broadband, mobile) which can be customised to offer better value," she said.
"We are working to make sure the rates we are offering to the public are competitive… The difference now is that not only will you have the ability to choose between the current service providers, but you will also have us to choose from."
Brunei residents have previously been unable to keep their mobile phone numbers when switching service providers. Imagine said they would announce their new rates and packages in January 2020.
Vice President of imagine's marketing Dona Johan said their offerings would be "improved and more competitive" than previous TelBru products. She clarified that this does not necessarily mean reduced rates, but improved value through offering wider options including more tiered rates and combined packages.
TelBru's current customers have the option of sticking to their existing packages or subscribing to the new packages. However, all new products by TelBru – as well as their physical and digital assets including stores and online presence – will be rebranded as imagine.
Imagine's annoucement comes after the government-owned Darussalam Assets (DA) announced last February that all network infrastructure in Brunei would be consolidated under a single entity called Unified National Networks (UNN).
In turn, UNN will sell connectivity to Brunei's three telcos: DST, Progresif – who have previously been mobile focused – and TelBru – previously the only fixed line and HSBB provider in Brunei.
DA – who are the sole shareholder of the three telcos – said the restructuring would level the playing field for each company, making the telco sector more competitive. The move alters the three telcos' business models by repositioning their focus towards sales and marketing over developing and maintaining telco infrastructure.
TelBru was incorporated in 2002 as a public limited company and became fully in operational in 2006 as the government's Department of Telekom Brunei – the Sultanate's first telco organisation set up in 1952 – was phased out.