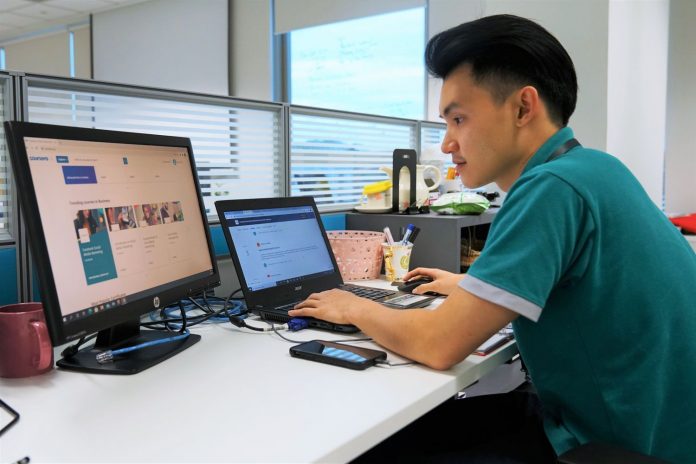 Darussalam Enterprise (DARe) is offering 300 fully sponsored slots for micro, small and medium enterprises (MSMEs) to access business-related courses from online learning platform Coursera.
DARe is offering the Coursera courses under its Industry Business Academy (IBA), which has trained 7,900 business people through physical and online workshops and classes since 2016.
IBA began offering Coursera courses in March last year, with over 200 MSMEs registering accounts as demand for virtual learning accelerated due to the COVID-19 pandemic.
Each MSME can participate in up to five courses from a list of 300 courses in eight key business domains:
Marketing & Sales
Innovation & Design
Human Resources
Finance & Accounting
Business Ops
Business Skills
Data Skills
Technology Skills
For businesses to be eligible, they should be registered under under the Registry of Companies and Business Names (ROCBN) and fit the national MSME definition of having less than 100 employees, while also having an existing product or service.
Muhd Zulfadli Hj Matamit of Drop By Enterprise, who enrolled for Marketing in a Digital World, said the course provided essential knowledge on how to implement marketing for his own products.
"I took this course to improve my knowledge of how marketing works and it was better than I had expected," he said. "This course gives me the idea of how marketing works and the basics of the 4Ps. I love it because it gives me examples and hands-on exercises/assignments that could be beneficial for me when I want to tackle the problems I encounter in marketing."
Coursera is one of the world's largest massive open online course providers (MOOCs) with over 45 million users and over 3,000 courses created by leading universities and corporations who offer users verified certificates for completion.
Courses approximately take two to 12 weeks to complete and include interactive exercises and tests. Users can download or access the learning materials on-demand or offline, making it ideal for businesses to learn on their own time.
Coursera also has guided projects where participants can learn specific skills with subject matter experts under two hours.
Applying for a slot can be done online through DARe's website, with successful applicants receiving an email with login details for their Coursera account. Users will be able to access Coursera courses up to February 23, 2021.