Fintech startup BruPay's eWallet application will carry no transaction or registration fees for customers and merchants who sign on and make purchases using the newly launched service.
With an increasing number of cashless payment options in Brunei, BruPay's unique selling point is its promise to only levy a 2% withdrawal fee when customers or merchants withdraw or transfer funds out of their eWallet into their bank account or at BruPay's cash counter at their office in Kiulap.
"You're not going to use the (digital) eWallet if everytime you pay there's a charge," said BruPay CEO Sophian Mat Suny after their app's official launch yesterday at Avenue 41 in Kiarong.
"If money can change hands without fees, you're more inclined (psychologically) to do it. The only time when there is a charge is a two percent fee when you transfer out money from your BruPay account. We aim to help small businesses, who don't have card terminals or their own physical stores."
Like other eWallet services, opening an account with BruPay shares similarities to opening a bank account – it functions as its own "wallet" that can be used to store, receive and pay out money at the discretion of the user.
At present, depositing money into the eWallet is done through an online bank transfer from BIBD or Baiduri or through a cash counter at BruPay's office, but users will soon be able to do so at participating merchant stores.
Sophian said that as more banks accept transfers, and more users and merchants use the application, BruPay will be able to create a "truly" cashless ecosystem.
"If you can pay for (more and more) things conveniently using the app (over time) then you're less likely to cash out or transfer out money from the eWallet," said Sopian.
"For example, if you receive payment through BruPay, instead of transferring those funds immediately into your bank account, you keep it in the eWallet use it to make purchases from other merchants on BruPay or transfer another user money through BruPay."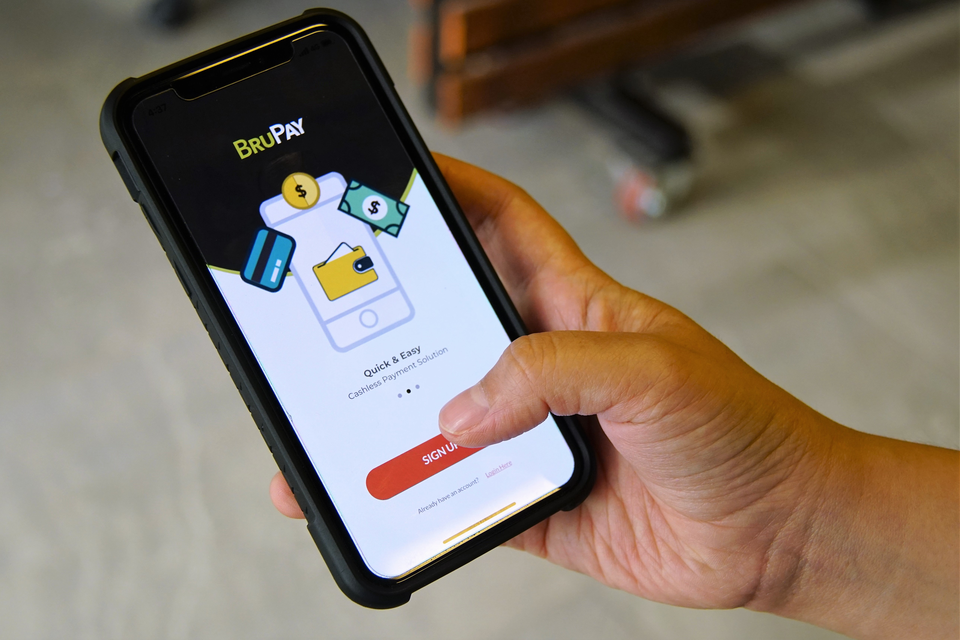 Sophian explained that payment or money transfer on BruPay can be made directly to a merchant's profile, through a QR code or by keying in the recipient's phone number.
BruPay will also offer an online marketplace on its application, enabling businesses to list and sell their items and services at no charge. Merchants will be able to sign up for a 'back office' system that tracks sales and generates performance reports.
Currently operating within AMBD's regulatory sandbox, BruPay allows customers to hold up to $1,000 in their eWallet account, while businesses can keep up to $15,000. Sophian said these caps would likely be increased over time as the startup looks to gain full license from AMBD after a year.
The startup's plans to sustain itself include investing the funds circulating in the BruPay ecosystem into a fixed deposit.
BruPay is available for download on Apple's App Store and on Google Play. BruPay's office is located at Block F, Unit 1, 1st Floor, Setia Kenangan 2, Kg Kiulap. To get in touch contact +6732231313 or biz@brupay.com.