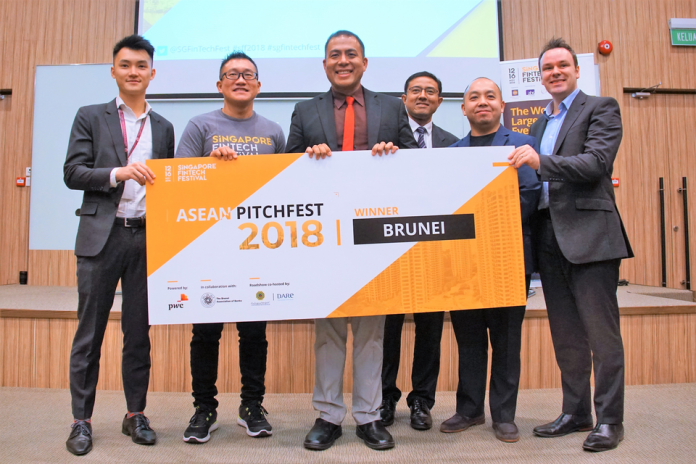 Fintech startup BruPay has received approval from Brunei's central bank Autoriti Monetari Brunei Darussalam (AMBD) to begin engaging the public for the trial phase for its digital/e-wallet service.
BruPay's CEO Sophian Mat Suny said yesterday that they would be targeting a few hundred businesses to be integrated as merchants on its mobile platform before the end of 2018;  allowing users to make cashless payments or transfers through the BruPay application.
Sophian explained that BruPay has prioritized convenience in developing the different methods for users to initiate payment or money transfer over the app; they can be made directly to a merchant's profile, through a QR code or by keying in the recipient's phone number.
Arguably the standout proposition by BruPay is that there will be no commission (transaction) fee shouldered by the merchant, unlike other card-based digital transactions, which typically charge 3% per transaction.
"There will be no registration, download or commission fees. Only a 2% withdrawal fee when a user (merchant or customer) makes a transfer from their digital wallet on BruPay to their bank account," said Sophian at BruPay's office in Kiulap.
"The transactions over BruPay are backed by block cipher encryption making them the most secure platform for payments in the country."
Digital wallets – as the name implies – functions like a wallet but whose money is held online. Digital wallets allow for money to be sent and received seamlessly over an internet connection, but the wallet's balance – in principle – does not necessarily sync automatically like a debit card does with its user's bank account.
Instead, the user has the freedom to increase their e-wallet's balance by transferring money from their bank account and can do the reverse to withdraw cash.
Aside from saving on transaction fees, BruPay merchants will also have the option of posting an item list which the public can shop from.
"Using the item list, businesses will also be able to keep tabs on their inventory," said Sophian.
BruPay made their application to AMBD in November 2017 and received approval on August 24, 2018. Their trial phase will be done within AMBD's regulatory sandbox.
BruPay won the Brunei leg of the Singapore Fintech Festival's ASEAN PitchFest earlier on Monday, earning them a booth to promote their services at the festival this November. BruPay will also have the opportunity to visit over 20 financial institutions in Singapore to discover the latest fintech solutions.
Three other Brunei fintech businesses pitched: payment solution WasapPay, Islamic crowdfunding platform Jana Modal Ethis and digital remittance service Chynge.
They were judged by representatives from AMBD, DARe, Monetary Authority of Singapore, the Brunei Association of Banks and PricewaterhouseCoopers.
To learn more visit BruPay's website and social media channels @brupay on Facebook and Instagram.