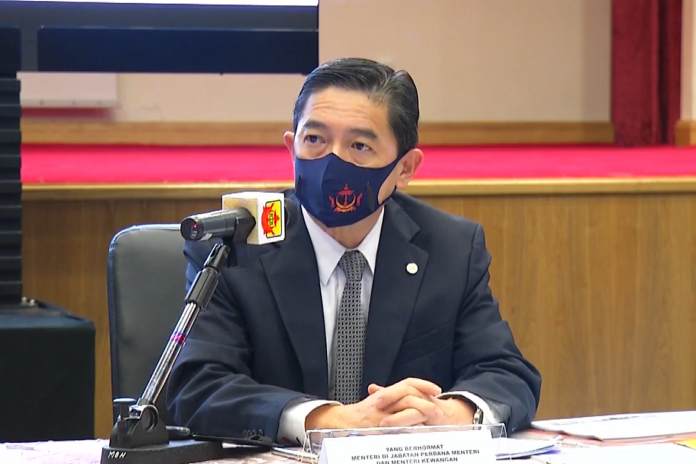 The Ministry of Finance and Economy have announced economic relief measures to help businesses mitigate the impact of the growing second wave of COVID-19 in the country.
The fiscal and monetary-based measures – similar to those enacted in March last year – include salary subsidies and tax and utility discounts, as well as loan deferments and initiatives by government-linked companies (GLCs) and statutory bodies.
Second Minister of Finance and Economy and Minister at the Prime Minister's Office YB Dato Seri Setia Dr Hj Mohd Amin Liew Abdullah said at the COVID-19 press conference earlier today that the interim measures are aimed at helping offset potential losses from the outbreak and safeguard local employment in the private sector.
Below are the measures effective August 1 to December 31, 2021.
Deferment of TAP and SCP
Deferment of the monthly contributions of 5% to the Employees Trust Fund (TAP) and 3.5% to the Supplemental Contributory Pension (SCP) for employees with monthly salaries less than $1,500.
Employers must repay the contributions in a year's period. Applicable to micro, small and medium enterprises (MSMEs) – businesses with less than 100 employees.
25% salary subsidy
The government will subsidise up to 25% of the monthly salary for those employed by MSMEs and earning less than $1,500. Applications for subsidies and contributions can be done by downloading the required forms from TAP's website and emailing payments@tap.com.bn
SCP contribution for the self employed
The government will fully fund SCP for the self-employed to ensure their survivorship fund is unaffected. The fund provides monthly payouts of $400 to the dependents of those that pass away before 60, in addition to paying out the total SCP amount.
Discounts
For affected businesses, the government provides the following discounts: 50% off corporate tax for 2022; 30% off rental rates for MSMEs occupying government buildings and; 20% off water and electric bills.
Exemption of customs and excise duty for personal hygiene products
Loan deferments and waiving of bank fees
Deferment on repayment of loans or financing for businesses and individuals as well as waiving of banking fees and charges for trade, payment and interbank transfer. Deferments are at the request of debtors and subject to approval by banks.
According to the minister, these measures were maintained by the Brunei Darussalam Central Bank (BDCB) and the Brunei Association of Banks since their announcement on March 20 and 30 last year.
Other initiatives by GLCs and statutory bodies