Brunei's first online pet store Nimanja officially launched their own line of cat litter earlier this morning, marking the startup's first step in their ambitious plan to develop and distribute pet supplies across Borneo.
Managing Director of Nimanja Anderson Lim (Pictured L) said the website, first conceived last July and went live later in October, now receives between five and 20 orders everyday, with at least 500 bags of litter sold since the first variety launched in December.
"Since introducing our first litter – the Nimanja Clean Cat (Orange) – we've gone on to introduce three others; Savage, Pet Planet and Manja," said the 21-year-old, whose parents pioneered Brunei's first dedicated pet store, Petlink, nearly 30 years ago. "We've gone to the same manufacturers in China that the leading international pet brands order from so the quality is very much the same; but without the mark up of a premium brands – resulting in a much cheaper price for the customer."
A 25 kilogramme bag of Nimanja clean cat retails for $12.80 – less than half the cost (per kg) of established brands. The 20kg bags of Savage, Pet Planet and Manja are being sold at the same price. Their inventory currently offers over 3,000 products under 47 brands imported from across the world including the US, Germany and Thailand.
Nimanja's growth has also been fueled by the demand for convenience; the website offers free, same day delivery for orders above $50 in Brunei-Muara and free, one day delivery period for orders $100 and above made from Tutong and Belait.
Anderson added that Nimanja's litter will soon be shipped across the border to Miri, with development for their own pet food and snacks next in the pipeline – after they are able to secure a new warehouse that can store their increasing stock.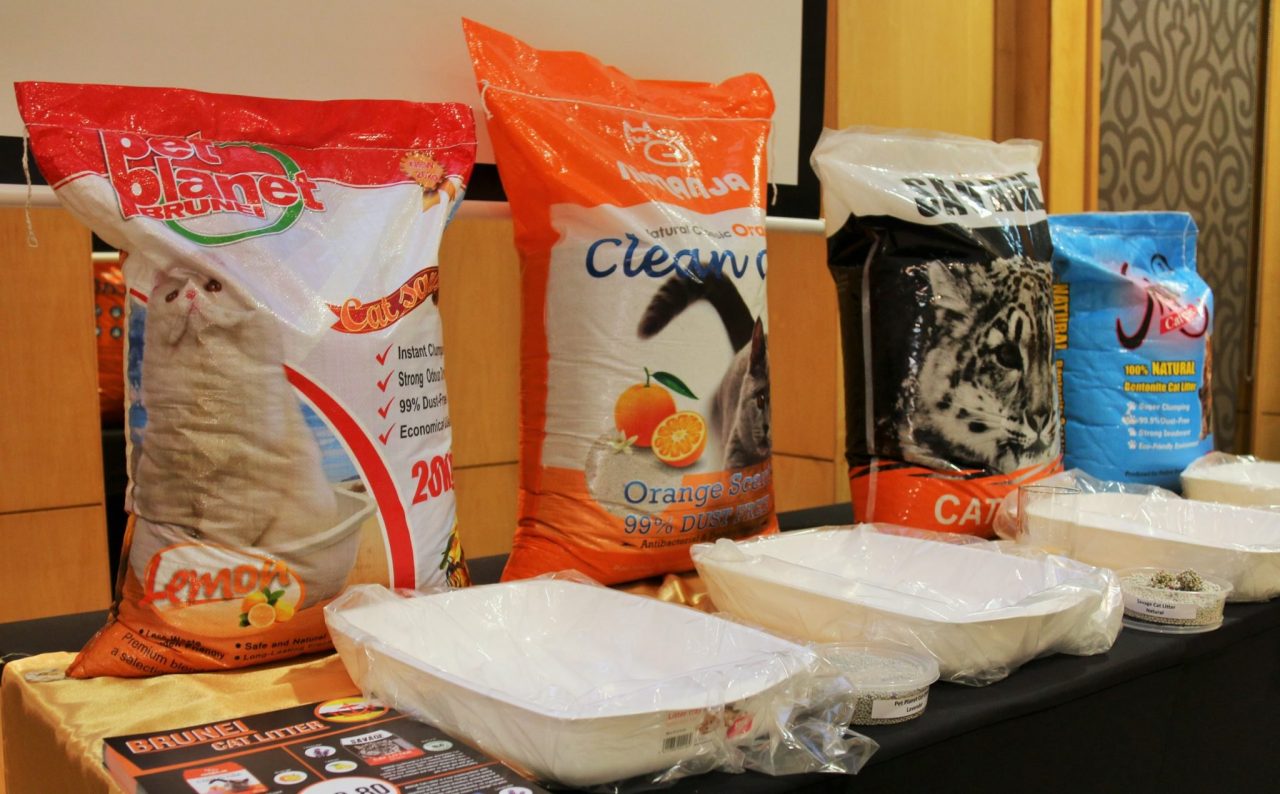 Nimanja's cat litter which offers 10 different scented products under four brands.[/caption]
"We are also a certified distributor for several international pet brands. Together with the Nimaja line, we are looking for way to export these to our neigbouring countries," said Anderson, who is still studying Financial Economics and Mathematics in New York and entrusts a team of seven – six who are Bruneian – to run operations on the ground, while he continues to manage and strategize Nimanja's expansion, which initially began as his summer project.
Anderson also shared that his wider ambition is to turn Nimanja into an online marketplace – much like Amazon; which first began selling books and branched out to other products – but says he is focused on building consumer trust in his platform and buying online, believing it will lay the necessary foundation for marketplace to succeed.
Yesterday's launch also saw the introduction of Diamond Pet products from the US, targeted at pet owners looking for premium quality, grain free options to feed their pets. Anderson also announced a partnership with local digital promotion and loyalty mobile app SnapFeed, to house Nimanja and other businesses under the Petlink group, which will allow customers to collect points and redeem rewards with purchases.
US ambassador to Brunei Craig Allen (Bottom R), who attended the launch as guest of honour, also joined Brunei blogger Rano Iskandar (Bottom L) and Managing Director of SnapFeed Ting See Chung (Top R) in talking about entrepreneurship in Brunei and while also sharing their thoughts about Nimanja's rise to become of the Sultanate's largest online retailers.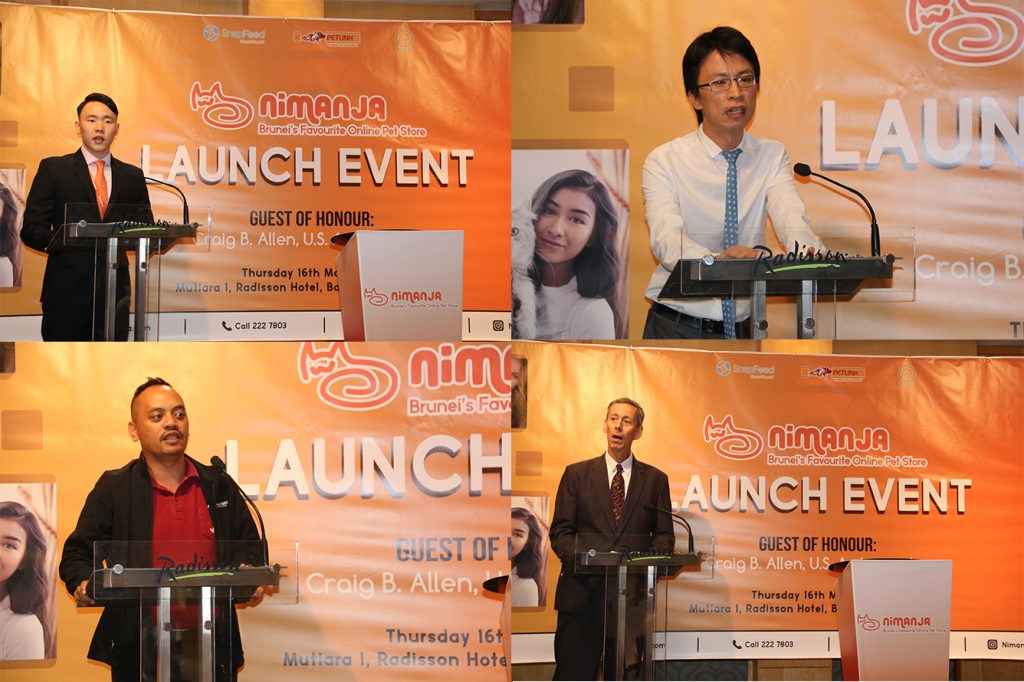 Shop online at their store www.nimanja.com or order through phone at 2227803. Nimanja also accepts cash – and will soon accept card – upon delivery.