Brunei's biggest Gerai Ramadhan (Ramadhan Foodstalls) opposite the Hassanal Bolkiah National Stadium has returned in a downscaled format with 178 booths and a maximum concurrent visitor capacity of a thousand people.
The number of booths is less than half the capacity compared to editions before the COVID-19 pandemic, with the currently layout taking up just over one parking lot, with previous years filling up at least two full-sized lots.
Vendor booths and walkways are also more spaced out, with public access limited to three entry points; where visitors have to scan their BruHealth code and receive a numbered ticket which they have to return when leaving.
These newly implemented standard operating procedures fall within the government's early endemic phase guidelines, as the country now faces a dwindling third wave of COVID-19.
Organised under the jurisdiction of the Ministry of Culture, Youth and Sports, the Gerai Ramadhan Stadium prominently features youth-owned businesses. This year, 38 youth enterprises have joined; receiving a discounted rate of $250 to set up for the fasting month, while regular vendors are charged $350.
The open air, makeshift foodstalls of the Gerai Ramadhan are a highly anticipated, annual staple of the local food and beverage (F&B) scene; operating between 2pm until the breaking of fast. Here's a quick look into who's set up shop.
Introducing smashed burgers at Gerai Ramadhan: Snapburgers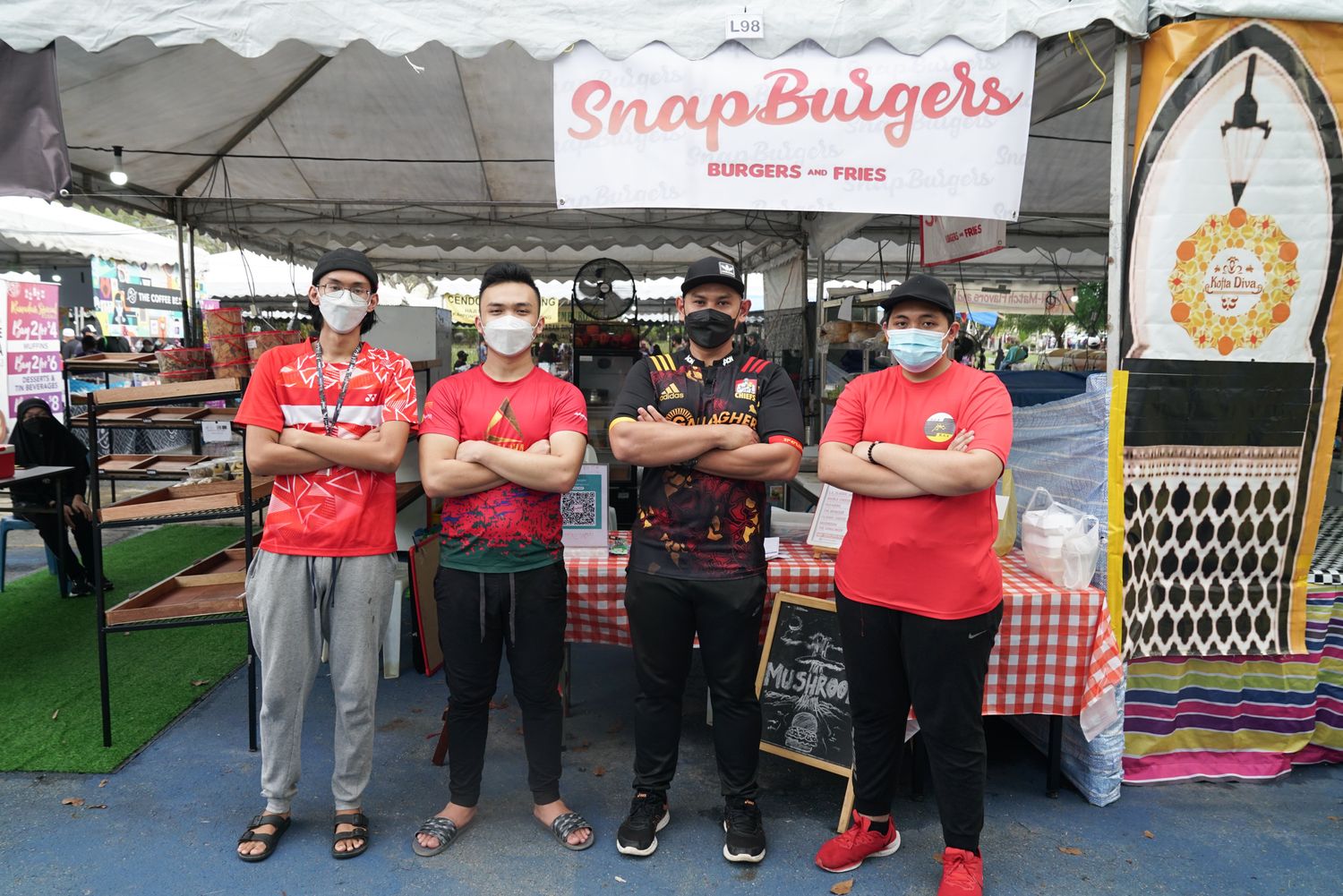 With affordable rental and high customer traffic, the Gerai Ramadhan is an ideal starting point for F&B entrepreneurs. Amongst the newcomers this year are Snapburgers, who are hoping to gain wider recognition for their smashed burgers.
As co-founder Mohd Hekmal Hj Mohd Saleh explains, smashed burgers use patties made fully from beef, prepared in balls that are only pressed down into patties when grilled on the pan. The result is a patty with a larger seared surface area, which its proponents claim offers better texture and taste.
"Me and my partner loved having smashed burgers abroad, so we thought it would be a good idea to open it as a business in Brunei because not many are using this concept," said Mohd Hekmal, a mechanical engineer by profession.
Having set up in Kota Batu over last year's Ramadhan, Snapburgers has since moved to a small unit near the Salambigar mosque, but for this fasting month, are focusing all their resources to man their stadium booth at L98.
"We are ready this year for the Gerai Ramadhan to really expose our brand to as many visitors as we can. Hopefully we can increase our customer base, which will carry over after the Ramadhan period," added that 33-year-old.
Grilling local clams with cheese: Lukanlicious
There is no shortage of freshly grilled seafood at Gerai Ramadhans across the country, so carving out a niche has its advantages, especially for those looking to build a brand that will last beyond the month of Ramadhan.
Saini Hj Ali and his family's Lukanlicious is distinct: focusing only on grilling locally caught clams mixed with different toppings, the most notable and popular of which is cheese.
"Serving grilled lukan was really a family thing in the beginning. We're all from Belait, so whenever we would gather all together, we liked to enjoy lukan," said Saini, who is operating at booth L10.
"From there we slowly started serving it to friends and then eventually colleagues. Everybody loved it – so why not make a business out of it?"
With the Hj Ali family based in different parts of the country for work, you can order Lukanlicious from five different numbers held by different siblings; three based in Belait, with one in Gadong and the other from Mengkubau.
Entrepreneurial brothers establishing their own brands: Stack Cafe and Weing Chicken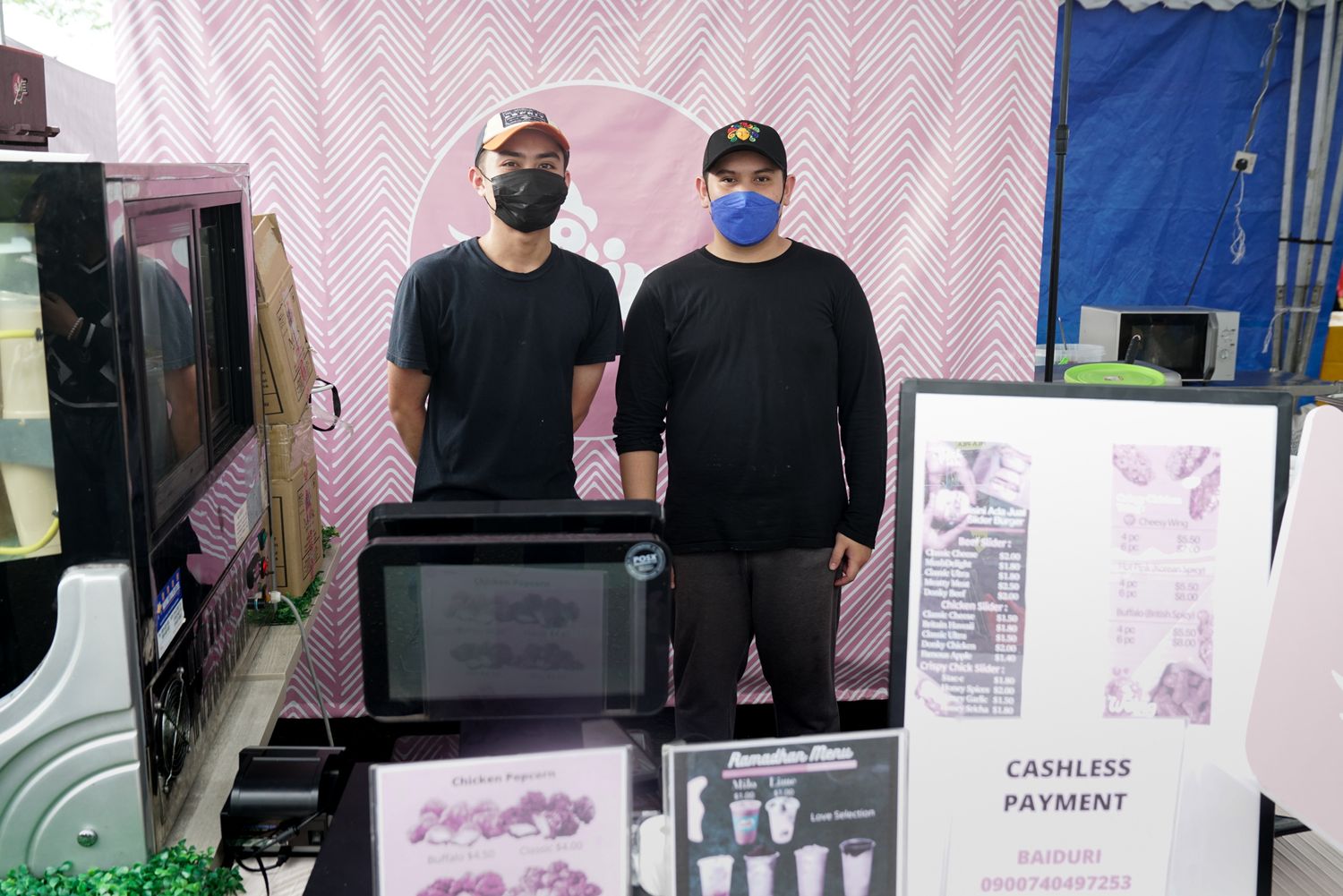 A graduate in Culinary Arts from Malaysia's Management and Science University, 31-year-old Md Abd Muiz Hj Kamis has been using the Gerai Ramadhan annually as a testing ground for what food and branding will stick with customers.
In 2019, he trialed three brands – Meojus, The Famous, and The Melted Yellow – which he has since narrowed down and rebranded as The Stack Cafe, which serves primarily burgers in a small outlet opposite the Madang mosque.
At this year's Gerai Ramadhan, Muiz and his 26-year-old brother Md Zakwan Zainol Ariffin will take turns to manage their shared booth at L191, offering mini burgers and fried chicken.
Weing offers either chicken wings, chicken popcorn, or chicken tenders with either toppings of cheese or different types of hot sauce. Meanwhile Stack is trialing mini burgers or sliders with either chicken or beef patties in 14 different variations.
A believer that cohesive branding is a key differentiator in today's social media era, Muiz has developed a distinct white logo and pink colour palette for his brother's fried chicken brand Weing.
"We are here to build our brands of course," says Muiz. "But also to prove that even though both of us don't have jobs, we can still survive and make it by running our own businesses."
Dreaming of one day having their own spot: Raef Coconut Shake
A good portion of the vendors at Gerai Ramadhans are part-time, with some operating solely through pop-up events.
For them, annual or periodic events provide an opportunity to productively spend time – earning both money and experience – which may lay the foundation for a full-time pursuit in the future.
One such family is Raef Coconut Shake, who began selling from a hut at Tungku beach on weekends in 2015, when the site was still open to the public.
"Our aunt from Miri used to sell this coconut shake when she was in Brunei; after she returned, we decided to just continue," said Hafila Hasmy, who operates their L129 stall alongside her brother and parents.
"We also sell my mother's cooking, mostly different types of cucur (fried fritters): banana and sweet potato, as well as penyaram (fried flour cakes). We're hoping to attract a lot of customers; maybe one day, we can open our own restaurant."