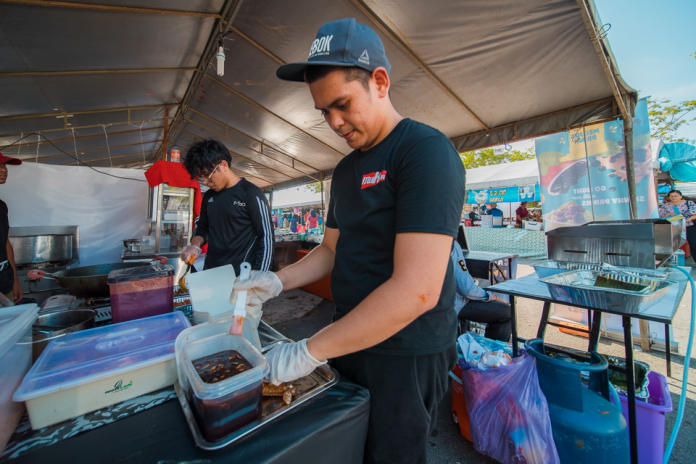 The Ministry of Culture, Youth and Sports (MCYS) have prioritized young local entrepreneurs for the Gerai Ramadhan at the Hassanal Bolkiah National Stadium this year, with 85% of the vendors between 18 to 40-years-old.
The move comes after His Majesty the Sultan and Yang Di-Pertuan of Brunei Darussalam's call at the last National Youth Day for more opportunities to be opened up for Brunei's youth to delve into entrepreneurship.
205 businesses have taken up 400 booths at the Gerai Ramadhan Stadium, with local youth offered a $100 discount on the regular rental of $350 per booth, according to the appointed event manager FS Create Company.
"As a youth founded company ourselves managing the Gerai Ramadhan Stadium is an opportunity for us to show that we can run a big event smoothly," said FS Create's founder Syaza Haris. "This is our first (Gerai Ramadhan) as we try to move the business towards event management having started out in apparel printing."
For the vendors – the majority who are fasting as they cook under the sweltering afternoon heat – the Gerai Ramadhan is an opportunity to make quick sales and draw long-term customers to their brands.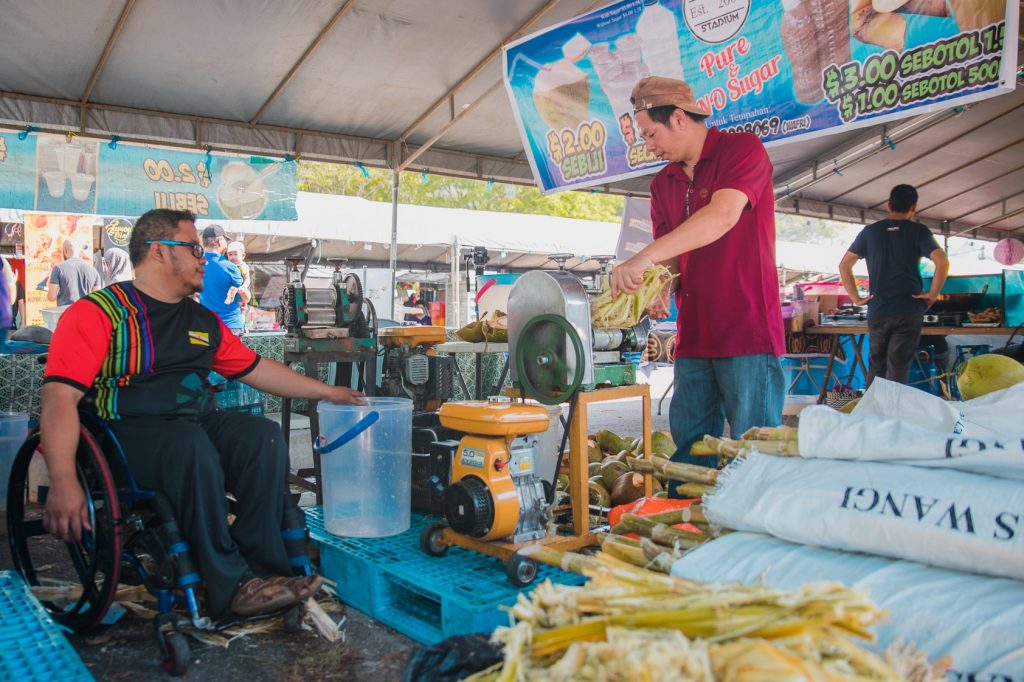 With thousands of customers visiting daily, it's not uncommon for vendors to make $10,000 to $30,000 in sales. For 28-year-old Muhd Abd Muiz Hj Kamis (pictured main), a graduate in Culinary Arts from Malaysia's Management and Science University, participating in the Gerai Stadium Stadium is "automatic marketing".
"Since returning from Malaysia eight months ago I haven't been able to find a job," said Abd Muiz, the founder of Mukams Enterprise (J01 – J02), who worked with Royal Brunei Catering (RBC) as a pastry chef before pursuing his degree. "So I used my creativity, the food I've tasted and the things I've learned to come up with three brands."
Abd Muiz's Meojus sells Thai tea with a local twist, while The Famous Mac blends German and Italian quick bites and The Melted Yellow focuses on Korean-styled fried chicken.
"We are home-based, so we use online (marketing) a lot. But for people to learn about us and taste (first hand) nothing is good as a sales event like this where people are guaranteed to come because it's our (Bruneians) routine (to stop by gerai for Ramadhan)."
Another former RBC chef starting his own business is 34-year-old Mohd Firazimash Hj Abd Ghani, who has forked out $1,000 to rent four booths to cook fresh seafood under his brand Jom Makan (C17 – C20).
"This year we really want to go big by testing out a new concept which is showing the customers the fresh seafood before it's cooked," said Mohd Firazimash who has set up aquariums and laid out fresh seafood on ice, including stingray, crab, oyster, lobster, prawns and different types of fish.
"The seafood is (partially) caught by my family so we can guarantee its freshness. We can cook anyway the customer likes, but our popular (preparations) are sambal, curry and asam."
Meanwhile for 34-year-old Mohd Khairulanuar Ramlee, joining the Gerai Ramadhan means following in his father's footsteps in barbequing.
"For 16 years my father has supported our family by running his own stall called Ramlee Barbeque (L29 – L30) outside Usop Cafe and later Gerai Soto Hj Saban in Tungku," said Mohd Khairulanuar, who is joined by his brother and mother.
"He's (my father) is nearing 50-years-old so we have been learning so that we are ready to help take over in the future."
Watch: Inside Gerai Ramadhan Stadium