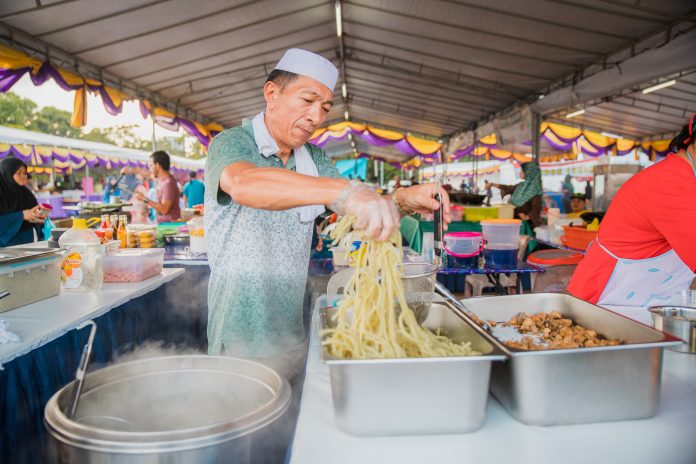 The Gerai Ramadhan in the capital has returned with over 80 vendors this year with the BSB Municipal Department appointing AIZ Event Planner & Management to set up booths almost double last year's size.
Founders of AIZ Pg Nurul Isharizza and Siti Fatmah Hj Jair said the more spacious layout would provide a more pleasant experience for visitors and allow vendors to cook more safely. A small dining space and an air-conditioned prayer hall for visitors to break their fast and perform prayers has also been installed.
Located in the car park across the Royal Ceremonial Hall, Gerai Ramadhan BSB has less vendors than its stadium counterpart, but there's enough variety on offer to warrant a visit.
Here's a list of some of the more unique vendors – and the stories behind their businesses.
From the mainland: China's Mee Asam Pedas
Muhd Safiq has been selling Halal dishes from the Chinese mainland in Brunei for close to eight years with his wife. They're sometimes labeled as the Chinese Muslim Food Group by local media when they're out doing business, predominantly at Brunei's most popular bazaars where they're consistently a hit.
"We want to showcase Halal food in Brunei but from a different cuisine," says Muhd Safiq as he boils his own homemade noodles at stall 55, before pouring a spicy-sour asam soup with chicken, seaweed and peanuts into a bowl which sells for $5.
His wife meanwhile makes a version of Da Bao or big pau that's flattened and filled with either minced beef or chicken for $3 each.
"The response has always been good whenever we set up. Outside Ramadhan, we will be at a government (complex) canteen."
Durian and mango shakes: Syarikat Hjh Rohana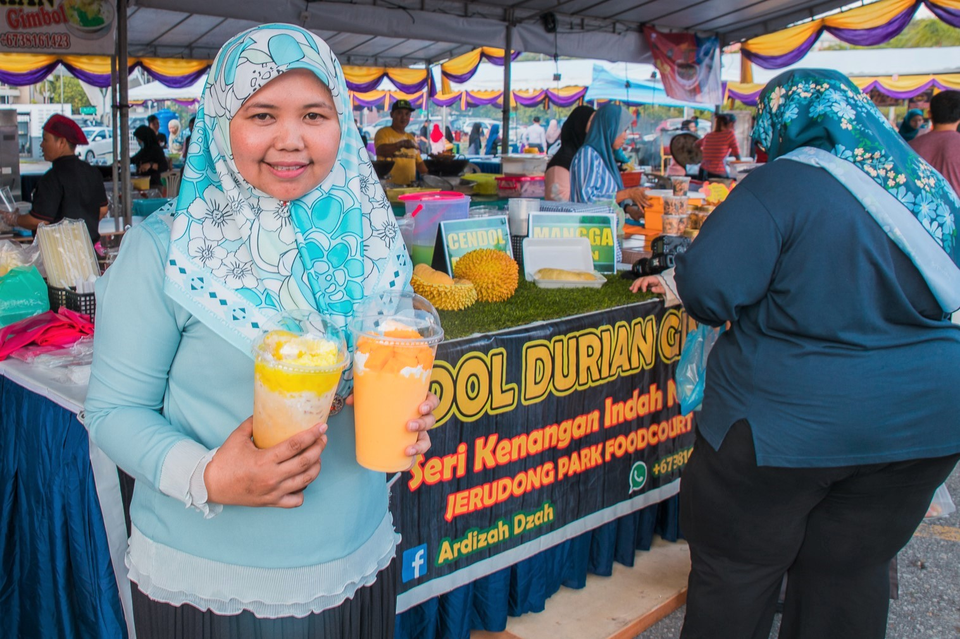 Norizah Hj Gimbol was one of the first vendors in Brunei to pair fresh durian with iced sweet dessert with green jelly known as cendol a few years ago. The product has breathed new life into Norizah's business, after her previous partnership to run at a food stall at the Jerudong Park Foodcourt failed to take off.
"We've now decided to focus on drinks and Alhamdullilah we are doing well," said Norizah, who named the business after her mother, and the cendol drink after her father. "We use mostly the Thai Monthong Durian and Thai mangoes because the supply is more consistent year round."
The Cendol Durian Gimbol served with fresh durian pulp is $6, while the mango shake called Mangga Queen – which contains almost a whole mango – is priced at $7. Both drinks are served in 18 oz cups.
A healthier Lok-Lok: Stop.Lok.Go
39-year-old Alvin Tien was at the forefront of the cube store trend in Brunei when he opened SCG at The Mall in 2012. But the buzz soon dampened as one too many cube stores opened across the country, and over time – with more Bruneians buying foreign goods directly online – the appeal of physical retail for unique items fizzled out.
Tien bounced back by returning to the frontline, bringing a popular Malaysian street food called Lok-Lok, where small food items are chosen by a customer, placed on a skewer then deep fried.
"We wanted to bring something different for our Lok-Lok so we decided to give customers the option of having it deep fried or boiled in a choice of two soups – Tom Yam or chicken seaweed," said Tien, who was one of the best-selling vendors at the recent MSME Festival.
"It seems to have paid off, because most of our customers prefer the soup option."
A packet at time: Gerai Kitani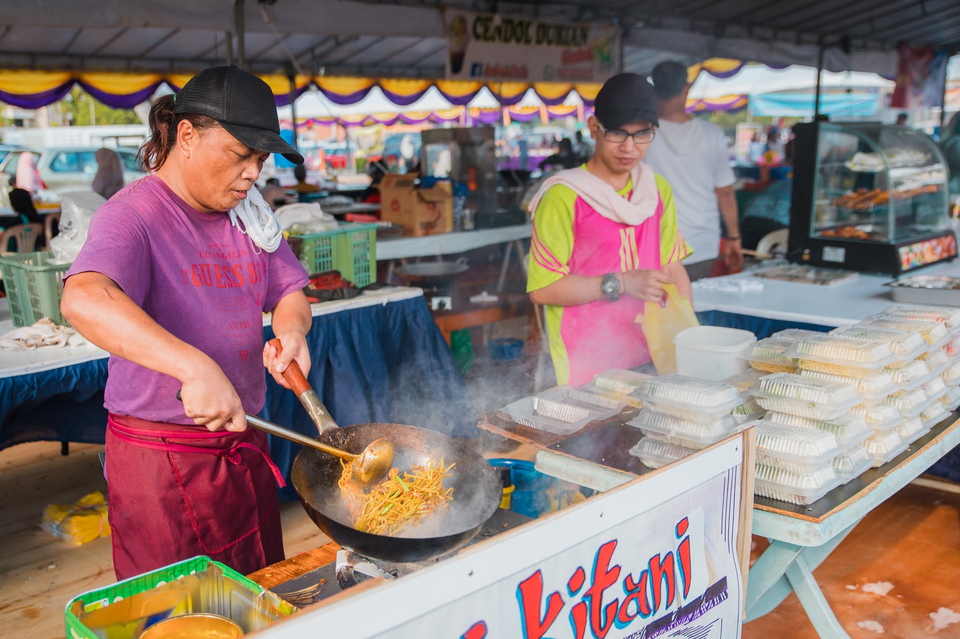 Fried noodles are a staple at any Gerai Ramadhan. For something a little different, Gerai Kitani cooks orders packet by packet – ensuring each batch is freshly made on the spot.
"I believe some people want to see their noodles cooked live in front of them so they know it's they freshest they can get," said Zuhaily Waslani. "Sometimes you don't know if the noodles have been cooked earlier in the morning or even the night before."
Having each packet freshly cooked doesn't come at an extra premium either. Gerai Kitani sells each packet of egg noodles or kuey tiaw with either chicken or beef for $2.
For Zuhaily, live cooking at Gerai Ramadhan has become an annual routine, as the restaurant he works as chef for in Bengkurong opts to close during the fasting month. "It's definitely a good side income," he adds.
Watch: Gerai Ramadhan BSB's new layout