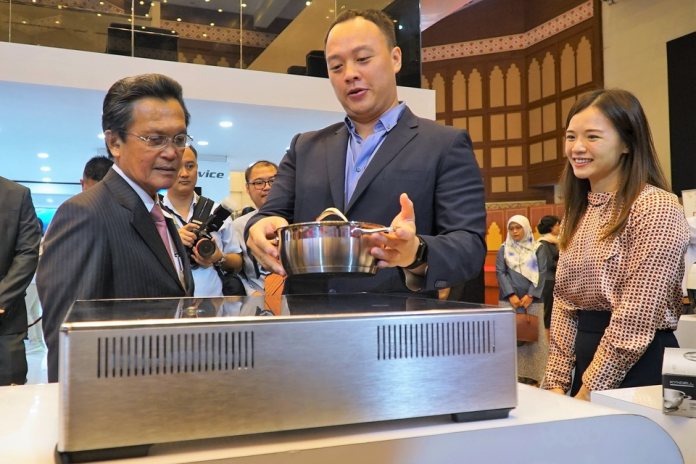 Brunei's largest sales and retail event Consumer Fair (CF) shows no signs of abating, returning for its 22nd edition at the International Convention Centre (ICC) with 400 booths from 180 local and international exhibitors earlier today.
D'Sunlit has spread out the vendors across six zones categorically, with electronics and technology services in Dewan Plenary, fashion and textiles in Dewan Persidangan Utama, packaged F&B and household items in Dewan Perpaduan and freshly cooked food in a separate air-conditioned tent outside the east exit of ICC.
The Minister of Home Affairs Yang Berhormat Pehin Orang Kaya Seri Kerna Dato Seri Setia (Dr.) Hj Awang Abu Bakar Hj Apong officiated the five-day event, which will end with an 'everything must go' clearance sale at 7pm on Sunday.
This CF edition also features a special sales segment taking place in one hour slots at 2.30pm (Purple Zone and concourse), 4pm (Yellow Zone) and 8.30pm (Blue and Green Zone) daily until Saturday where vendors will be offering heavy discounts on select items.
Sales manager at Netcom Hj Md Hassan said their special promotions would be on Dell products; an 18.5″ monitor for $99 and a G7 15 laptop for $1,399. "We've joined the CF as it's been a consistent crowd puller and gives us an opportunity for us to showcase and highlight our Dell (product) range," he said. "We'll also be offering a lucky draw for a Dell laptop for anyone purchasing from our booth."
D'Sunlit is also capitalizing on the viral Instagram sensation Egg Gang by selling trays of eggs for $3 and two for $5 at the CF merchandise store located at the Blue Zone from 3.30pm to 5.30pm and 7.30pm to 8.30pm daily.
CF was launched in 2008 and has since developed into D'Sunlit's flagship biannual event, serving as a one-stop retail experience offering the latest products and services at promotional prices.