Brunify's pitch to develop virtual reality (VR) educational content around Malay Islamic Monarchy (MIB) recently won LiveWIRE Brunei's Hackathon and the Progresif Special Project Award.
The team of four students from Universiti Brunei Darussalam (UBD) and Politeknik Brunei (PB) earned $3,500 altogether from the two awards.
Brunify developed their concept over the hackathon from March 18 to 20 hosted at Progresif's HQ, saying that VR would help complement existing MIB educational efforts, since the technology has widely used globally as an educational tool to simulate more immersive learning experiences.
In second winning $1,500 was Studapp, who pitched to produce an edutainment animation web series for Progresif centered around O-Level subjects beginning with Mathematics.
Meanwhile S.W.O Tech's plan to build and deploy smart, IoT household water outlets that individually measures output of taps and pipes in residences took third and $1,000.
The smart outlets would be designed to wirelessly feed data including water usage and pressure to a mobile application for users to view in real-time. Although the government can track the total water consumption of residences, the smart outlets would be able to breakdown overall use.
Six teams comprising 25 youth from higher learning institutions participated in the hackathon: UBD, PB, Universiti Teknologi Brunei, Universiti Islam Sultan Sharif Ali and the Institute of Brunei Technical Education.
The hackathon was held to encourage youth to develop tech-related solutions in six core areas: environment (energy transition and waste management), agrotechnology, digitalisation, smart manufacturing, edutainment (education and arts & culture), and entrepreneurship.
With the beckoning of the fourth industrial revolution, the hackathon's participating groups are targeted to form their own startups that will then enter LiveWIRE's business development programmes such as the Top Ten Innovators and Business Awards.
Darussalam Enterprise (DARe) served as the hackathon's ecosystem partner, with Progresif as strategic partner.
The three day event included workshops by LiveWIRE counsellors and DARe representatives on building business models, finance and pitching, while Progresif taught branding and marketing.
Local edutech startup Mindtrex Academy also participated in mentoring the students, alongside professionals from LiveWIRE, DARe and Progresif.
The judging panel evaluated the pitches based on their individual feasibility, commercial value, team composition, innovation and financial prospects; as well as how they aligned with the six core areas.
The judges included Brunei Shell Petroleum Company's Communication & External Affairs Manager Suriani Garip; Network Integrity Assurance Technologies' Deputy CEO Siti Nur Aazzah PD Hj Abdul Aziz; Progresif Chief Finance Officer Rashid Najeeb; and Progresif's Head of Product Innovation Md Haziq Hj Mohd Sarip.
The top three teams were also awarded weekly coaching sessions for a month with DARe and learning opportunities with Progresif.
Modernising MIB education with virtual reality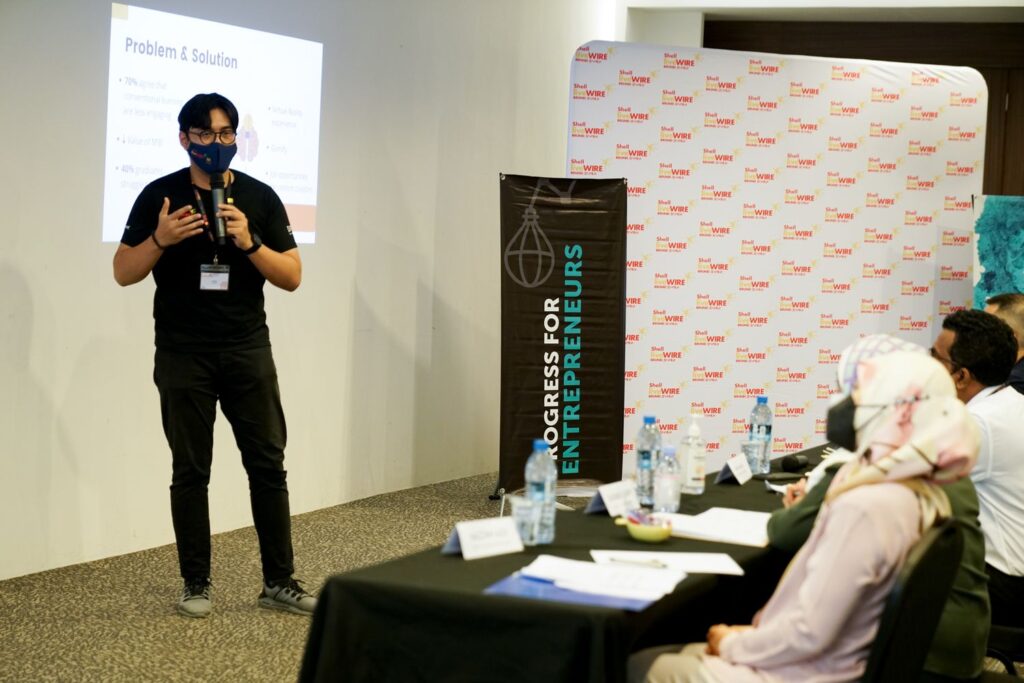 Co-founder and third-year UBD student Md Adib Rifa'ie Asri (pictured) said Brunify's VR educational content development journey will begin with MIB since it's a main subject taught in the national syllabus that has yet to be delivered through the latest technologies.
"MIB is our value and philosophy as Bruneians. Because of technology, the younger generations have access to Western culture," said Adib. "The younger generation are straying from our own culture (and the VR experience can make it more attractive)."
The content would be accessible with wearable VR devices such as Oculus, and Brunify hopes to work with those responsible for the syllabus' creation to be able to design effective VR learning experiences.