The Gerai Ramadhan Tutong (Ramadhan Foodstalls) is back with over 60 vendors – smaller than its counterparts from the capital – but with enough diversity and new participants to warrant a visit.
Centrally located across the Pengiran Muda Mahkota Pengiran Muda Haji Al-Muhtadee Billah Hospital – just a few minutes in from the main highway, Tutong's Gerai Ramadhan replaces the district's daily pasar malam (night market) which is located at the same spot outside the fasting month.
With the country still in the early endemic phase, the overall number of vendors has been lowered from over 100 in prior years, with more distancing between vendors. Let's take a look into who's set up shop.
Former Empire cook partners with Laksamana culinary graduates to start Sous BN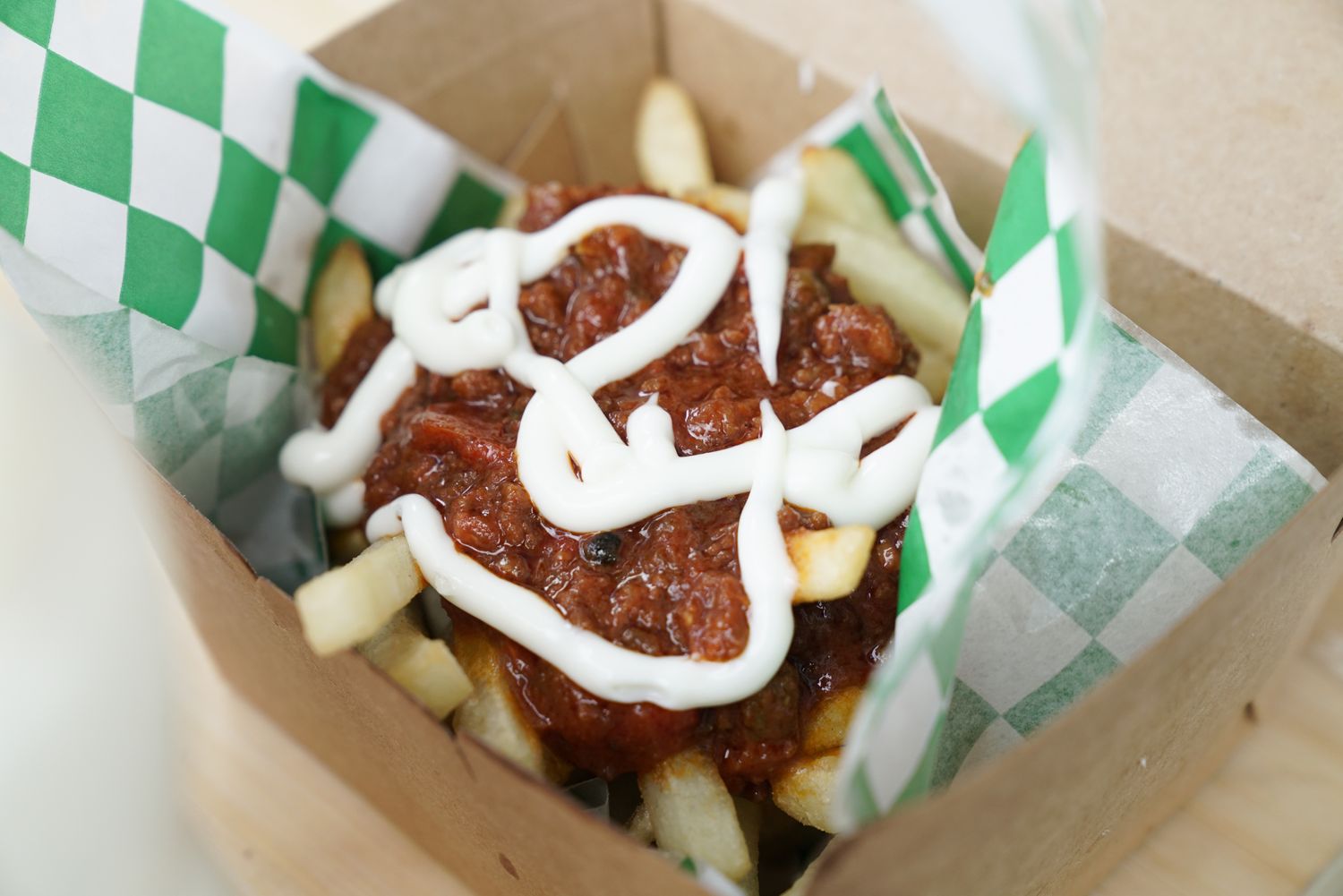 After four years in the kitchens of The Empire, Md Nazim Md Hafizzam has now partnered with two friends and culinary graduates from Laksamana College of Business to set up Sous BN, which is poised to be the sleeper hit from this year's Gerai Ramadhan Tutong with their more unusual dishes.
Sous features four dishes: crispy chicken burger, crispy chicken with waffles, and abnormal fries beef – all $4.50 – as well as deep fried wantan which is priced at $1 for three pieces.
For additional 50 cents, customers can also get one of eight homemade sauces with their dish: chili & mayo, bbq, chipotle, teriyaki, black pepper, bmc, cheese and spicy Korean.
"We try to make everything from scratch," said the 24-year-old Nizam "We opened the business because we wanted to challenge ourselves; I have some experience, they (my partners) have the background, so we're trying this together."
Only a month old, Sous began as a home-based business in Brunei-Muara, but for Ramadhan, are gradually easing their entry into the market by purposefully picking a less packed spot.
"(Setting up in) Bandar is very challenging (as a newcomer); we felt that Tutong is the right location for us now because it's a midway point – with Bandar people going to Belait (and vice versa), they can drop by, get our food," he added.
Affordable, award-winning banana fritters: Cucur Pisang Madu BN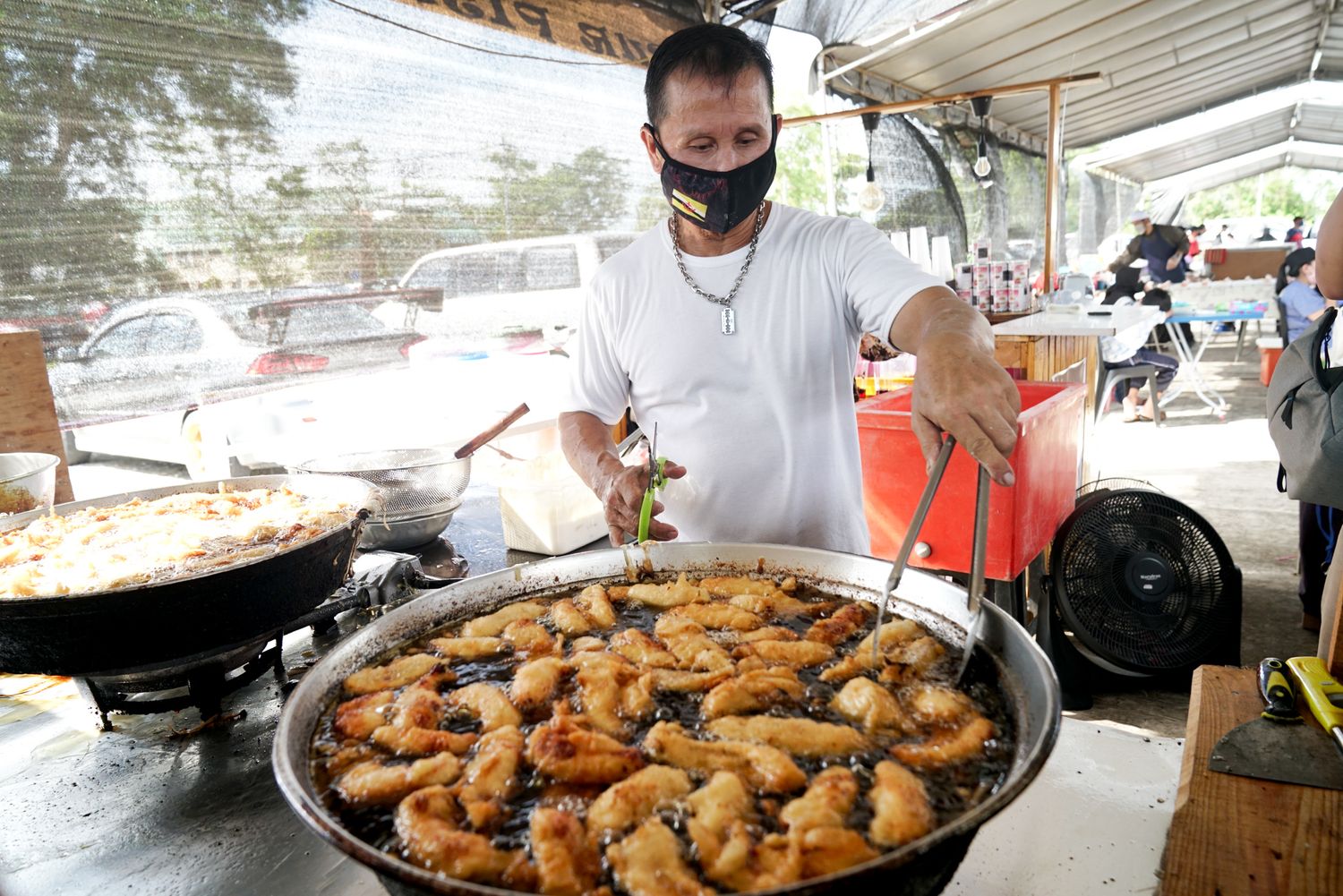 Of all the varieties of local fried fritters, those made from banana are easily the most popular. But with every gerai offering them, it's hard to decisively rank which sellers you should try.
The Brunei Food Awards may have simplified that process in Tutong, having awarded the homegrown Cucur Pisang Madu BN accolades of second best banana fritters in 2020, followed by best dish award last year for their banana fritters with Biscoff cheese.
Founder Nurul Ain Abdullah Leong, who runs the stall with her husband and children, solely uses bananas of the pisang kapas variety, frying them only after ripening sets in, with honey added on as standard along with eight topping options including cheese, Oreo, and caramel.
"What makes our fritters different is how crispy they are," said Nurul Ain, who hopes to open her own restaurant one day. "This is based on how we pick (the bananas) and how we fry them."
National recognition has come relatively quick to the roadside business that began in 2018, but Nurul Ain's motivations to start the business were done in simple earnest – as a way to provide and employ her family.
Outside the Gerai Ramadhan, Cucur Pisang BN can be found at the Abdul Wahab Complex in Tutong town.
Grilling for decades: Gerai Pa Haji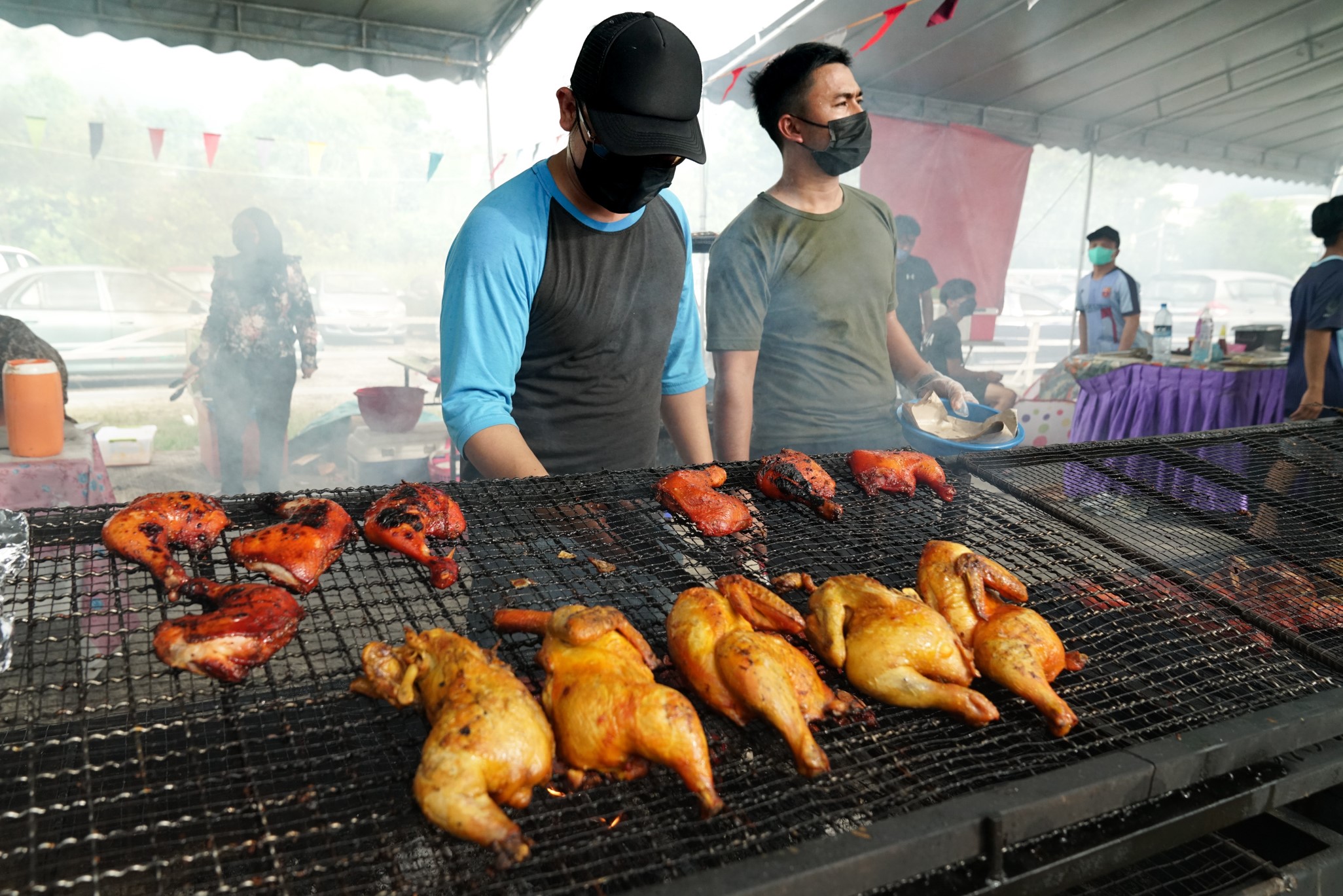 A stalwart of the Tutong gerai scene, Hj Hussin Duraman has been in the foodstall business since the 1980s, setting up at the Gerai Ramadhan for 16 editions consecutively.
Eyes red and watery from grilling proteins at booth five and six, the indefatigable senior prefers to work quietly, requesting his eldest son Usmarizal to instead speak on his behalf.
"There are 14 of us (siblings), our father trained us all to help in the business," said Usmarizal, who is 41-years-old. Initially known as Hussin's foodstall, it's simply known now as Gerai Pa Haji, since Hussin went on the Hajj pilgrimage.
In addition to grilled fish and chicken, the stall also sells homemade drinks, ayam percik asam pedas (roasted chicken with spicy tamarind) as well as the standard burgers seen during local festivals.
A testament to their popularity, most of their dishes are sold out before 5pm, so if you're keen on trying, drop by early or contact 7285610/7212005.
Seizing their own path: Aromalicious H. Flora Live Cook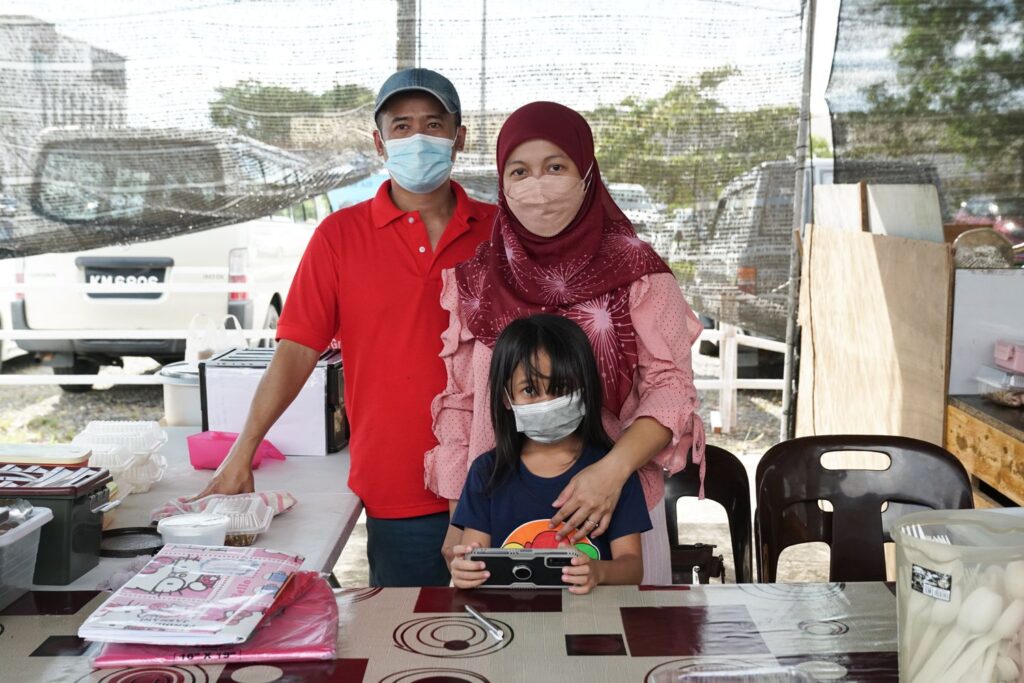 Spending 12-hour days in the kitchens was long a routine for Danial Shah Abdullah Thomas, but with a growing child in tow, the seasoned cook decided to to set up his own business with his wife Nurhardiyanah Zohar in 2016.
"If we run our own business, we get to set the time, and since we don't have anyone to look after our kids, it's a perfect fit," said Nurhardiyanah at booth 13.
Owing to his years of experience, Danial is effortless on the wok, freshly cooking up each order of noodles or rice that's placed. They also sell buttermilk chicken and salted egg chicken on the side.
Civil servant turned entrepreneur: Syafihaad Enterprise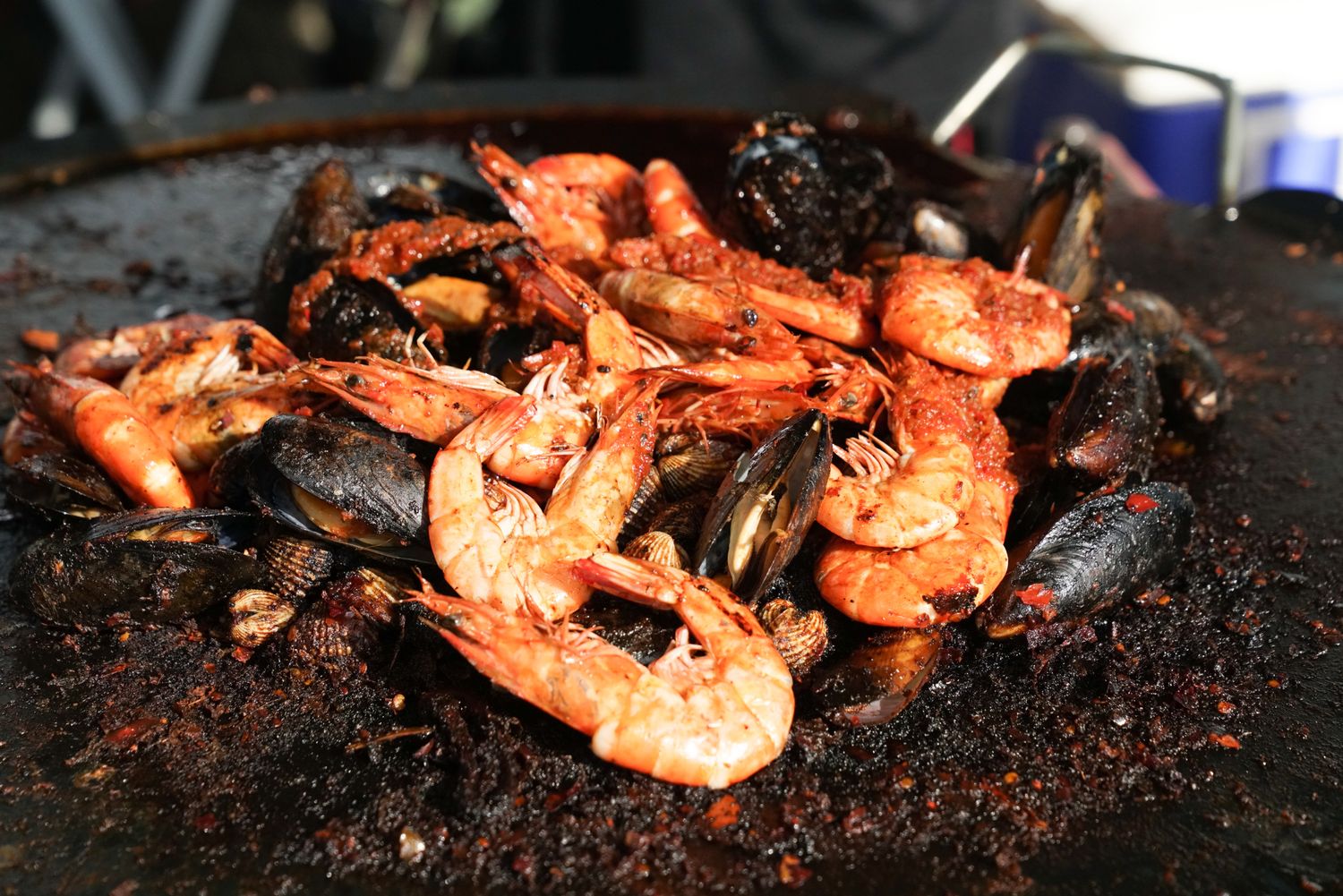 With the backing of his wife, Muhd Hadhri Ismail set up Syafihaad Enterprise in 2018, with the Gerai Ramadhan, followed by the district's daily night market, his primary site of business.
Syafihaad's specializes in grilled seafood and kueh Malaya or apam balik – a nutty, Malay styled pancake served with options of chocolate, Biscoff, Milo, and Oreo.
"It was my wife that supported my ambitions of doing business when I was still working in the government," said the 36-year-old. "Now I (have transitioned to) full-time. My family members, like nieces and nephews, also like to join in to help run the stall."