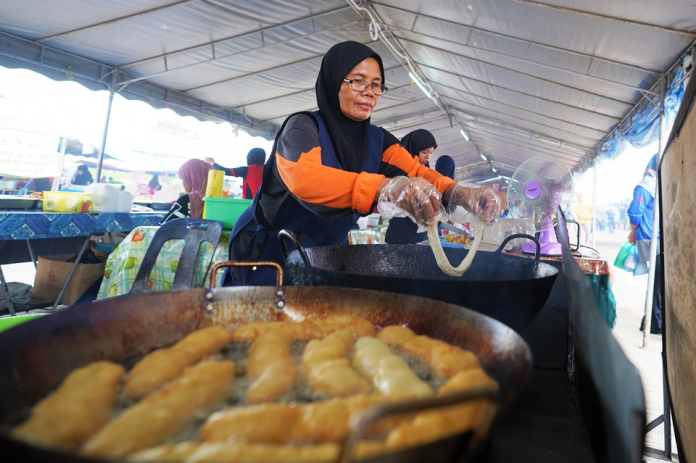 From crispy, sweet and savoury cakoi to perennial Ramadhan staples such as fresh sugar cane drinks and kebabs; Gerai Ramadhan Tutong still serves up a nice variety of items that warrants a trip, especially for those finding themselves on the road as the clock ticks to sunset and the breaking of fast, thanks to its convenient location.
Located just a few minutes inwards from the traffic light junction next to the RBAF Tutong Camp along the Muara-Tutong highway, the Gerai Ramadhan Tutong is a favourite amongst the district's residents providing all the tasty street food fare despite not being as big as its counterparts in Belait or Brunei-Muara.
This year edition features around 100 vendors – an increase of 22 from last year. We spoke to vendors – newcomers and veterans alike – to give you a glimpse into what's on offer in Gerai Ramadhan Tutong.
Grilled heritage: Bonda Taste
28-year-old Mohd Abdul Hadi Hj Imran has now taken on the mantle to prepare his late father's famous grilled spiced chicken at tall 90. With a whole chicken for $9 or a single piece with sambal and rice for $1 – Bonda Taste has been one of the most popular vendors at Tutong's Gerai Ramadhan, selling out daily by 5.30pm.
Known affectionately by regulars as Ayam Grill Si Aji, Mohd Abdul Hadi gave the business a makeover after his father passed away two years ago. "We established a brand for the business, started marketing online and opened (a food stall) at Spg 61 in Kg Serambangun," he said.
Bonda taste – which also supplies their grilled chicken to catering companies – is also planning to open their first branch in Brunei-Muara in Jerudong later this year.
Only sweetcorn: The Jaddams Bn
For all the space their stall offers, newcomer Jaddams BN only sells one product – sweetcorn juice. They boldly proclaim it to be the best in Brunei, and this fasting month, the year-old operation has set up at three locations, taking on Tutong and BSB's Gerai Ramadhan while also operating along Jalan 3 in Rimba.
"The feedback we've gotten from customers is that this is the best local corn drink they've tasted," said Shahruddin Hj Sulong. "We source the corns locally and always make the juice fresh."

Tutong's most famous breadstick: Cakoi Bukit Panggal
In an increasingly digital era where social media marketing gives small brands an opportunity to create their own voice, Cakoi Bukit Panggal – arguably Tutong's most famous cakoi – has built their base entirely offline, through the classic word of mouth.
The founder of Mahyuddin Enterprise Fatimah Hj Mustapa has been at it for almost two decades, gradually becoming the district's cakoi of choice at their food stall shortly after the junction leading into Kg Bukit Panggal along the Muara-Tutong Highway.
"Maybe it's cause our dough is always made fresh, and our fillings are also made on our own," answers Fatimah on why their cakoi has managed to stand out amongst the rest. "Cakoi looks quite simple, but you have to develop the right dough (mixture) and the frying technique must be on point for the right crispy, light texture."
3 for $5: Perusahaan Ira Maya's kebabs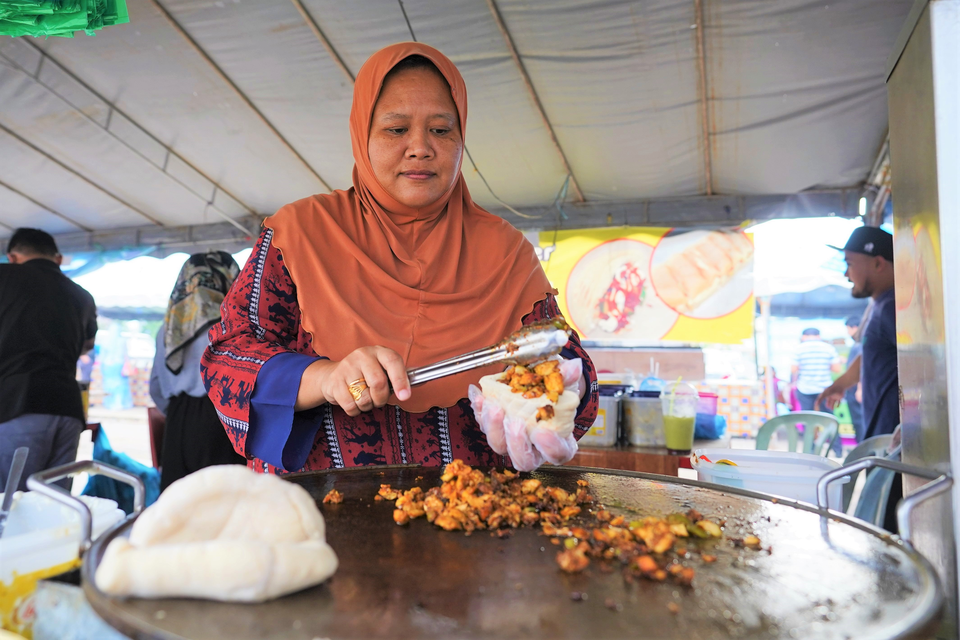 Another staple fixture at Tutong's Gerai Ramadhan is Perusahaan Ira Maya who sell kebabs and long buns with meat omelettes as fillings known as roti john.
"It's our tenth year now joining the Gerai Ramadhan," said Siti Muqallimah who runs the business with her family. "Every kebab (stall) has their own recipe – and I can say ours is definitely sought after – or we wouldn't be around this long."
Outside Gerai Ramadhan, the family has stalls at the entrance of the Hua Ho Petani Mall and Teguhraya Supermarket in Tutong. "What's different about our setup at Gerai Ramadhan is that we have an exclusive promo of three kebabs for $5," she added. "That's what our customers look forward to the most."
Watch: Inside Tutong's Gerai Ramadhan