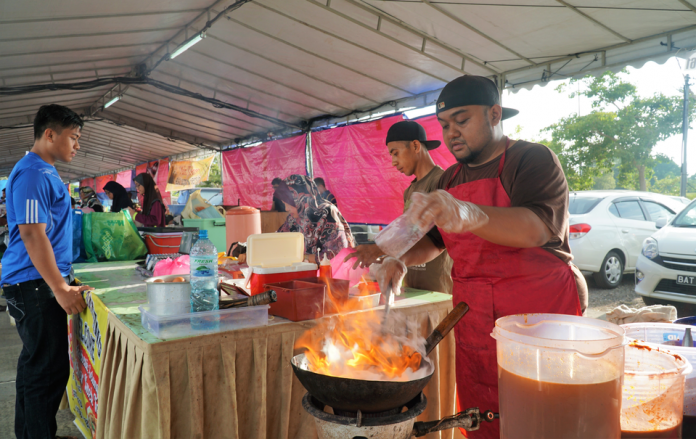 With 78 stalls, Tutong's Gerai Ramadhan is much smaller than its Bandar and Belait counterparts but it serves up enough variety to warrant it's own trip.
Located across the road from the Pengiran Muda Mahkota Pengiran Muda Haji Al-Muhtadee Billah Hospital along Jln Sungai Basong, Tutong's Gerai Ramadhan is less than five minutes drive in from the first junction turning into Tutong from the highway – if you're heading up from Bandar.
We bring you the stories behind some of the most popular stall owners – from decade-long seasoned veterans to those trying out for the first time – to ask what they're selling, and why the Gerai Ramadhan continues to be an enduringly popular choice for grassroots F&B.
Farm to table: Hj Zakaria's fresh sugar cane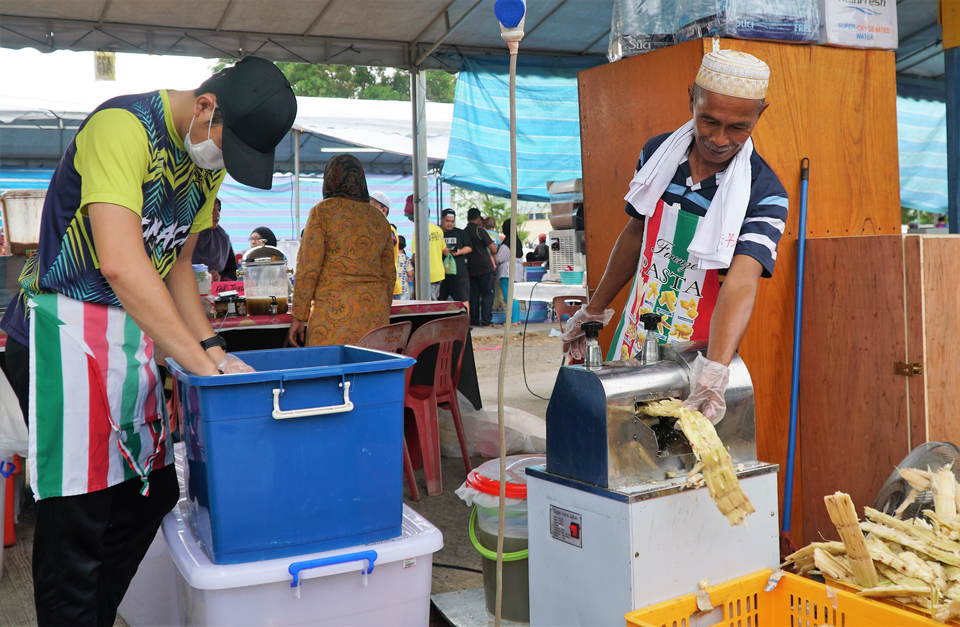 The most obvious, immediate difference at Hj Zakaria Hj Metusin's drinks stall is that he's selling a large, 1.5-litre bottle of sugar cane at $2.50 – that's 50 cents cheaper than the majority. But those familiar with the 58-year-old's annual appearance at Tutong's Gerai Ramadhan also know Hj Zakaria's sugar cane as amongst the freshest – coming straight from his own farm.
"We have about half an acre in Bebuloh where we plant sugar cane," says Hj Zakaria, who runs the stall with his niece and nephew. "We keep it simple but we can guarantee the freshness. We make the juice pure – no added water, sugar or colouring. After it's pressed it goes straight into the jar, then sifted through a filter. That's it."
Outside Ramadhan, Hj Zakaria plies his trade as a farmer and continues to supply sugarcane – either the raw stalks or as pressed juice. The business isn't on social media – so if you need to reach him contact +6738147889.
From office desk to making pulled beef: iCook (Hal's Enterprise)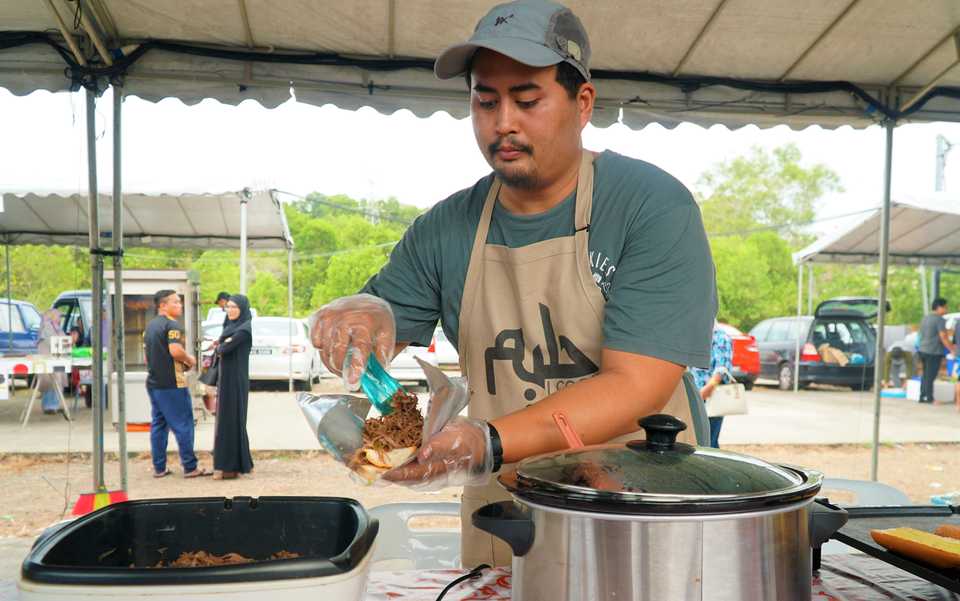 Muhd Ikhwan Halim Hj Lukman Hakim probably didn't expect to find himself outdoors in a stall during this Ramadhan – but he's relishing the opportunity, selling out his pulled beef and chicken baguette and burgers almost every day.
"Before I was working (in admin) for an oil and gas company but they had to downsize," says Muhd Ikhwan Halim. "That's when I really started this business. Doing business from home, we usually supply to customers either through delivery or a meeting point. But with Ramadhan here I wanted to take the opportunity to have a chance to sell publicly and build a customer base. Alhamdulillah, it has gone well so far."
Packet by packet: G.M.A's Selangor Char Kuey Teow
32-year-old engineer Muhd Fadhli Rizal's side gig is frying up char kuey teow – which he does a little differently from the rest. He fries up each packet individually, on-the-spot and does so only with seafood, in what he calls, the "Selangor" style.
"I picked up this style from a Malaysian friend who visited a few years ago," says Muhd Fadhli who sells at stall 61. "What makes it unique is a seafood chilli sauce which is different from other basah (wet) kuey teow. I also divide the fresh kuey teow at home into smaller packs, and then fry each, one-by-one at the stall so that the customer gets it straight from the pan."
A life after military service: Amir's Ayam Tajau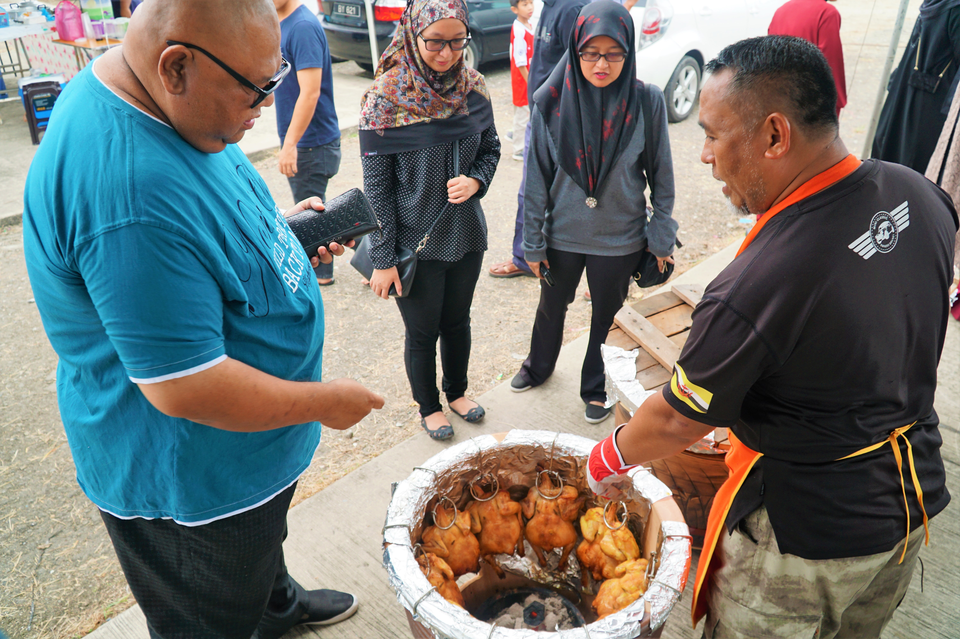 Ayam Tajau or chicken that's grilled inside a vase, has fast become a staple at Brunei's Gerai Ramadhan after its introduction at the stalls near the Hassanal Bolkiah National Stadium in 2013. Like other grilled options, it's relatively healthier – the fat naturally strains to the bottom of the vase – and at Amir Shah Hj Mohd Alleh's stall, comes with a complimentary pack of sweet chilli sauce.
The 49-year-old retired soldier manages stall 31 with his family, and if sweet chilli sauce isn't your thing, they also sell tubs of a variety of freshly made sambal.
"After retiring I need to find something to do," says Amir jovially. "My wife really enjoys cooking and I suggested that we try selling at the Gerai Ramadhan, and it's her recipe that we marinade the chicken overnight with. On a good day, we can sell about 30 chickens. We also have six different specially prepared sambals, including sambal tahai, belutak and pusu petai."