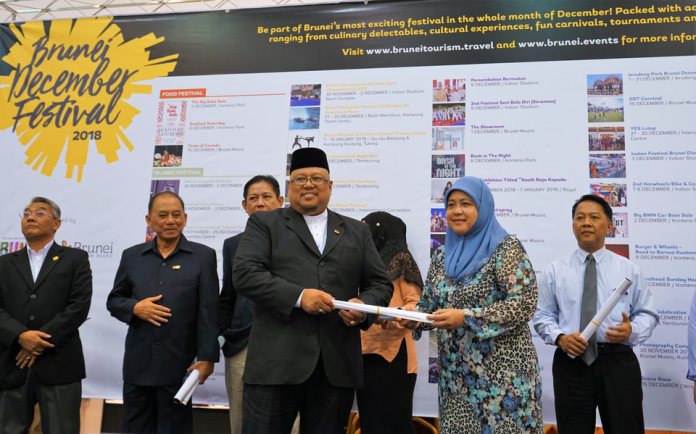 Local companies are invited to collaborate to create new events and opportunities for the second edition of the Brunei December Festival (BDF), an annual month-long festival designed to promote tourism locally and internationally.
Deputy Permanent Secretary of the Ministry of Primary Resources and Tourism (MPRT) Wardi Haji Mohammad Ali said the inaugural BDF last December drew 40,000 visitors – measured through the 40 recreational activities hosted across four districts.
"The reason why we are announcing the (BDF) events early is because we want to create an awareness for the month of December, and give airlines, restaurants, retail companies and opportunities to collaborate and create spin off effects," said Wardi at a press conference to announce BDF last weekend at Times Square Shopping Centre.
"BDF is also organized to coincide with the annual Brunei Salebration to encourage local residents to spend in the country which will spur the domestic economy and increase business opportunities for SMEs."
45 events – involving 30 local companies – have already been confirmed, split into categories of recreation and sale, culture and creative arts, sports and adventure, food festival and Islamic festivals. These include the Brunei Rhythm Fest, Jerudong Park Brunei December Festival and Brunei E-Sport Tournament – as well as the World Nasyeed Festival.
Executive director of Times Square Group of Companies Hambali Pehin Orang Kaya Shahbandar Dato Seri Paduka Hj Mohd Salleh – one of the partners of BDF – encouraged those hosting events to collaborate with the hospitality industry and retail businesses to design attractive packages that would lure tourists.
"We must work together in creating attractive packages for local and foreign tourists," said Hambali. "Every party has something different to offer."
Representatives from the Ministry of Home Affairs, Ministry of Religious Affairs, Ministry of Culture, Youth and Sports, Ministry of Communications and MixMediaWorx were also present during the press conference to promote their participation for BDF.
If you are an event management company interested to propose an event for BDF, you can submit a proposal paper (consisting of information regarding the event detail, charges for participants, event organizer details, event venue, event date and registration details) to Director of Tourism Development Department, Level 3, Ministry of Primary Resources and Tourism, Jalan Menteri Besar, Negara Brunei Darussalam, BG3122.
If you have any further enquiry, please contact Kartini Hj Kabri (Special Duties Officer Grade 1) at 2382821/2382822 or 2382807 (Fax) or email to kartini.kabri@tourism.gov.bn or norevinah.jaib@tourism.gov.bn.