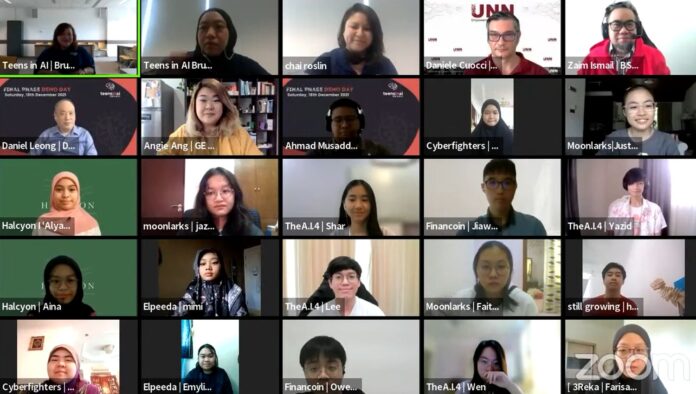 Mobile application development swept the final phase of the first Teens in AI Brunei programme with the top three secondary schools designing platforms to help financial budgeting and recycling.
Chung Hwa Middle School team Financoin took first and $1,500 with an app that targets personal financial management through a multifunctional budgeting platform that records transactions, creates simplified graphs on spending patterns and savings and offers rewards for consistent use.
In second winning $1,000 was recycling app EnvironCycle from Chung Ching Middle School's AI Fourturistics, which provides information to Bruneians on where and what they can recycle, with convenient geo-locating features for users to map out their nearest recycling site.
Another recycling app took third and $500 from Sekolah Ugama Arab Menengah Perempuan Raja Isteri Pengiran Anak Hajah Saleha. 3REKA features a waste-sorting scanner that classifies and identifies rubbish into categories and suggests how they can be reused or repurposed. At present the scanner focuses on identifying plastics.
The top three were selected from a pool of 10 teams from seven schools by a panel of industry-leading judges from partnering organisations during a virtual pitch day on December 18.
Created by UK-based Acorn Aspirations in 2018 as a programme to help youth learn AI and other new technology skills, Teens in AI has been implemented in over 20 countries before being introduced in Brunei last year.
181 youth joined the programme in Brunei, which was split into three phases, beginning with a pilot hackathon with 49 students in September 2020. The second phase launched earlier in February saw 132 students participate, with the top 10 teams enrolled to the final phase for an intensive 14-day accelerator programme to develop their prototype further.
Throughout the phases, the participants underwent workshops and received mentorship from local and international experts in the fields of artificial intelligence, computing, business and design-thinking. Teachers from the participating schools also received training and guided students as facilitators, especially during the second phase.
During their pitches, the top three teams expressed that they were keen to gain more traction for their apps following the conclusion of the programme. Financoin is available for download through their website and EnvironCycle is on the Google Playstore.
Financoin's founders plan to introduce reward tokens on their app to incentivize consistent use, which can be redeemed for coupons or discounts at local businesses. The tokens are disbursed with regular use of the app or when goals are met. The app also has a chatbot which users can interact with to inquire basic financial advise.
Meanwhile EnvironCycle hopes to fill the gap between the growing public interest in recycling and the lack of centralized information on it. The app carries the latest news and events on recycling, and similarly aims to introduce a digital currency within the app to reward users when the recycle.
CTO of Baiduri Bank Simon Hansman suggested in his judging feedback that they engage logistics or ride sharing companies to have a pick up service that will transport waste to recycling centres for users.
The organisers and sponsoring organisations said the programme fits into Brunei's wider drive towards the fourth industrial revolution, with the skills learned by teens put to use in developing solutions to real-world problems.
"Brunei Shell Petroleum (BSP) supports The Teens in AI programme as it nurtures Artificial Intelligence (AI) and entrepreneurial skills for our Brunei young talents, which helps them to be future-ready to seize the opportunities of the industrial revolution and to increase readiness to manage uncertain times," said BSP Social Investment Advisor Amalina Harun.
"This is in line with the country's aspiration to empower human resource capacity for a digitalised world – demonstrating our leadership in advancing AI skills as well as an innovation and growth mindset."
Teens in AI in Brunei was facilitated by Darussalam Enterprise (DARe) and implemented by local startups InTurn Co. and Think Axis, with the Authority for Info-communications Technology Industry of Brunei Darussalam (AITI) and the Science Technology Environment Partnership (STEP) Centre at the Ministry of Education (MoE) serving as strategic and community partners respectively.
The programme is funded by sponsors Brunei Shell Petroleum (platinum), Baiduri Bank and Brunei Shell Marketing (gold), Unified National Networks (bronze) and Dynamik Technologies (bronze).