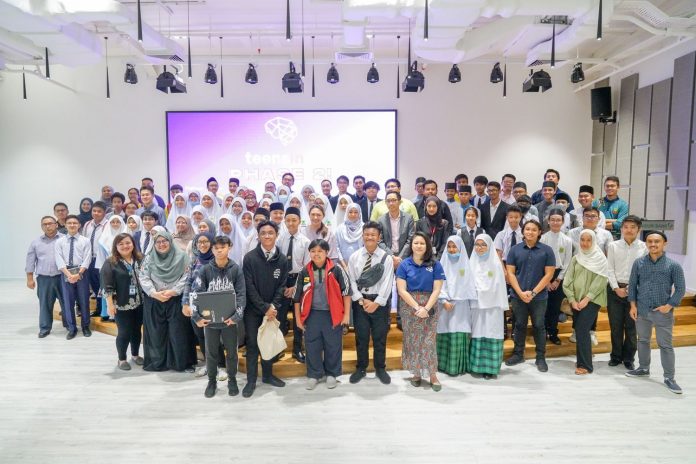 159 students from 12 government and private schools are joining the phase two of Teens in AI Brunei – a nine week hackathon to develop tech-driven solutions to local problems aligned with the United Nation's Sustainable Development Goals.
Teens in AI is a developmental programme for new technology skills by London-based award winning social enterprise Acorn Aspirations, and is being facilitated in Brunei by Darussalam Enterprise (DARe) and implemented by local startup InTurn Co., with the Authority for Info-communications Technology Industry of Brunei Darussalam (AITI) and the Science Technology Environment Partnership (STEP) Centre at the Ministry of Education (MoE) serving as strategic and community partners respectively.
The programme is funded by sponsors Brunei Shell Petroleum (platinum), Baiduri Bank and Brunei Shell Marketing (gold), Unified National Networks (bronze) and Dynamik Technologies.
The second phase of Teens in AI was launched on Tuesday at Baiduri's Community Hall and will be facilitated by 47 teachers along with a select pool of mentors comprising of leading industry professionals. The 159 students will be split into 33 teams representing their respective schools, with the top 10 teams pitching their solutions to a panel of judges in April.
The top 10 will then be given another two months to develop their project further in the final phase, ending with the announcement of the top three solutions. Throughout all phases, Teens in AI will host workshops and tutorials on programming, design and business development for its participants.
Teens in AI hopes to upskill more than 500 teens in Brunei between 12 to 18-years-old in the fields of artificial intelligence, programming and design thinking that will position them for future development or careers in line with the fourth industrial revolution.
Co-founder of InTurn Chai Roslin said the response from Brunei sponsors and schools towards the programme is indicative of the importance the country is placing on developing new skills that will help them remain competitive in an increasingly globalised world.
"I hope this programme is one of many that aims to develop the future of work skills and teaches participants to think outside their usual parameters," said Chai. "This is exactly where the teachers' role is vital – they know their students well and can provide them with a safe space to explore these new skills and facilitate their growth."
Brunei is the first country in Southeast Asia to introduce the programme, which also enables the country to be connected to Acorn Aspirations' network which includes major technologies companies such as Microsoft who are on the lookout for emerging talents.
The first phase was a pilot hackathon that spanned eight days involving 48 youth from 10 schools.
The participating schools of the second phase are: Anthony Abell College, Chung Hwa Middle School, Chung Ching Middle School, Mahad Islam Brunei, Arab Rimba Secondary School, Perempuan Raja Isteri Pengiran Anak Hajah Saleha Arabic Secondary School, St Andrews School, Berakas Secondary School, Pengiran Isteri Hajah Mariam Serasa Secondary School, Pg Jaya Negara Pg Hj Abu Bakar Secondary School, Sultan Omar Ali Saifuddien College and Belait Sixth Form Centre.
Attending the launch of phase two was DARe CEO Javed Ahmad, Baiduri Bank CEO Ti Eng Hui and senior representatives from sponsoring organisations.