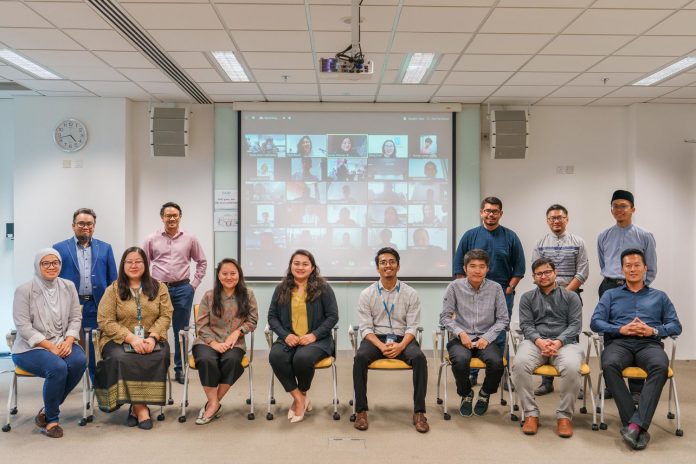 500 Brunei youth are set to participate in the first Teens in AI (artificial intelligence) hackathon in Southeast Asia over three phases in the next 12 months to develop their skills in new technologies to solve real-world problems.
Teens in AI is a developmental programme by London-based award winning social enterprise Acorn Aspirations, and is being facilitated in Brunei by Darussalam Enterprise (DARe) and implemented by local startup InTurn Co., with the Authority for Info-communications Technology Industry of Brunei Darussalam (AITI) and the Science Technology Environment Partnership (STEP) Centre at the Ministry of Education (MoE) serving as strategic and community partners respectively.
Teens in AI Brunei developing 100 solutions
The pilot hackathon – titled AI For Good – begins today with 53 students aged 14 to 16-years-old from nine secondary government schools and Jerudong International School, who have been grouped into 10 teams with each team supported by two teachers and up to four mentors.
Due to the COVID-19 outbreak, the pilot will run virtually over eight days through YouTube, Zoom and Discord, where participants will be taught by experts on how to code, programme and develop business ideas that provide solutions to issues facing Brunei and help reach the United Nation's Sustainable Development Goals.
The pilot will culminate on a "Demo Day" on September 19 where participants will pitch their solutions at DARe's Design & Technology building to appointed judges from different industries. Projects will be assessed over several areas including innovativeness, technical complexity, social impact and commercial viability.
Participants of the pilot will act as a pool of leaders or ambassadors for the next phase – a cross-school hackathon targeting 500 students to develop 100 solutions in the first quarter of 2021. The top concepts will then be selected for the final hackathon where students will continue to develop their projects for a further two months.
Preparing youth for nation's Industry 4.0 aspirations
With Brunei setting up a digital economy council and masterplan, CEO of DARe Javed Ahmad hopes Teens in AI will play a pioneering role in helping the country's youth develop the skill set and creativity to meet the demand and opportunities of the fourth industrial revolution which will see AI and new technologies create new levels of automation and efficiency within the market.
"According to UNICEF, youth across the globe will be the most impacted by growth of AI technologies and applications. Yet, most AI systems are not designed to empower young people to make informed decisions about how they engage with AI. This is why practical exposure on AI from an early age is important," said Javed.
"The future of work globally and more so in Brunei will be determined by a population that is at ease with new technology and is able to find innovative solutions to society's challenges – be it in life and livelihood, or health and well-being."
Managing Director of BSP Agnete Johnsgaard-Lewis shared that the Industrial Revolution 4.0 has the potential to provide new and exciting opportunities for Brunei.

"Together with the mentors from BSP as well as other industries, we are excited to share knowledge and expertise to develop our locals' capabilities and skillsets and elevate their understanding in the problem-solving capabilities of AI," said
Johnsgaard-Lewis.

Teens in AI was launched at the United Nations AI For Good Global Summit in 2018 with a key component being the programme's exclusivity for participants' diverse societal background.
"Real societal impact can only be achieved when technology that powers the world is representative of the diverse societal makeup of the world and this is exactly what Teens in AI is attempting to achieve; offer opportunities to all young people, irrespective of their gender or background, to express their voices through technology for social good," said CEO of Teens in AI Elena Sinel.

Teens in AI Brunei is sponsored by Brunei Shell Petroleum (platinum), Baiduri Bank and Brunei Shell Marketing (gold) and Dynamik Technologies.