Fresh after completing O-Levels, Faiz Hanafi Hj Mohamed, along with five friends, have come together to set up their own burger operation – Nif's Burgers – hoping to make a name for themselves at Kuala Belait's Gerai Ramadhan.
With rental at just $80 – plus an additional $10 for electricity – KB's Gerai Ramadhan at Tudung Saji is an ideal starting ground for Nif's Burgers – who make their own beef, lamb and chicken patties for $3 to $6.
"Some of us are unemployed, others waiting to get into technical schools, but we all wanted to find something positive to do this Ramadhan," said Faiz Hanafi who sell at stall 103 and 104. "We want learn how to do business and to help our parents out instead of just being dependent."
Similar to previous years, Belait's two main Gerai Ramdahan are positioned at the Pasar Aneka Seria, which houses just over 20 stalls, and a much larger group of 180 stalls at Tudung Saji.
Besides opening up opportunities to newcomers like Hanif, the Gerai Ramadhan also serves as a ground for grassroots F&B looking to establish themselves to the mass market commercially.
Amelia Kebab, which began as a home-business from Keriam and now have a small takeaway stall in Tutong town, decided this year to set up at the Gerai Ramadhan in the districts of Tutong, Belait and Brunei-Muara in hopes of reaching out to more customers.
"There are four of us here in Kuala Belait, another 5 in Tutong and 2 in Bandar," said Fatul Mutakin Abdullah Bujang, one of the stall keepers at Amelia Kebab located at stall 40 at Tudung Saji.
"Before we start, we would go to our headquarters in Keriam at 8am and prepare the ingredients together before going to our posts," said Fatul. "Once we are here, the district team will work together to take care of the stall and represent the company. Being at the Gerai Ramadhan is a great way to expand our customer base and meet new people. 
"Just yesterday, there were a few tourists from Russia and Poland who came to our booth. They were so excited when they bought our lamb skewers, I hope they enjoyed them."
For many other small businesses – especially those running part-time or intermittently across the year – the Gerai Ramadhan is actually the standout period, where low overheads and high foot traffic can drive healthy profit – albeit only for a month's period.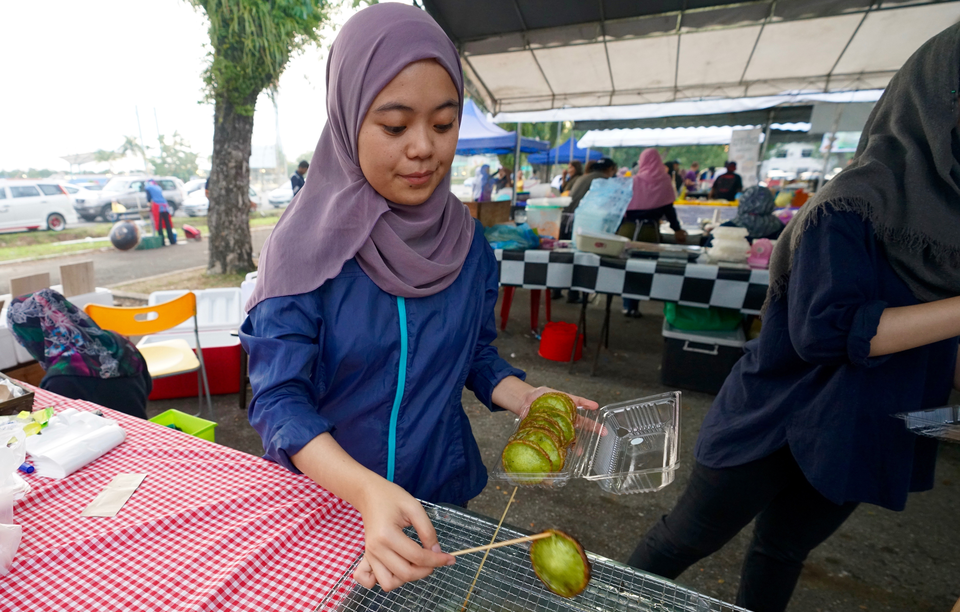 For Nurul Atikah Rahim whose family serves up penyaram – a sweet, deep-fried circular kueh, but with a distinctly pandan-flavoured option – it's the third year they have set up shop at the Gerai Ramadhan at Tudung Saji.
"We are known for our penyaram pandan, it is a recipe from my late grandmother," explained Nurul Atikah, who runs the business Frizzle Friday with her siblings. "We just continue on her legacy by carrying over the tradition and move the business along."
Over at Pasar Aneka Seria at stall number 2, another family also carries a similar legacy. Lauyah Kitchen, lead by two sisters, focuses on barbequed chicken, salmon and sausages, along with packed rice.
"Lauyah is my mother's name, we have been in business for years," said Norhadijah Awang Muda. "We look forward to the Gerai Ramadhan every year, as well as joining other pop up events, where we can build up the money for the business."