With 20 vendors, Temburong's Gerai Ramadhan (Ramadhan Foodstalls) is the smaller than its main counterparts in the country's three other districts.
But with their own signature delicacies you may not find elsewhere – including udang galah (giant freshwater prawn), tapai (fermented glutinous rice) and mambangan pickles (wild mango) – making a trip across the Sultan Hj Omar 'Ali Saifuddien (SHOAS) Bridge is worth your while if you're seeking more unique fare.
Previously hosted opposite the Belalong Community Hall, Temburong's Gerai Ramadhan this year has been moved to the Bangar town centre, which is undergoing a facelift as part of wider efforts to boost the district's economic economic activity.
The new gerai layout utilises spacious tents that straddle the L-shape road opposite the Super Tree area that faces the district's Pusat Belia (Youth Centre). Vendor rental in Temburong is also amongst the most affordable in the country at $40 for the whole month.
Concurrent visitor capacity has been set by the District Office at 150 persons, making for a more open and relaxed experience. Here are a few highlights to look out for during your trip.
Udang galah spread at A9 Cafe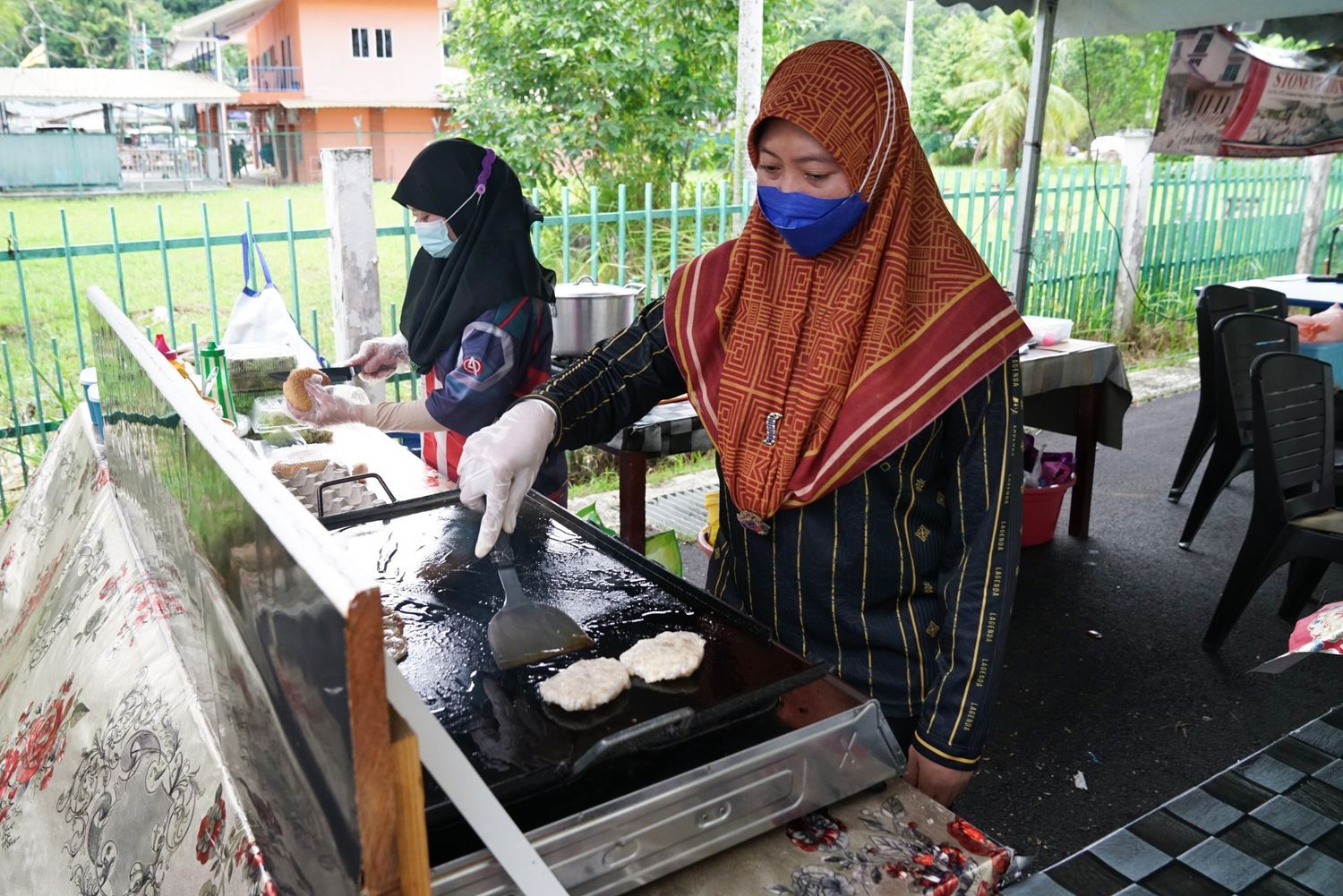 Long a staple of Temburong's F&B scene, A9 Cafe – lead by Hasnah Jumat and her husband – has gradually grown their operation over past 15 years.
A9 Cafe now includes a small unit in the town centre facing the river, a food truck, all while being a constant presence at the district's pop up events, especially the Gerai Ramadhan.
Their specialty is a menu centered around the district's delicacy of udang galah, served up in stews, noodles and even burger patties.
"Our most well known udang galah dishes are the udang galah burger ($5); curry mee with udang galah ($6.50); and udang galah with petai (twisted cluster beans) and masak merah (tomato-based stew)," said Hasnah, who is set up at booth 10.
With the opening of the SHOAS Bridge, the married couple have also ramped up their all-terrain vehicle (ATV) business Gunung Mutiara, offering guided, off-road tours in the district – which you can sign up for together with meals supplied by A9 Cafe.
Ambuyat accompaniments by Ajet Enterprise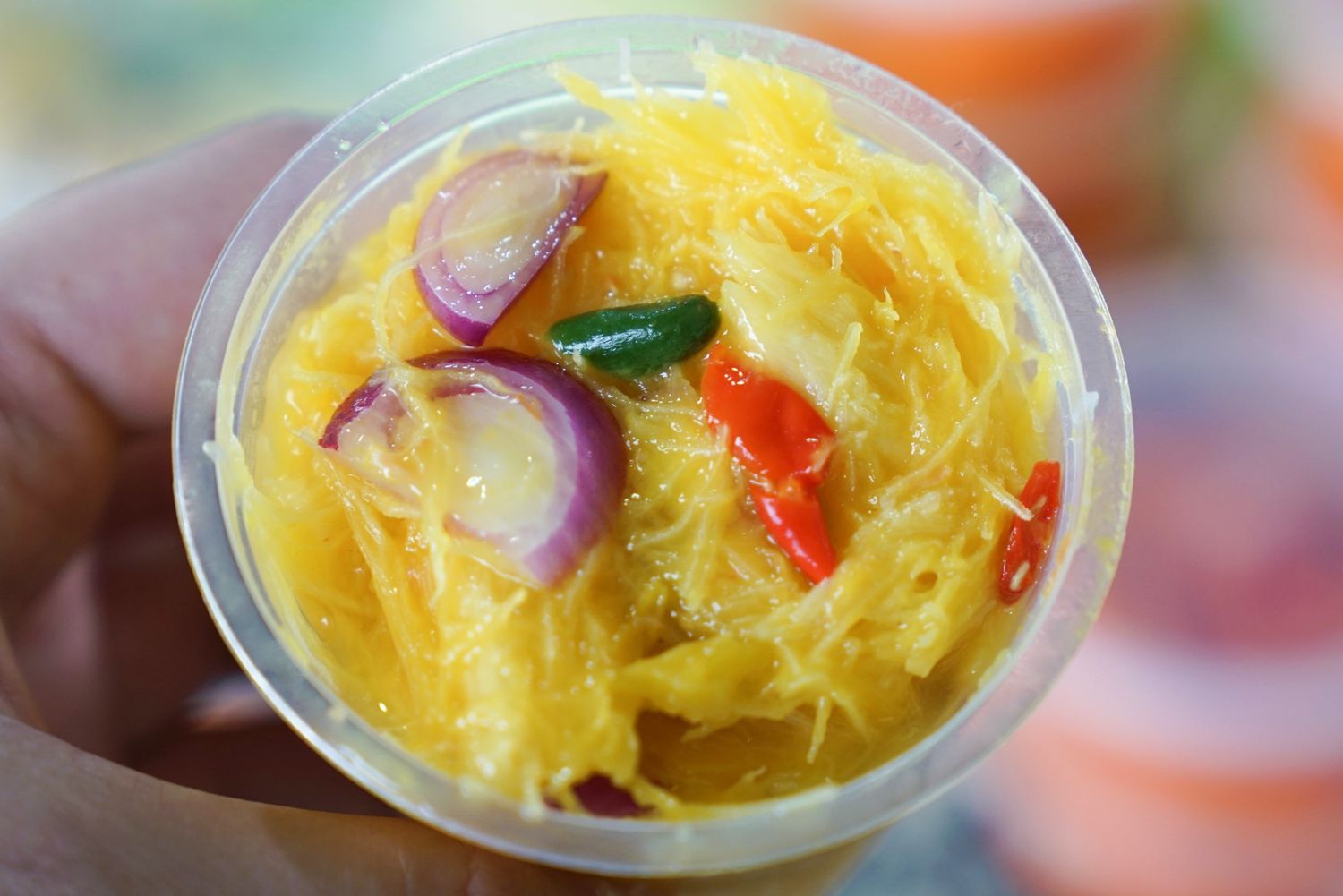 While the newly-established Ajet Enterprise offers the affordable, crowd pleasing combination of fried chicken with sambal and rice known as nasi katok, founder Azizah Abdullah Dameng also sells some unique pickled dishes, typically eaten with ambuyat (starchy sago).
They sell mambangan – a lesser known local fruit with a brown exterior and mango-like flesh – prepared as a pickle with onion, chilies and other local seasoning. Also sold is mango jaruk (pickle) prepared with samboi (dried red plums), which carries a sweet and tangy taste.
"This is our first time joining the Gerai Ramadhan, having set up a (daily) foodstall above the fish market last year," said Azizah's cousin Md Nixlan Kasah, who is helping man their booth. "Azizah prepares all the dishes, and we are hoping to gain more new customers by joining."
Trying tapai at Ka Julaekha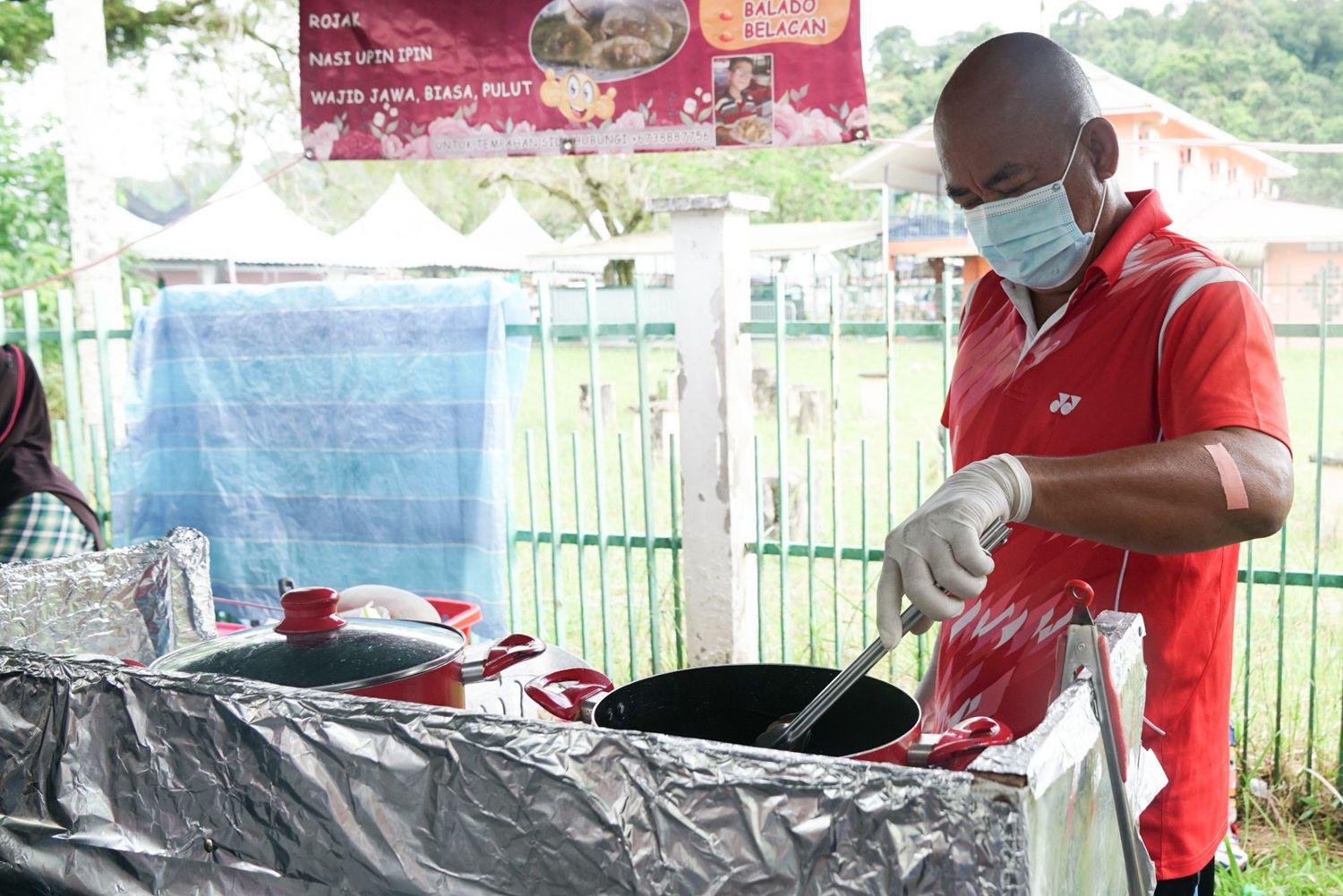 Although prepared in other districts, tapai is most associated with Temburong, where it's not an uncommon find at local foodstalls.
Ka Julaekha's take on tapai is to use both black and white pulut (glutinous) rice, fermenting into a black-purple hue that's then sold in a container for two dollars, so you don't have to manually unwrap the leaves its typically fermented in.
Ekha Julaekha also shares her stall with her relative Rokiah Md Said, who offers wajid, another local sticky rice dish that's wholly brown and sweet from the caramelisation of coconut and sugar.
Belia Permata Hijau sharing profits with the less fortunate
Newly-formed Temburong youth group Belia Permata Hijau has set up for their first Gerai Ramadhan, pledging to donate 20% of profits to the less fortunate in the district.
Located in the compound of the district's Pusat Belia (Youth Centre), Belia Permata Hijau is the sole representative of the Gerai Ramadhan Belia Temburong under the Ministry of Culture, Youth, and Sports – which is not officially a part of the main Gerai Ramadhan under the District Office, though it is located directly next to it.
The group, founded to help provide opportunities for Temburong youth while helping their surrounding community, offers a wide range of popular local street food. From the standard fare of local cakes and fried noodles, to kimchi (Korean fermented vegetables) and sweetened corn, as well as the the district's enduringly popular Cendol Hj Saban.
"Most of the dishes here have been prepared by the youth, their families or the Temburong community," said group member Azeez Ifwann Rajak.
"Aside from offering 20% of profits to the less fortunate, we will also be hosting a drive-by donation where people can drop off items (at our stall) consisting of basic necessities like cooking oil, rice and canned food."
The drive-by donation will run from the eleventh until the 29th day of Ramadhan, and be distributed after for the Hari Raya festivities.