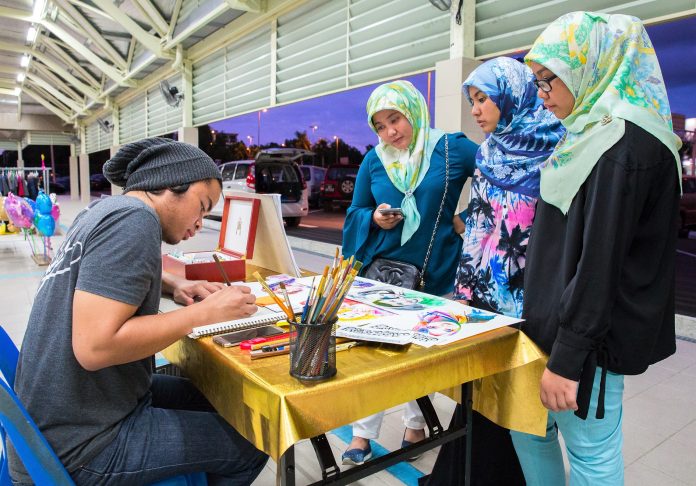 With a folding grey table under his right arm, recycled burlap bag on his left and a small back pack slung across his shoulders, a 24-year-old dressed in jeans, a simple t-shirt and flip flops, makes his way to lot C38 at the new Gadong Night Market.
He unfolds a gold coloured tablecloth, takes out six recent water colour paintings for display and puts up a sign advertising that you can have your name written in Diwani – one of the five principal Arabic calligraphic cursive styles – for just a dollar on the back of recycled calendars and posters.
With a view that overlooks the Sultan Hassanal Bolkiah Highway, he waits patiently for a first customer to arrive. Many a passerby stop to admire his work, a medley of bright coloured portraits illustrated on A3 and A4 sketch sheets.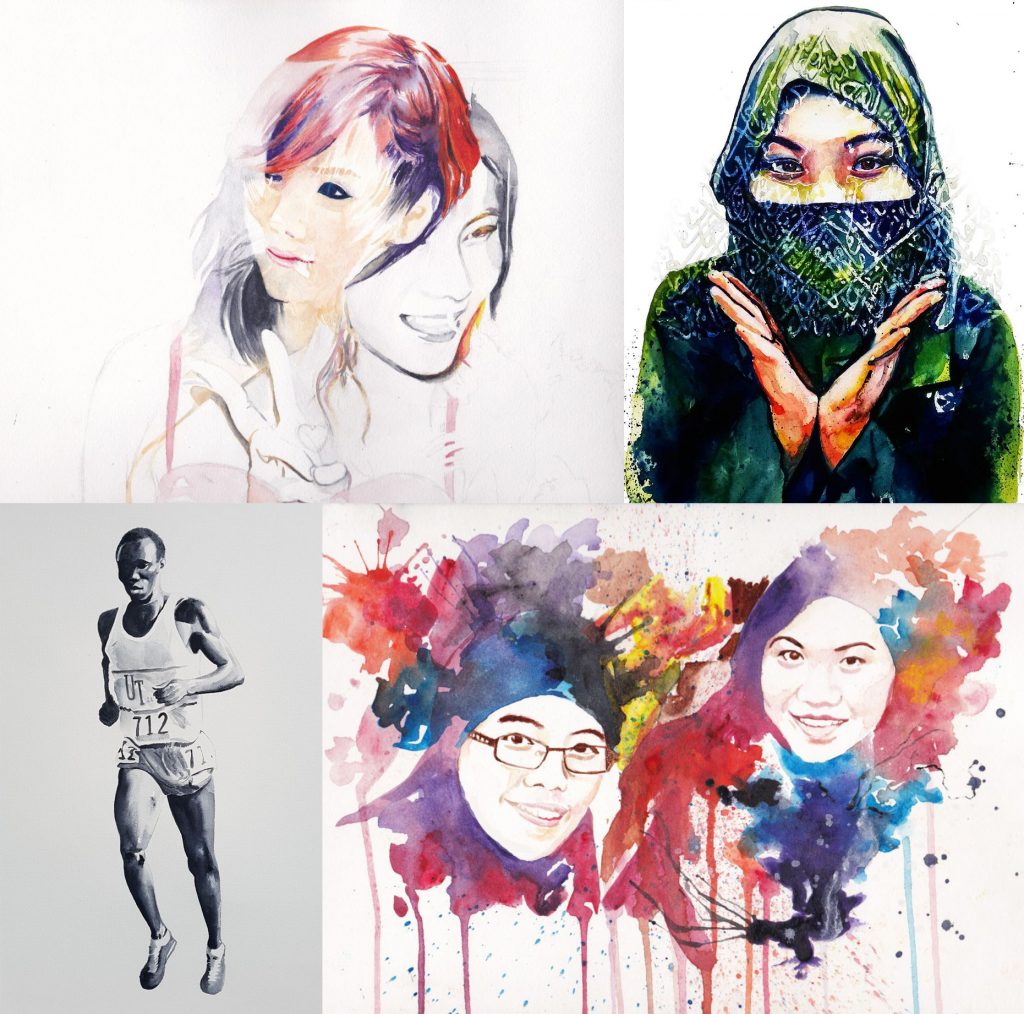 "How much is for a painting?" a lady asks. "$30 for a portrait," he responds, as he presses his palms into knees, hopeful to get an order. "How can I send my picture?" she replies.
While artists are not an uncommon sight at most open-air markets around the region, Muhd Miqdam Zaini's draughtsmanship is an unusual find in a Brunei tamu, which typically focuses on freshly cooked food and produce, with the occasional vendor selling clothes, fashion accessories and toys.
"Having a spot here has given me a chance at being a full-time artist," said the 24-year-old who graduated with a Diploma in Fine Arts and Calligraphy from Restu College in Selangor, Malaysia last year on a scholarship with Yayasan Sultan Haji Hassanal Bolkiah. "Right now I'm getting 6 to 10 orders for paintings a week."
He spends the quiet solitude of most mornings painting from his home along the Sg Besar river that leads out to the Brunei bay, where he is undisturbed from the bustling tamu crowd. In the afternoon, he waits for his cousins, who usually share the same lot with him to sell food, to pick him.
"I don't own a car yet," he says. "But I've got all that I need; the brushes, paint and art cards and paper."
The 24-year-old's artistical roots can be tied back to his mother, a native from Chiang Mai, Thailand, who was also a painter. At the age of four, Miqdam already began to scribble, before dabbling in water colour painting as a student at Sultan Muhammad Jamalul Alam Secondary School (SMJA).
As he worked to develop his own distinct style, he drew from modern self-taught painters like Agnes Cecile – who have managed to carve out a niche in the often overlooked medium of water colour painting, by illustrating rich, emotional portraits brought to life by the use of abstract colour and detail.
While learning calligraphy abroad, Miqdam, who was elected the president of his college's student council, would join his course mates at pop-up events where they would illustrate on-the-spot for money. "It's just a small table or two, nothing compared to owning a studio or anything like that," he said. "But you are getting noticed and you are getting your name out there."
When he returned from Malaysia, Miqdam was determined to build a name for himself from the ground up doing the same. He set up at Bandarku Ceria, took up orders on social media and even did odd-end requests like drawing and designing the menu chalkboards for cafes while also doing artwork for other small local businesses.
"Doing art full-time in Brunei, you cannot just stick to one medium," he reasons as we sit down at his stall. "To survive on my own, I have to find a way to make a name, a brand for what I do. I'm active with my artwork online and I make sure that I'm out here, in the open, meeting people. Bit by bit, I will make it."
Follow Miqdam's work @miqdame on Instagram or visit his stall at C38 at Pasar Pelbagai Barangan Gadong from Tuesday to Sunday; 5pm to 10pm. You can also contact him directly at +6737150102