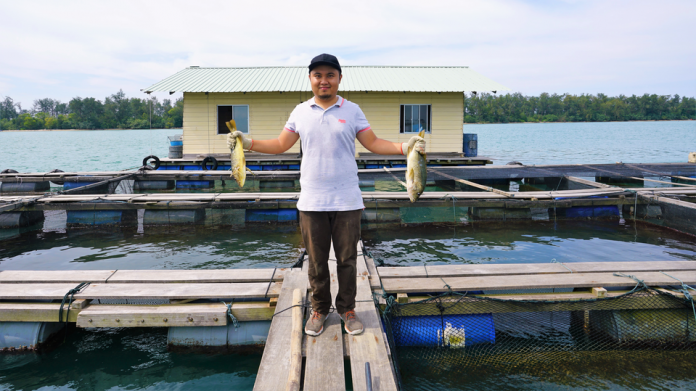 Opposite Hengyi's sprawling multi-billion dollar refinery and petrochemical plant on Pulau Muara Besar, Muhd Azhar Hj Abd Aziz and his employee who goes by the name Pak Preni haul ten, 40-kilogramme bags of small fish from their speedboat onto their floating farm along the Anson Passage.
"It's about a week's worth of supply of feed for our fish to eat," says Azhar, as Pak Preni begins to smash blocks of ice over the fish that's stored in containers.
"We can't keep it any longer because there isn't any electricity for a chiller."
Nur Az-Zahra Aquaculture is the furthest of the fish farms off the coast of Pelumpong. With 24 cages – each 3×5 metres with nets two metres deep – it's also one of the smallest.
"We set up here in March because we want to try farming in seawater with higher salinity," says Azhar. "This will allow us to try cultivating different fish species which we hope to export in the future."
From Cairo to Sg Bunga
At 27-years-old, Azhar is one of the few Bruneian youth pursuing fish farming today, although his reasons for starting were more practical than of lifelong ambition.
After completing a degree in Syariah from Al-Azhar University in Cairo, Egypt in 2016, Azhar returned to the Sultanate hoping to work in the courts or as a religious teacher.
With Brunei's economy in its fourth year of recession, the job market was becoming predictably tough, as Azhar found out first hand. The transition from university to a corporate job in a comfortable office did not appear to be on the cards.
Two years before Azhar graduated, his uncle was looking to let go of a floating cage operation along Sg Bunga, near Kg Ayer. Azhar's family invested $40,000 to buy over the farm, but with just one employee and little to no supervision, it only managed an output of 1.48 tonnes of fish in 2014.
The farm failed to grow in the following two years, hitting an all-time low of 1.16 tonnes in 2016. Azhar, the eldest of nine siblings, decided that he would step in.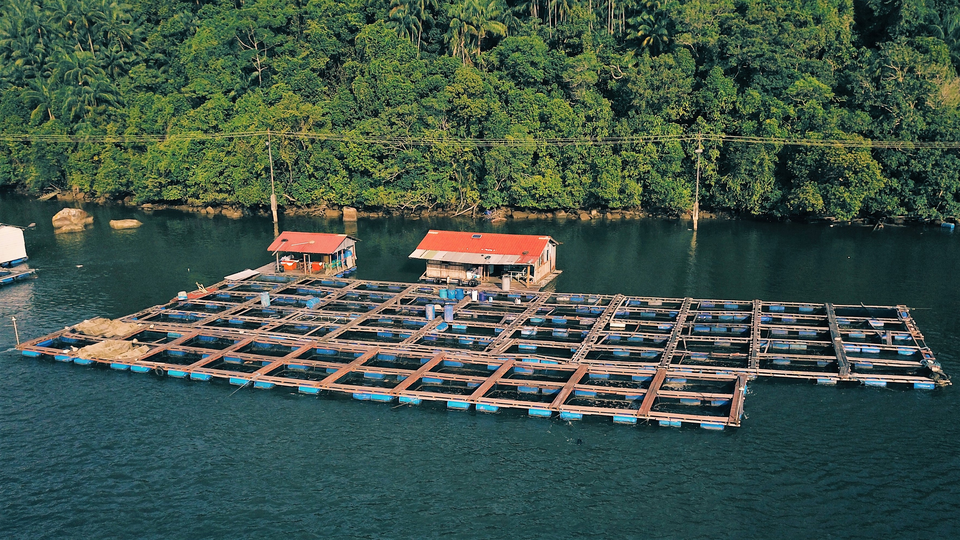 Revitalizing a flagging business
A newcomer to aquaculture, Azhar's first move was to study the best practices of fish farming and contrast it to their ongoing operation. But the 27-year-old also listened closely to what his sole employee from Indonesia had to say about the farm's lackluster performance – from nutrition to infrastructure.
"The employees weren't the ones to blame," said Azhar. "The truth was we were not hands-on enough. In fact, the two staff that we have (in Sg Bunga and Pelumpong) have experience that we (Bruneians) should be learning from. We should hear their side when we're making new plans because they'll be the ones implementing it."
The farm had 50 cages, but only 35 were up and running in 2016. Azhar decided to increase their operation to 70 cages, farming mostly sea bass (selungsong), golden snapper (bera-berahan), white trevally (ikan putih) and red tilapia which retails between $5 to $14 per kg.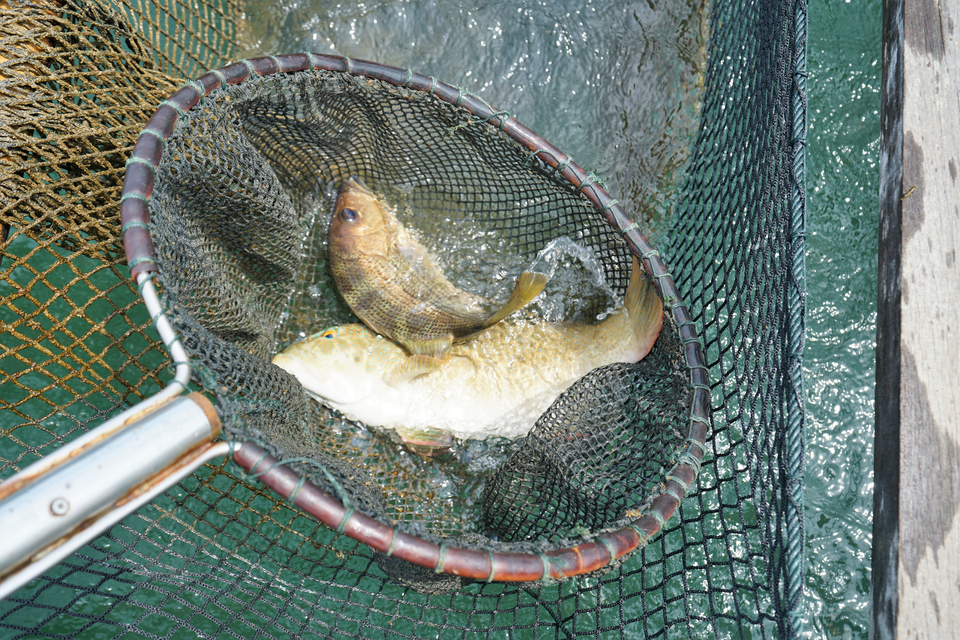 With his team staying on-site and only returning to shore for supplies or deliveries, another clear weakness was their sales and marketing.
Azhar began doorstepping restaurants and met with distributors to ensure continuous demand for his produce, which would typically be ready for sale after growing to nearly a kilogramme in bodyweight after eight to 10 months.
By the end of 2017, Nur Az-Zahra Aquaculture had recorded its highest output at four tonnes, a modest yet definitive step in the right direction.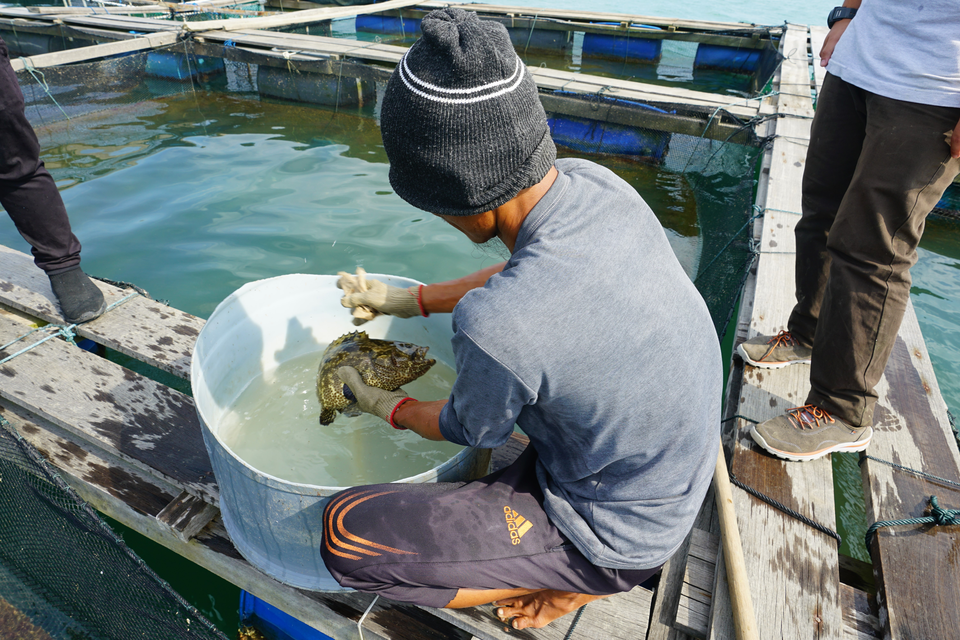 Fall forward
Buoyed by their 2017 performance, Azhar decided to apply to the Fisheries Department for permission to set up in Pelumpong to experiment with farming in seawater, hoping the higher salinity would yield a different result to Sg Bunga's more brackish composition.
Recognition came soon after, with Azhar receiving a surprise call in July to join a group of 34 young entrepreneurs who would fete His Majesty Sultan the Sultan and Yang Di-Pertuan of Brunei Darussalam on National Youth Day.
From January to July 2018, Nur Az-Zahra Aquaculture has produced 2.86 tonnes. But while they're projected to improve on last year's output of four tonnes, their learning curve at Pelumpong has been steep and not all the risks they've taken have paid off.
"We suffered our biggest loss (at Pelumpong) with the hybrid groupers," said Azhar. "We brought in 10,000 fingerlings from Indonesia, but only 1,000 have since survived."
Trialing new breeds in open water – effectively an uncontrolled environment – is akin to conducting a science experiment with without being able to control all the variables, making outcomes difficult to predict.
The 27-year-old admits he must do better to record data on new operations as he looks to yield with more consistency and reduce costly mishaps.
"We have many more challenges to overcome," says Azhar. "I never dreamed of becoming a fisherman growing up. But two years in, I don't ever regret taking it on."
Visit Nur Az-Zahra Aquaculture's Instagram for the latest updates and contact +6737267233 to get in touch directly.