For the self-employed who weave and make handicrafts along Kg Ayer, Hjh Hamidah Hj Ahmad is a well known figure.
The 66-year-old has for more than a decade, served as the connector between the handiwork of the grassroots population and the mass market, particularly the Jong Sarat – an intricately hand woven fabric, that's considered by Bruneians to be the finest of all locally made textiles.
The material, which is composed of gold and silver thread weaved into high grade cotton or silk, is often worn for special events, from state functions to weddings, and retails at a premium between $300 to $500 for a 2.2 x 0.8 metre roll.
And while Hjh Hamidah's business Ridah's Handicrafts does provide a fair selection for the exclusive fabric, she's taken the use of Jong Sarat a step further – using it to embellish the designs on otherwise ordinary items like clutches, tissue boxes, jewelry boxes and bags.
"There are still a lot of people out there who know how to weave the Jong Sarat but don't know where to sell," said Hajah Hamidah.
"We sought out these weavers in 1999, when Brunei was hosting the Southeast Asian Games. We wanted to provide souvenirs and gifts to sell to visitors, but we had to distinguish ourselves from the normal key chains and shirts. That's when me and my husband had the idea of taking the traditional Bruneian handicrafts like Jong Sarat and use them in new ways."
While there wasn't a big splash when they debuted their Jong Sarat line, initial sales – generated through word of mouth – were enough to spark a slow but steady growth for Ridah's Handicrafts.
"Today we are working with more than 30 weavers and handicrafts men who make 10 to 20 bidang (rolls) of Jong Sarat a month," said Hjh Hamidah, who left the civil service in the 1970s to pursue her first business – selling imported dresses and clothes in a small shop along Jalan Chevalier, now known as Jalan Pemancha, located in the capital.
"They're (weavers) all locals, many of whom are single mothers, housewives and newly graduated youths who've decided to pick up the age-old tradition."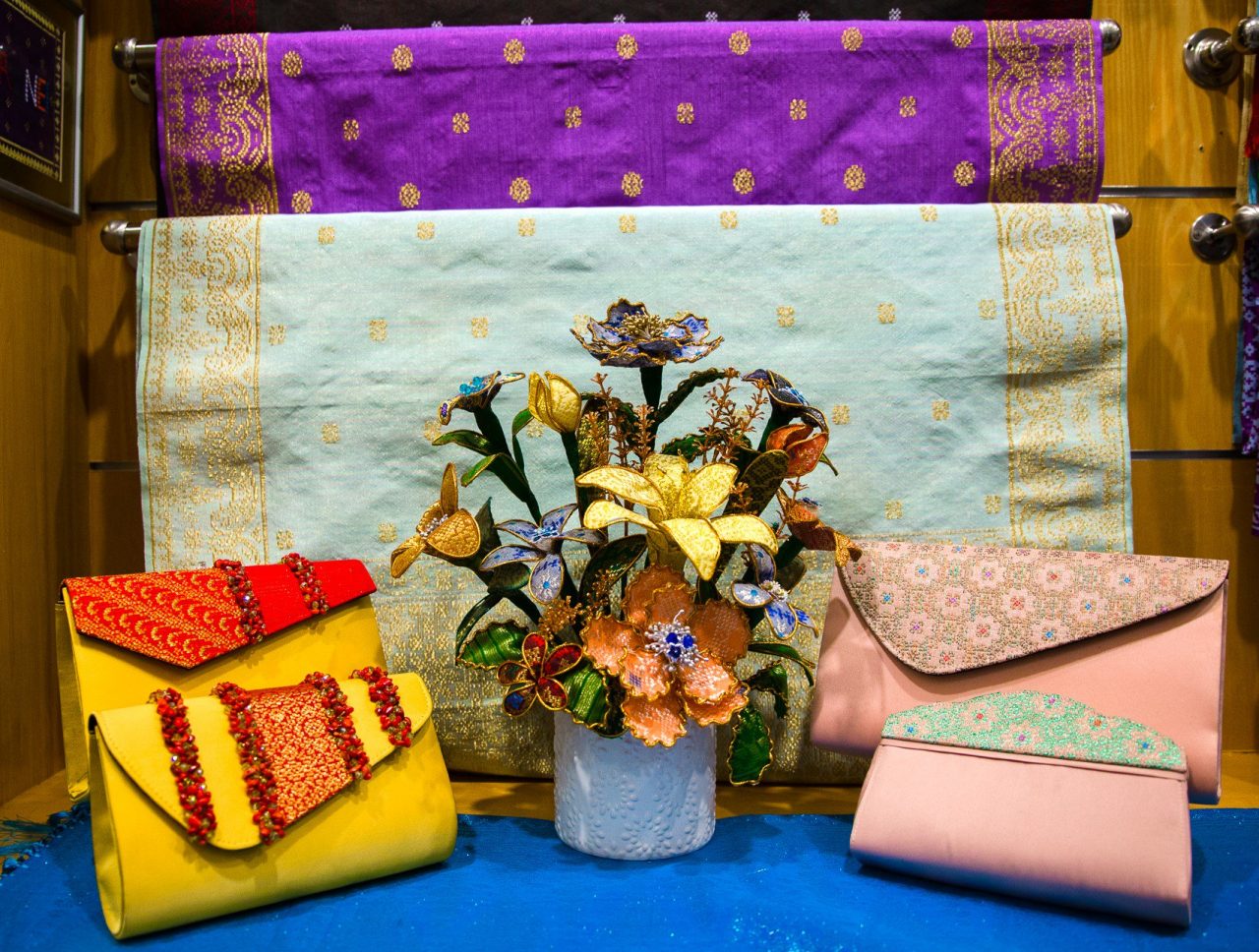 This year marks Ridah's Handicraft's 20th anniversary, and despite the economic downturn and growing competition, Hjh Hamidah and her team of weavers have not only managed to stay relevant but were amongst the standout performers at the first Made in Brunei Market Fair in May where they recorded five digit sales across just three days.
Ridah's Jong Sarat clutches have also found their way to Darussalam Enterprise's Unexpected Treasures displays at the Empire Hotel & Country Club and the Brunei International Airport – and can now be purchased online at unexpectedtreasures.com.bn.
"My goal is to one day to be able to export my products overseas," says Hjh Hamidah. And with her clutches now in an in-flight catalogue of local products on Royal Brunei flights, she's one step closer.
Ridah's Handicrafts is located at No. 21 and 22 of Terminal One, a shopping arcade located on Level 1 of the Centrepoint Hotel in Gadong.