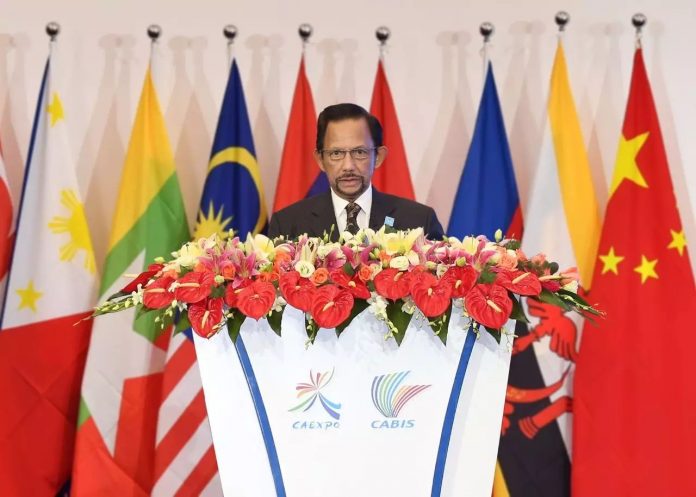 His Majesty Sultan Haji Hassanal Bolkiah Mu'izzaddin Waddaulah ibni  Al-Marhum Sultan Haji Omar 'Ali Saifuddien Sa'adul Khairi Waddien, Sultan and Yang Di-Pertuan of Brunei Darussalam yesterday praised the China-ASEAN Expo (CAEXPO) for establishing itself as a "premier event" that strengthens and promotes economic and trade ties within the region.
Speaking at the Nanning International Convention and Exhibition Centre (NICEC) for the opening of the 14th edition of CAEXPO and the accompanying China-ASEAN Business and Investment Summit (CABIS), His Majesty also thanked China for their efforts in consistently supporting ASEAN's economic endeavours as the regional bloc looks to further its economic integration.
"The involvement of so many micro, small and medium enterprises (MSMEs) in this expo (CAEXPO) is particularly important to our people as these businesses represent the main source of employment in ASEAN," said the monarch, who was accompanied by His Royal Highness Prince 'Abdul Mateen to the event's opening.
Within ASEAN's 10 member states, MSMEs account between 51.7% to 97.2% of total employment, generating 30% to 53% of Gross Domestic Product and 10% to 29.9% of exports.
His Majesty also expressed his appreciation for the opportunity received by Brunei to take on the mantle of the Country of Honour at the expo this year.
The Sultanate has brought 119 companies from Brunei, their largest delegation of businesses to date, who are looking to sell and showcase their products and services at Brunei's Commodity Pavilion, while also searching for opportunities to supply, collaborate and invest. More than 90 fall into the category of MSMEs, covering a wide range of industries including good and beverage, healthcare, fashion, cosmetics, manufacturing and services.
On a regional level, His Majesty said that it is hoped the twin goals for trade between ASEAN and China of USD 1 trillion and USD 150 billion in investment by 2020 be realized through closer cooperation, which will most likely see ASEAN progress from being China's third largest partner to its first.
His Majesty said that the China-ASEAN Free Trade Area, and the even wider Regional Comprehensive Economic Partnership – which is undergoing final negotiations – will pave the way for future growth in the region.
"We are particularly inspired by China's silk road economic belt and the 21st century maritime silk road belt," said His Majesty. "It further underscores the importance of enhanced connectivity in all aspects encompassing infrastructure development, trade, finance,investment and most importantly people to people interactions."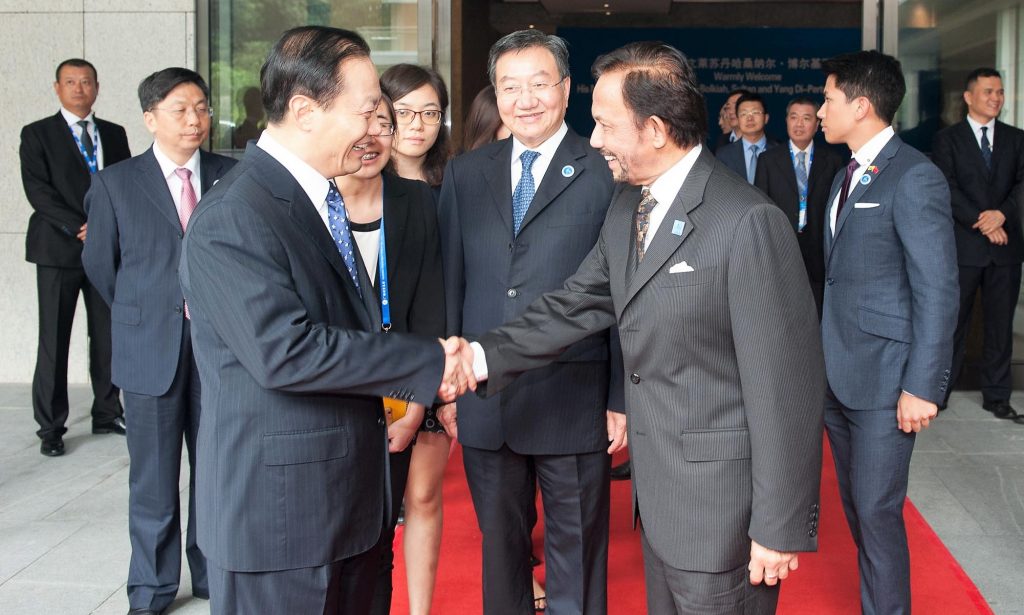 The monarch added it would also be beneficial to explore closer collaborations between ASEAN's 2025 master plan for connectivity and China's belt and road initiative.
As this year marks the ASEAN-China Year of Tourism Cooperation, His Majesty said that further progress should be made in the liberalisation of air connectivity between both regions to allow for more people to people and economic linkages.
With next year has been designated at the ASEAN-China Year of Innovation Cooperation, His Majesty also encouraged the region's private sector to develop innovative ways "that will enable us to work closely and further strengthen our future together".