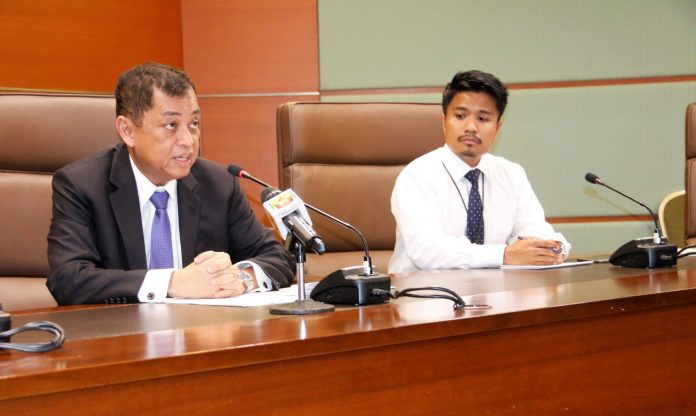 Brunei has risen from 72 to 56 out of 190 economies in the World Bank's Doing Business Report 2018 – recording the largest improvement of all economies measured by the distance to frontier score (DTF) for the second consecutive year.
Brunei's ranking of 56th corresponds to a DTF score of 70.60, the maximum being 100 – which represents the best performance in all indicators observed across economies since the Doing Business sample began in 2005.
The 2018 edition of the report, released yesterday, ranks countries based on measurements of regulations affecting 10 key areas affecting the life of a business: starting a business, dealing with construction permits, getting electricity, registering property, getting credit, protecting minority investors, paying taxes, trading across borders, enforcing contracts and resolving insolvency.
Regionally Brunei finds itself 4th in ASEAN (pictured below) and 11th amongst Asia-Pacific economies; behind the Republic of Korea (3), Taiwan (6) and Japan (9) and ahead of Asian powerhouses China (18) and India (19).
The Minister of Energy and Industry at the Prime Minister's Office Yang Berhormat Pehin Datu Singamanteri Colonel (Rtd) Dato Seri Setia (Dr) Awang Haji Mohammad Yasmin Haji Umar, who also chairs the Ease of Doing Business Steering (EODB) Committee, thanked the Champion Groups – comprised of government agencies spear heading reform efforts that improve regulations – while calling for the pace and urgency of reform efforts to continue, as well as to prioritize the inclusion of the country's private sector in the reform process.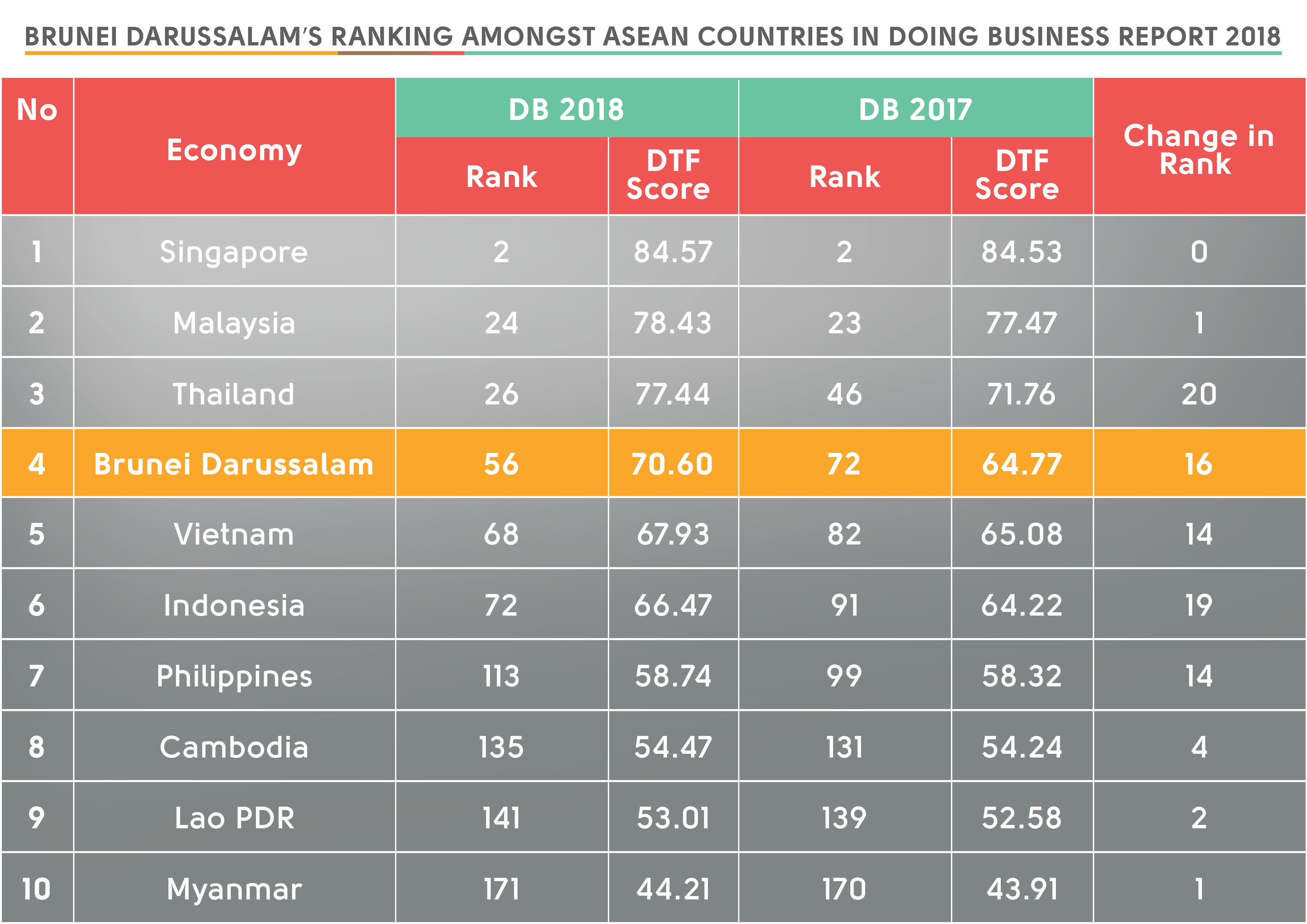 "We cannot afford to be complacent (in pursuing improved reforms)," said the minister in a press conference at the Prime Minister's Office to explain Brunei's performance in the report. "Everyone (all economies) are actively improving, and we must keep up our pace. We must also involve our businesses on the ground more, to gather their feedback throughout the reform process (from design to implementation), to ensure that what we are pursuing, will actually help them; making it easier to do business in Brunei."
The methodology of the Doing Business involves a standard questionnaire delivered to local experts; which include lawyers, business consultants, accountants, freight forwarders, government officials, which the World Bank cites as being subjected to "numerous rounds of verification, leading to revisions or expansions of the information collected."
What were the largest improvements?
Brunei's most significant rise arguably comes under getting credit; where it rises ahead of Singapore and below first ranked New Zealand. The improvement is largely down to the Autoriti Monetari Brunei Darussalam's efforts in initiating the Secured Transaction Order (STO), which has paved the way for the introduction of the Collateral Registry System (CRS) – which allows movable property such as cars, crops, and livestock – to be used as collateral for loans.
Previously, business loans in Brunei require fixed assets – either land or property – to serve as collateral. However, these reforms allow virtually any movable property to act as security for a loan, provided the lender (in most cases a financial institution) deems the item creditworthy. CRS is practised widely in Europe and the US, however, its introduction within ASEAN is fairly unique.
Practically, CRS is intended to improve a business' ability to gain financing – allowing the business to leverage on assets that they own outside land or property.
Areas in need of improvement?
Although Brunei recorded an improvement overall – its DTF was 70.6 compared to last year's 64.77 – there were six areas which recorded a decline of two to 15 places. More significantly, there are three pressing indicators (pictured above) which Brunei remains outside 100.
Trading across borders – which records the time and cost for the logistical processes to import and export goods from a country – declined two places from the year prior, despite the privatization of the Muara Port through the Muara Port Company Sdn Bhd – a joint venture between state-owned Darussalam Assets and the Beibu Gulf Port Group, which officially launched earlier in February.
In addressing the lack of improvements in these specific areas, Pehin Datu Singamanteri Colonel (Rtd) Dato Seri Setia (Dr) Awang Haji Mohammad Yasmin explained that it was not enough for reforms to be initiated – there must be "a follow-through impact, especially on the ground, for the private sector" for measurements to improve.
"Sometimes (depending on the indicator) it will take a year to two years (after the reforms are initiated) for the results to be truly reflected in the rankings," said the minister. "For example, even though there have been improvements at the Muara Port (after privatization), if the businesses (importing/exporting) surveyed by World Bank are not experiencing improvements yet, the ranking will not improve. However, on our side, we cannot just assume that it will improve (with time). We must continuously monitor the situation."
Striving for top 20; what do rankings translate to?
The Crown Prince and Senior Minister at the Prime Minister's Office His Royal Highness Prince Haji Al-Muhtadee Billah ibni Kebawah Duli Yang Maha Mulia Paduka Seri Baginda Sultan Haji Hassanal Bolkiah Mu'izzaddin Waddaulah, as the Chairman of PENGGERAK – a delivery unit that identifies and ensures key areas needed for the nation's progress are implemented by the government – has overseen and steered Brunei's reform agenda.
His Majesty Sultan Haji Hassanal Bolkiah Mu'izzaddin Waddaulah ibni Al-Marhum Sultan Haji Omar 'Ali Saifuddien Sa'adul Khairi Waddien, the Sultan and Yang Di-Pertuan of Brunei Darussalam's recent titah in conjunction with his 71st birthday also reiterated the need for greater collaboration between the country's private and public sectors in driving the nation's economic growth and creating a pro-business environment.
The Doing Business rankings primarily reflect the environment that domestic businesses operate in – however, the Minister of Energy and Industry has credited the recent influx of large-scale foreign direct investment (FDI) into Brunei to also be reflective of continuous improvements in the rankings, by giving foreign companies the confidence to invest in the Sultanate. According to statistics from the Economic Planning and Development Department at the Prime Minister's Office, FDI in activities other than oil and gas has risen from 2% of the total in 2012 to 32% in 2015.
More recently, Brunei's economy has expanded by 0.7 per cent year-on-year in the second quarter of 2017, driven by stronger domestic demand, particularly in the capital expenditure of the private sector as well as government consumption expenditure, which grew by 28.5 per cent and 23.5 per cent, respectively. This reflects the investment in capitals is increasing with entries of Foreign Direct Investments into the Sultanate.
All tables and information graphics for this story were provided by EODB and the World Bank Simulator. For more information on Brunei's performance, or to access the full report click here.