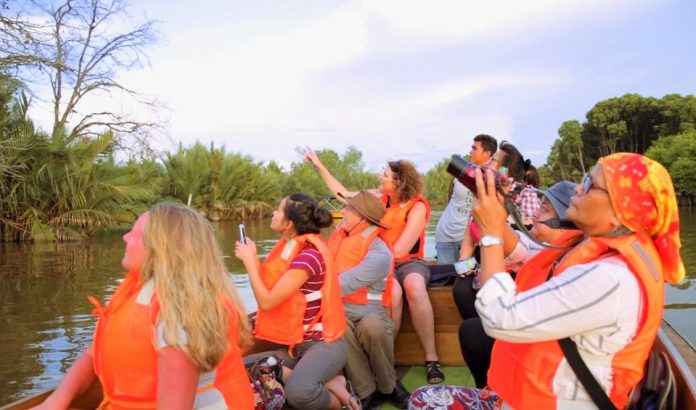 Brunei International Airport has recorded 65,747 tourist arrivals between April to June (Quarter 2) this year, an increase of 13,455 tourists or 25.7% from 2016.
The increase continues the positive trend from January to March (Quarter 1) 2017, which also saw an increase of 11,525 tourists or 20.4% compared to the same period measured last year, putting total arrivals for the first half of the year at 133,703 compared to 108,723 from the year prior.
The growth this year, if maintained, positions the Sultanate to eclipse last year's total arrivals of 218,809. The Tourism Development department of the Ministry of Primary Resources and Tourism (MPRT) attributed the increase in a media release to high travel demands from Brunei's main markets – ASEAN and the Far East.
These have been supported by improved air connectivity, including "chartered flights from the Far East, improved travel facilitation and a modest global economy recovery". Also improving were arrivals from long-haul flights, which saw a 34.4% increase in their category.
Arrivals from Malaysia continue to be the largest (top five arrivals by country by air pictured below) but the largest gains are from the Philippines, which recorded an increase of 2,831 visitors.


By nationality, however, China continues its dominance with 8,868 arrivals. Although this is an improvement of 311 tourists, China's share overall has declined by 2.9 per cent, with Philippines recording the largest increase of the top five arrivals by nationality – an additional 1,373 tourists compared to the same period last year.

Holiday and leisure continue to be the main reason behind visits to Brunei, although an anomaly in the statistics for quarter two last year – specifically in the others category – arguably skews the ability to draw conclusive comparisons between 2016 and 2017.

Brunei also recorded 1,026,769 international arrivals through its land borders, up from 951,823, although there are no statistics available that distinguish if these arrivals were for the purpose of transit, holiday, business or others.
The overall increase in tourist arrivals by air has also translated to an improvement in the average occupancy rate of Brunei's hotels, which increased from 36.8% to 41.7%. The average length of stay – 2.2 days – remains unchanged.
The lodging industry has also grown slightly in quarter two – there are 84 establishments, compared to last year's 81 and 4,317 rooms and 6,079 beds; compared to last year's 4,084 rooms and 5,777 beds respectively.
Out of the 84 establishments; 50 are hotels, resorts and apartments, 16 homestays, 15 guest or rest houses, and three government guest houses.
Next month, the Tourism Development Department will launch the Brunei December Festival; which will comprise over 30 events – designed and run by the private sector – to draw tourists and encourage Bruneians to spend and vacation within the country.
To consolidate the listing of the wide-ranging events, MPRT has also collaborated with Progresif to launch Brunei Events – a website which will act as a single platform for all local events and happenings for the December Festival and the upcoming year.
In the past 10 years, Brunei's tourist arrivals have fluctuated between a low of 157,000 in 2009 and a high of 242,000 in 2011.