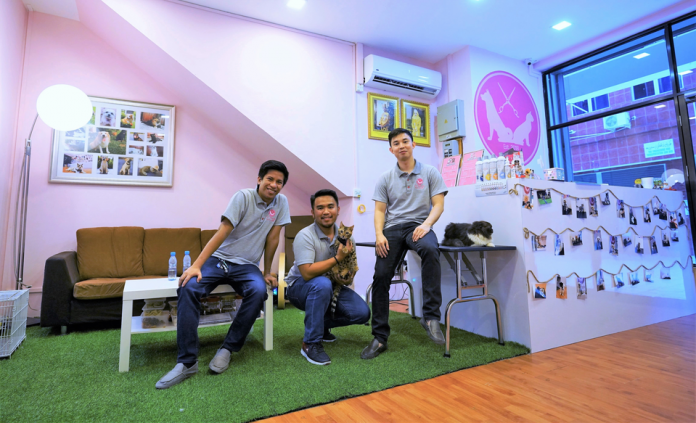 Pet Grooming isn't new in the Sultanate – several established businesses, alongside freelance groomers, make up pet owners' options when looking to get their furry felines or canines clean and trim. But Si Manja has taking grooming a step further, with custom styling and more than a dozen services that only a dedicated pet spa and boutique can provide.
"We're looking to provide that next level of care and grooming for your pet at a price that's competitive against more traditional grooming," says owner Billy Lim.
Housed within Unit 24, Block C of the Melabau Complex in Serusop, Si Manja offers basic grooming for cats beginning at $15 and $40 for dogs, which covers a bath and blow-dry, eye and ear cleaning, paw pads and nail clipping, brushing and combing and even sanitary area trimming.
Then comes the option for a styling trim, offered as part of a full package, alongside a host of other ala carte services, including teeth brushing, de-shedding, tick removal, conditioning and moisturizing.
"What separates us is that we can offer specialized pet styling so that owners can really customize their pets looks," said Billy. "One of our most popular options include the Lion Cut for cats, where we turn your cat into a miniature lion with the mane, 'socks' on their legs and a fluffy tail."
For dogs, there are options such as the Teddy Bear cut, where the fur is trimmed to make the head and body of the dog appear round, and the Poodle Cut where the body is trimmed short, legs left a little thicker and head neatly trimmed, suitable for furry dogs in Brunei's warm weather.
"We also keep separate cat and dog grooming rooms with their own set of tools and equipment to respect the different religious beliefs of customers," said Billy. "We also sanitize all the tools and rooms after every grooming session to prevent any potential transmission of diseases."
He added that Si Manja inspects the pets for any illnesses before grooming, to prevent cross-contamination that may affect other pets that come in.
Billy has also spent a premium to procure high-end grooming tools for Si Manja; including Andis-brand trimmer and blades, costing north of $500, which operate under a lower temperature with reduced noise to make the cut more comfortable for pets.
Edmon Bagacina, a professional groomer and veterinary assistant with over a decade of experience in the Philippines leads the grooming, with former home-based Bruneian groomer Halimin Mumin leading sales and marketing, while also serving as an apprentice groomer.
"The response so far has been great," said Billy, a banker who describes himself as a pet lover with two dogs and a cat. "For us, we're really looking at continuously improving our service; cleaning the animals thoroughly as well as styling them to look their best, so pet owners leave happy – knowing their time and money was well spent."
The 32-year-old added that they are planning to take on other pets like gerbils and rabbits in the future, as well as potentially opening up boarding options.
Si Manja is located at Unit 24, Block C, Melabau Complex (behind the Serusop Mosque) and is open from 9am to 6pm, Tuesday to Sunday. To learn more follow @simanja.petgroomingspa on Instagram and Facebook. To book an appointment or get in touch directly contact +6737299222.