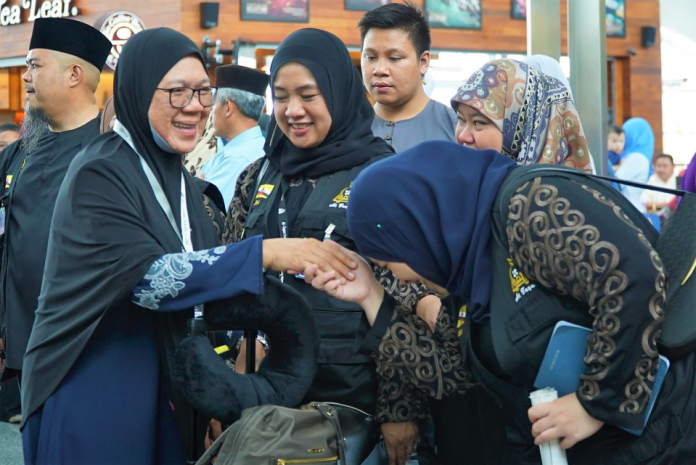 At-Taqwa Travel Tours marked an early milestone earlier today as they brought their first batch of 30 Bruneians to perform the Hajj pilgrimage in Mecca.
A newcomer in a relatively established industry, At-Taqwa has recorded a steady growth in selling religious outbound packages since forming in 2015; they sold packages to 50 Umrah pilgrims in their first year, followed by 500 in 2016 and a 1,000 last year.
Their chairman and managing director Pg Hj Mohd Rosdimar Pg Hj Omarali said the travel agency is looking to gain a foothold in the market by combining the experience of its founders to offer "quality, innovative" packages and services that's marketed heavily across social media.
"This year we began our first batch of Hajj with a premium package ($17,000 to $18,000) which includes being accommodated at Hyatt and Hilton," said Pg Rosdimar, who has close to two decades of experience with state-owned Darussalam Holdings. "Next year we are looking to accommodate a much bigger number with a more affordable 'medium' Hajj package."
The chairman said that At-Taqwa was providing its Hajj pilgrims with an in-ear audio guide, to ensure clarity of communication amongst the group.
"Most of the cohorts are instructed over megaphones but it can be confusing because of the vast number of pilgrims," he said, with news reports estimating that three million Muslims will make the Hajj this year. "With our device, they can hear clearly from our instructor. We believe we are the first to provide this service."
At-Taqwa has also swiftly moved into social media – an area their competitors have traditionally not placed much emphasis on – and used a strategy that includes engaging influencers like Kurapak and Dj Daffy as well as prominent figures in Brunei's Islamic community like Ustaz Khairul Nazif and Ustaz Abdussalam to amass a combined following of 20,000 across Instagram and Facebook.
"We have found social media to be a very important platform for us to engage potential customers and raise awareness or update frequently about what we're offering and working on," said Pg Rosdimar.
The chairman added that they were targeting at least 2,000 pilgrims for Umrah in 2019 – a shorter Muslim pilgrimage to Mecca which can be performed at any time of the year, with packages retailing between retailing between three to five thousand dollars – for next year.
"We're also looking to market other outbound packages with Royal Brunei Airlines," said Pg Rosdimar.
For the latest updates visit @at_taqwa_travel_tours on Instagram. At-Taqwa is located at Block A, Unit 5,6 & 7, Ground floor, Latifuddin Complex, Tungku Link, Rimba, near the old Liang Toon building complex.