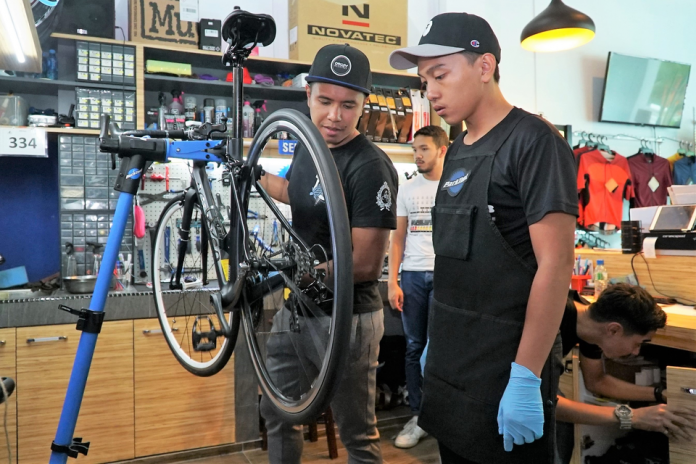 With the backing of an investor, Bike Park Company (bikeparkco) has reopened with an all-new storefront in Kiulap that's looking to build on Brunei's newfound interest in cycling.
After their outlet at the Riverview Complex suffered from a fire last September, a regular customer turned investor offered bikeparkco's founder and former national cyclist Raihaan Aziz the opportunity to move to a larger space, enabling them to expand beyond their initial model of servicing bicycles.
"As we see cycling growing, over the next five years we want to move from just a bicycle workshop to selling competition bikes, gear and offering dedicated coaching," said Raihaan.
"Right now we cater close to 30 bikes a week, coming in for washing, servicing, repairs and fitting, with a team eight young Bruneians, all who cycle themselves."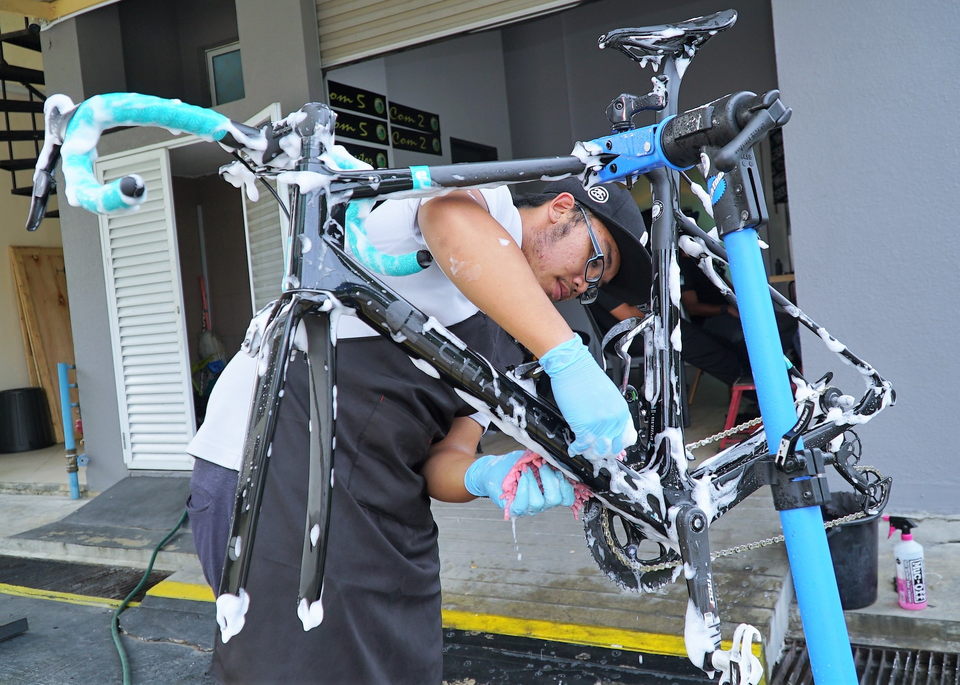 Maturing industry
Few Bruneians peddle as a means of commuting. Cycling, to most, is either a recreational pastime or a sport.
Spending thousands of dollars on a bike was fairly foreign growing up, says Raihaan, and idea of cycling weekly was limited to serious enthusiasts, until His Majesty the Sultan and Yang Di-Pertuan of Brunei Darussalam's public participation in several cycling events.
The launch Bandarkuceria three years ago – a weekly car-free initiative within the capital's roads – has also spurred the wider adult population to begin peddling. It's not uncommon now to see cyclists training on highways, with bikeparkco also leading its own evening group ride every Wednesday with support cars.
"As more and more Bruneians get into cycling seriously the demand for more competition and premium bicycles has increased, which has created an opportunity for new businesses looking to service and repair them," said Raihaan.
"With a more expensive bicycle there's a lot of maintenance and expertise that goes into customization (upgrades) and servicing, from gears to breaks to the alignment and balance of its wheels. To make sure everything is performing optimally, which is critical to cycling safely on open roads."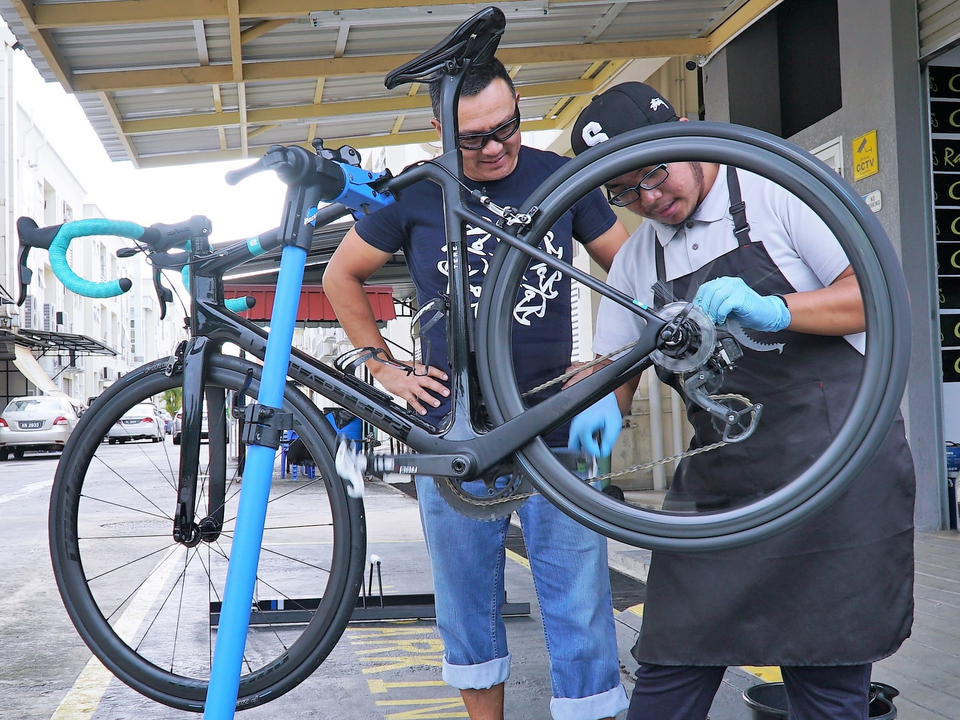 From athlete to mechanic to businessman; can Raihaan mount a final comeback?
Raihaan's journey in competitive cycling began in his hometown of Tutong when he was just 14-years-old, long before it became a national phenomenon. And although he showed promise by dominating local contests, he was not sure if he could make cycling a full-time profession.
In 2013, Raihaan notched third for Brunei in a race leading up to the Southeast Asian (SEA) Games, and experts predicted a podium finish for the then 25-year-old Bruneian.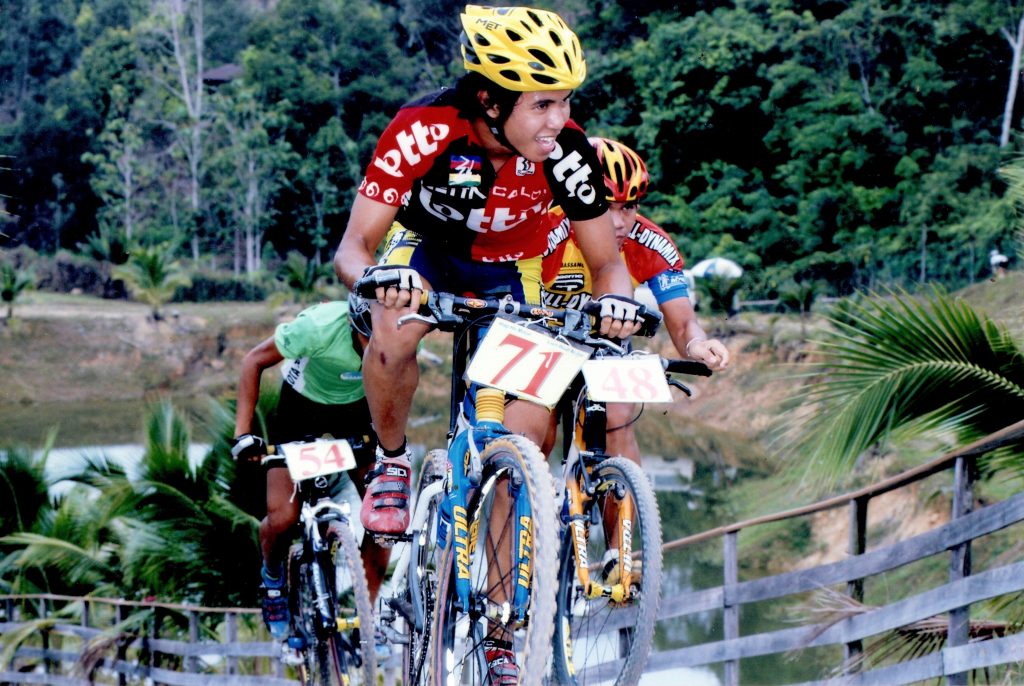 In a hurried attempt to heal for a niggling knee injury, Raihaan took a supplement that he unknowingly claims contained steroids, and was promptly suspended from competing for two years.
Raihaan was embarrassed and struggled to come to terms with being banned, but never gave up his passion for cycling. When Reduan Yusof, a fellow national cyclist who operated a bicycle shop in Belait, was keen to expand to the capital called in 2017, Raihaan – who was now turning 30-years-old – was still eager to get on board.
"At that time I had tried almost anything to make a living," said Raihaan, who used to work as a government clerk. "Selling nasi katok, balloons during perayaan (celebrations) and even set up a small home gym."
The new store located next to the former Riverview Hotel in Gadong was called Specialized, envisioned as a "bicycle cafe" that would repair and sell bicycle accessories while also serving light food and brewed coffee. Raihaan, who often repaired and maintained his own bikes when racing, was offered a role as a mechanic.
Less than a year later however, Specialized's owners were looking to move onto a new venture. Raihaan agreed to buy over the business for $40,000, paid in installments, and rebranded it as bikeparkco.
He also absorbed most of Specialized's staff, including an 18-year-old O-Level graduate Firman Adinin, who Raihaan has now promoted to be bikeparkco's manager.
With an investor on board and a close-knit team, bikeparkco is now poised to grow. But Raihaan is still haunted over his past doping, continuing to bear the weight of expectations as a once promising young national athlete that was destined to step on the podium.
"I need to go back to reclaim what I lost," says Raihaan, as he rubs his darkened hands together, a giveaway of his repeated exposure from training routinely in the sun. "I can't live looking back and wondering what could've or might've happened."
Now 30-years-old, Raihaan has recently made the preliminary cut for the national team for upcoming SEA Games hosted Philippines at the end of 2019, where he is targeting a podium finish in the mountain bike – cross country category.
"I'm older now, but I'm confident that I can still bring home a medal for Brunei," says Raihaan. "I have a team (bikeparkco) that believes in me and wants to see me succeed; I will not let them down."
Bikeparkco is located at Unit B1, Ground Floor, Block B, Setia Kenangan II, Spg 150-5-13-18, Kiulap and opens from Monday to Thursday and Saturday from 10am to 6pm, and 2.30pm to 8pm on Fridays. Visit @bikeparkco on Instagram for the latest updates and contact +6737196148 to get in touch directly.