When Rafeah Serbini and Dr. Hjh Mona Yati Mohd Kassim first met several years ago, both women held budding professional and corporate careers.
Rafeah was a little earlier in her journey with Brunei Shell Petroleum, while Dr. Mona was already involved in a dozen ventures – from teaching at local universities to starting training companies that taught welding and provided business consultancy.
Dr. Mona was providing corporate training for Rafeah's department, but their initial interactions were more perfunctory rather than creative. Only much later, when Rafeah stumbled on a lecture that Dr. Mona was giving at an Islamic governance symposium in UBD, did the pair begin to foster a deeper connection that would eventually lead them to form their Islamic educational programme for children Tarbiyyah Global.
At the time, Dr. Mona had a busy schedule as a sought-after professional, but privately she was going through a divorce and found herself wanting more when her children asked her simple questions about the nature of life and God.
"Raising my kids, they asked a lot of seemingly easy yet challenging questions; What's stronger – water, air or metal? Where, how and in what do we find Allah?" said Dr. Mona as she recalls searching the Quran, Hadith and Sunnah for answers.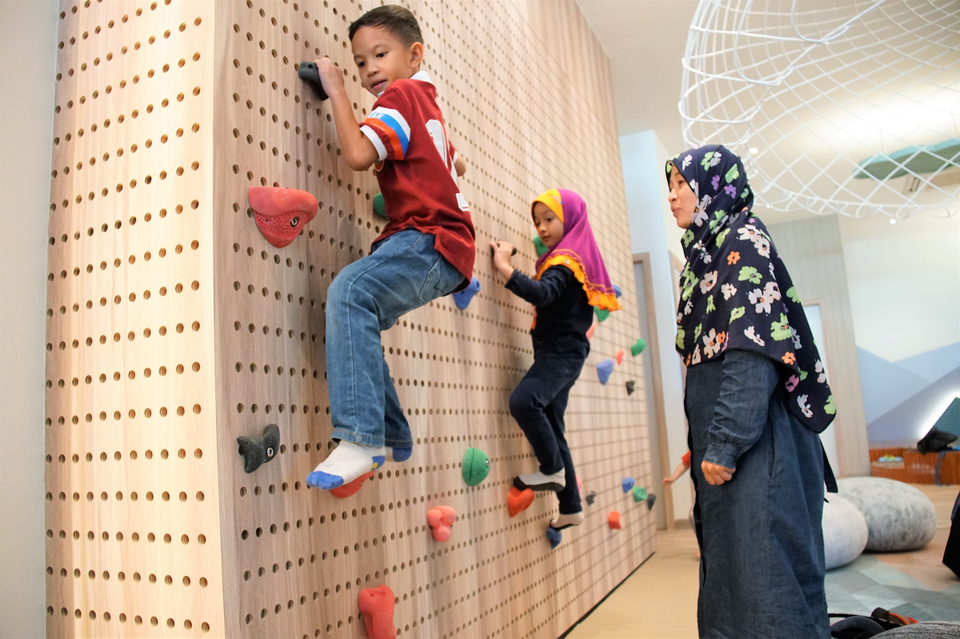 Upon finding them, the mother of four realized that just presenting them wasn't enough – she needed to find a novel way to engage her children with the information in a way that would help them connect and internalize their concepts in a meaningful way.
"It had to be a hands-on, experiential way of learning," added Dr. Mona. "I believe that it was God's way of helping me become a better mother. Today, we call it the purposeful play concept – and that's how Tarbiyyah project first started."
Tarbiyyah – which in Arabic means to develop and grow – began at the end of 2015 with the eponymously titled Tarbiyyah Project for Kids. At its core is the Asmaul Husna (the 99 names of Allah); – their transliteration, meaning and explanation which reflects God's attributes.
"There is a saying that those who know themselves are those who know their lord," said Rafeah, who eventually left the corporate world to drive the Tarbiyyah project with Dr. Mona as its founding partner. "That's what we want the children to do, we want them to understand and know who Allah is."
The duo held classes for children – mostly between four to nine-years-old – in mosques as well as in multi-purpose halls and schools. Not long after they clocked their thousandth student earlier this year, they received an unexpected call introducing them to a potential benefactor – Yang Teramat Mulia Pengiran Anak Isteri Pengiran Anak Hajah Zariah – that had heard of their story and was keen to give the Tarbiyyah project a home.
"It's still so surreal to finally be here," says Rafeah as we sit down at the newly opened PAZ Tarbiyyah Islamic Enrichment Centre. "It's literally a dream come true."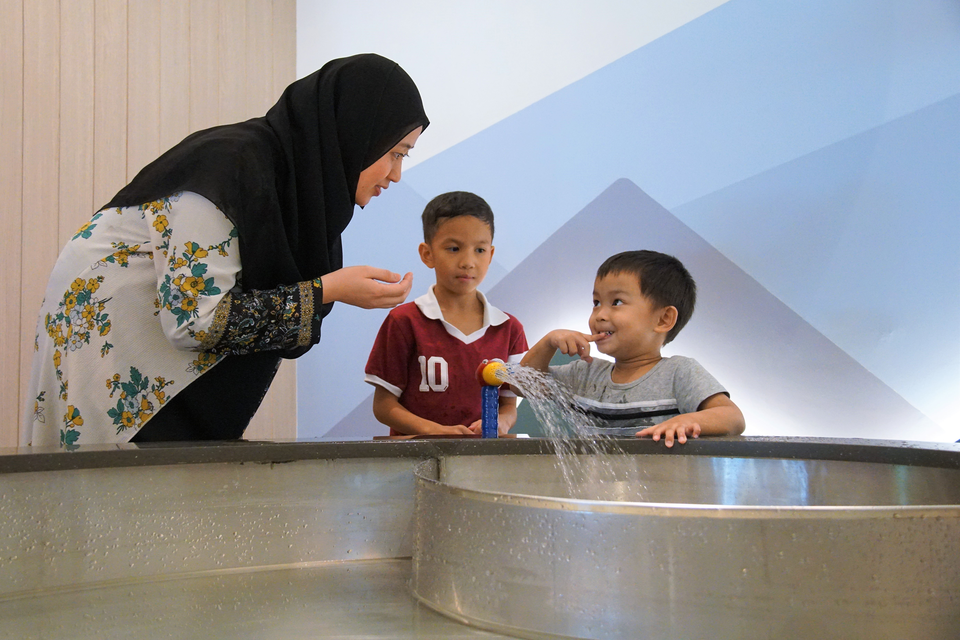 Located across units four and five on the first floor of the 694@Delima Building near Serusop, PAZ Tarbiyyah is unlike any other early education space in the Sultanate. Designed and built by Luxe Development around the founding duo's concept of purposeful play, the space boats a slide, mini-rock climbing wall, a central dome for praying and an ablution area that doubles as a demonstrative display of the natural water cycle from evaporation to collection.
For sit down tasks, students share seamless connecting tables with animal-shaped wooden chairs to encourage interaction, surrounded by hydroponic systems and a fish tank housing tilapia.
"We want the space to be as close (in design) to the outdoors and nature as possible," said Rafeah. "Not just to love and appreciate the environment but to learn where your food comes from as well as the new emerging technologies that will help the sustainability of the world."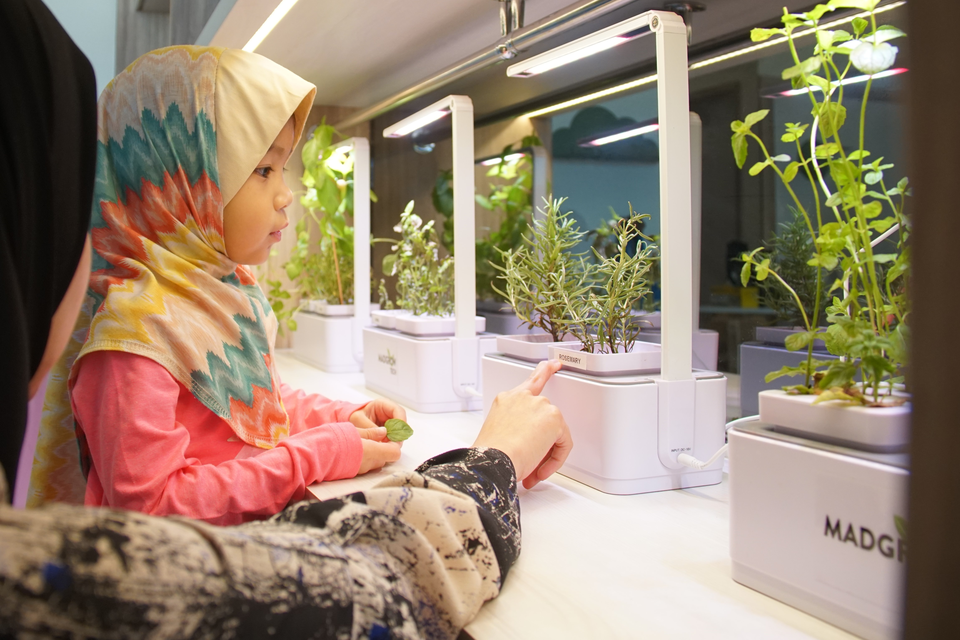 Tarbiyyah has boosted its ranks to seven instructors certified by the Brunei Islamic Religious Council (MUIB), including two who are qualified to guide special needs children with a specially developed video modelling system that can teach them to read huruf hijayah (Islamic characters), which will enable them to learn how to pray and read the Quran.
Dr. Mona says PAZ Tarbiyyah will be their first proof of concept, and if successful would potentially be rolled out across the country, as well as overseas as a franchise. And while growing and sustaining operations commercially is a key priority, the centre itself is a wakaf – also known as a charitable endowment – from their private benefactor.
"In Islam, when something is endowed (wakaf) it no longer belongs to any individual but to Allah S.W.T to perpetually help a cause," said Rafeah. "Our very first centre is now in the hands of Allah S.W.T. Alhamdullilah, it is meant to be. From him, to him and with him."
Watch: Dr. Mona and Rafeah take you through PAZ Tarbiyyah 
Two-hour classes for those between four and seven-years-old, four times a week is $200 monthly. For those from eight to ten-years-old, two-hour classes four times a week is $140 monthly. Tarbiyyah's special education needs classes are $255 and $300 monthly for two and three days a week of classes respectively.
To learn more visit PAZ Tarbiyyah's website or contact +6738978685 to get in touch directly. For the latest updates visit Tarbiyyah Global's Instagram.