Local startups Mortar Events, Munch Brunch Canteen and Syarikat Amira Barakah signed the first three contracts under the youth entrepreneurship development initiative i-Usahawan earlier today.
Syarikat Amira Barakah were awarded a contract to provide canteen and vending machine services at Brunei Shell Petroleum headquarters, while Munch Brunch Canteen and Mortar Events will be providing office cleaning and event management services respectively to Brunei Gas Carriers (BGC).
The three contracts – lasting at least three years with potential extensions – are the first of 30 contracts under i-Usahawan's first phase catering to oil and gas companies. The value of the contracts were not publicly disclosed.
A total of 200 contracts are being targeted for the i-Usahawan initiative, which offers Bruneian business owners between 18 and 40-years-old the opportunity to earn their first low-risk contract with the government, government-linked companies (GLC) or statutory bodies.
The initiative puts entrepreneurs through a training programme which teaches the fundamentals of business and readies them for open tenders.
The founders of the signing businesses shared that they would be employing Bruneians to service their contracts which they hope will be a stepping stone for their future development.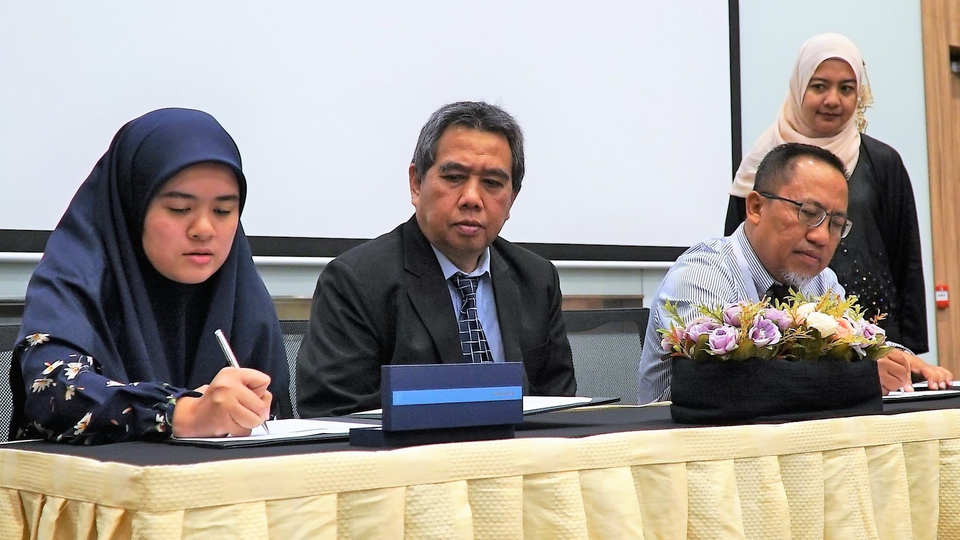 "We will be hiring at least eight employees," said 25-year-old Dk Nur Saffanah Pg Rahim from Amira Barakah.
"In starting my own company, I have learned a lot from my mother who runs a restaurant at Mentiri beach… and (through i-Usahawan) I experience new lessons in managing the paperwork (needed to tender)."
The founder of Munch Brunch Canteen Hjh Haryanie Hj Bujang says the initiative has helped her diversify her eatery business into office cleaning and sundry supplies, having started initially as a home-based catering service.
"I started from home doing pre-order catering and joined i-Usahawan because I wanted to venture more (than catering)," said Hjh Haryanie. "I was trying to learn something new, that's what drives me – to help my family."
The 39-year-old said that the i-Usahawan programme included briefings on health and safety requirements and how to be technically and commercially prepared to execute a contract successfully.
Brunch Munch's main scope of work will be cleaning BGC's office in Jerudong, while also supplying sundry items. Hjh Haryanie – who previously operated on her own – will now be hiring five cleaning staff and an administrator to fufill the contract.
Meanwhile, Mortar's Managing Director Mohammad Fathullah Fuad Awg Hj Abdullah said they were looking forward to organizing BGC's corporate and external events. Mortar has organized several events since starting a year ago.
The i-Usahawan initiative was officiated by His Majesty the Sultan and Yang Di-Pertuan of Brunei Darussalam last year at the 13th National Youth Day as part of a wider entrepreneurship ecosystem to encourage Bruneian youth to start and grow their own businesses.