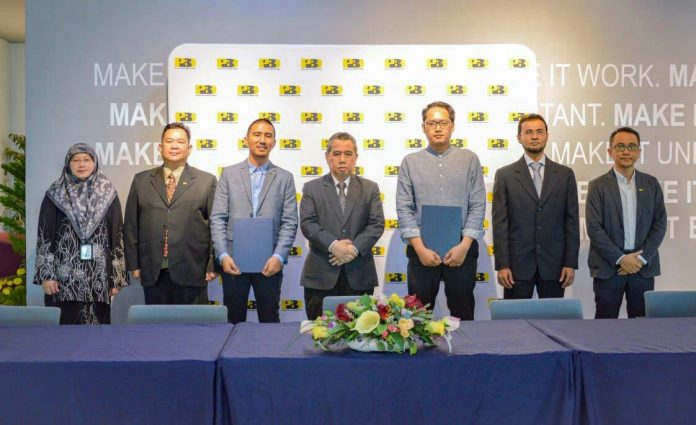 Car detailer OCDBN and office supplies company DMOS technologies have secured their first five-year contract to supply the Brunei National Petroleum Company (PetroleumBRUNEI) with office cleaning and printing services respectively.
The contracts fall under the Ministry of Energy, Manpower and Industry's (MEMI) youth entrepreneurship development initiative i-Usahawan which offers Rakyat Jati (Bruneian Malay) businesses with owners between 18 and 40-years-old the opportunity to earn their first low-risk contract with the government, government-linked companies (GLC) or statutory bodies.
CEO of PetroleumBRUNEI Haydn Ian Furlonge said they have developed an SME Development Framework for their local contractors to develop their business competencies including finance, management and HSSE.
"We do not see our role as ending here, as a mere client-contractor relationship," said Furlonge during the official signing ceremony at the YSHHB complex on July 2. "The i-Usahawan Program is already showing how added-value can be created from the oil and gas sector, by encouraging the establishment of other businesses."
Founders of OCDBN Hafiiz Ramle and Abdul Rashid Hj Zakaria said they seized the opportunity to participate in PetroleumBRUNEI's i-Usahawan tender to diversify their company's cleaning services beyond just automotive detailing.
"We are looking to carry over some of the (automotive) detailing standard operating procedures (to office cleaning); using specific tools, separate cleansing buckets and identifying the best methods to clean and protect different materials," said Hafiiz, who runs a detailing storefront in Kiulap.
Meanwhile DMOS Technologies, founded by cousins Dzaidenny Muslim and Zulkhairy Zaimi, are hoping the contract provides them with the opportunity to expand into "integrated smart office solutions" that will increase automation and efficiency in the workplace.
"We began the business (in 2017) supplying and maintaining printers for corporates," said Dzaidenny. "This is what we will be providing PetroleumBRUNEI. However, we also see this as an opportunity for us to develop and offer newer technologies, as we see most offices moving towards using less paper and using (online) cloud data sharing to store materials securely."
40 contracts have been earmarked under the first phase of i-Usahawan, 11 of which have officially awarded to local startups. MEMI is targeting a total of 200 contracts under the initiative, with half offered by companies in the oil and gas industry and the other half from companies outside oil and gas.