Brunei now has its own tree-planting mobile application, that also calculates your individual carbon footprint, developed by local IT company Sphiere and funded by Shell LiveWIRE Brunei.
The Atmosphiere app enables users to pay for trees to be planted at different forests and parks in Brunei for $28 to $38 per tree, and in turn receive monthly photo updates of the tree's status.
Sphiere secured $5,000 in seed funding after applying for the project through Shell LiveWIRE's Expression of Interest in June 2021. Aside from developing the app, Sphiere has also engaged business partners to supply the tree saplings, as well as plant and maintain the trees.
The push for tree planting is one of the key strategies of the Brunei National Climate Change Policy (BNCCP) to increase local forest cover by planting 500,000 new trees by 2035.
As of 2020, Brunei is no longer a net carbon sink – meaning it now emits more greenhouse gas that it absorbs. Planting 500,000 new trees would restore the nation's status as one of only a handful of countries globally to be carbon negative.
"Currently we (Brunei) are at 72% forest cover; to make Brunei a carbon sink we need to increase forest cover to 80% (through afforestation and reforestation)," said Managing Director of Sphiere Hj Ahmad Najib Hj Mohidin at the app's launch on August 13 at the Berakas Forest Reserve.
"Through Atmosphiere we hope to get around 2,000 to 3,000 (plant orders) a month."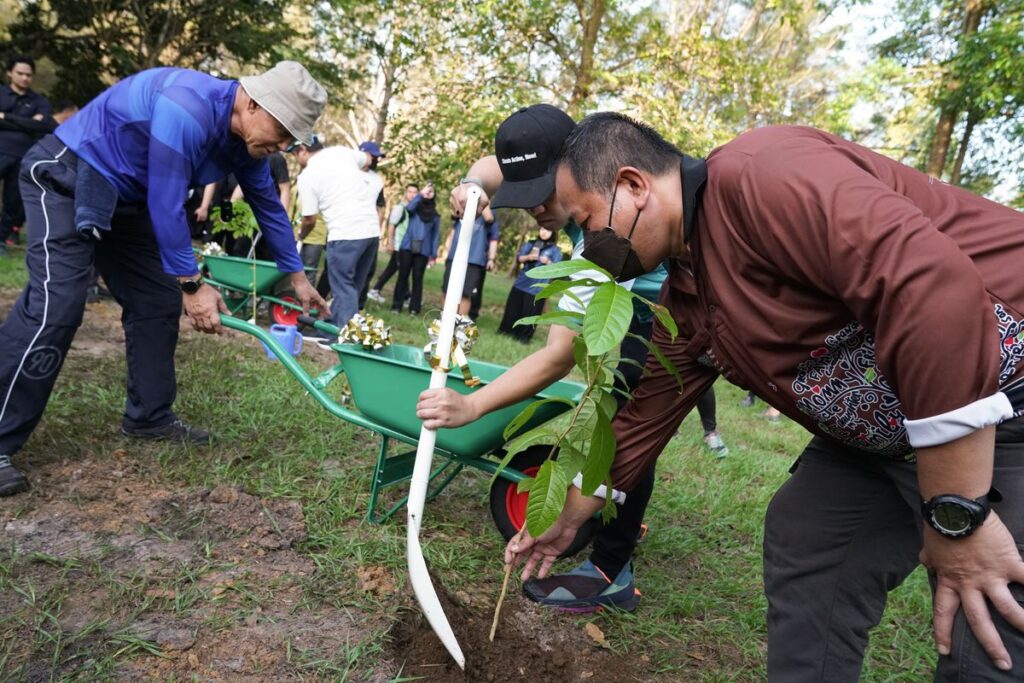 When utilising the app – downloadable on both Google Play Store and the Apple App Store – users will first be asked to fill in a questionnaire that estimates their carbon footprint through a calculator by the Brunei Climate Change Secretariat (BCCS) that follows the global standard by the Intergovernmental Panel on Climate Change.
The calculation factors different areas of energy usage, including vehicle ownership, electricity consumption, and cooking gas.
The app then will list how many trees are needed for a user to offset their own footprint. Under the plant icon, Atmopshiere provides options for planting locations from the Forestry Department and the Department of Environment, Parks and Recreation (JASTRe), along with tree species suitable to be planted for that habitat.
The app integrates online payment including options for debit or credit card as well as bank transfers.
Upon their launch on August 13, Atmosphiere has secured pledges to plant 1,020 trees, mostly through corporate donations made by 22 companies.
Shpiere is also welcoming more businesses who are keen to supply, plant, and maintain the trees.
The Atmosphiere project is a collaboration between LiveWIRE, the Ministry of Primary Resources and Tourism, the Ministry of Development, and BCCS.
Sphiere was established in 2016, offering IT services including design, website, and mobile app development.