Darussalam Enterprise (DARe) has opened applications for the first Proudly Brunei Business Awards (PBBA), offering 10 award categories with the winners slated to be announced at the awarding ceremony in February 2024.
PBBA will serve as Brunei's national business awards, held to recognise the progress of outstanding enterprises and individual entrepreneurs, while also acting as a pipeline for regional awards including the annual ASEAN Business Awards.
In a launching ceremony earlier today at the Design and Technology building, PBBA's framework including award categories, eligibility criteria and judging process were shared with industry stakeholders and potential partners.
DARe's Head of Lead & Opportunities Management Division Cynthia Lim said PBBA will help to foster competition, role models and greater contributions within the local business ecosystem.
The award's theme is "Catalysts For A Better Tomorrow" – recognising businesses and individuals that have shown meaningful growth and contributions in their respective industries.
Each award category is targeted to have a sole winner, provided judging standards are met. The 10 award categories are split into two overarching categories: open award and priority cluster.
The open award categories are business growth, innovation, youth entrepreneur, startup and woman entrepreneur.
The priority cluster categories feature the government's five target economic growth sectors: food, tourism, downstream (oil and gas), ICT and services.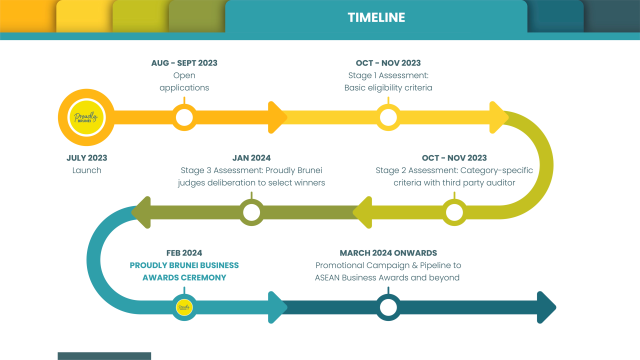 General eligibility criteria applicable to all categories include local ownership of at least 50% and being operational for at least three years with records of financial statements. Businesses with government shareholding are ineligible.
Local value creation will be also be prioritised across all categories, including local job creation and products and services that are locally developed.
DARe said in a press release that the recognition and prestige of winning a national business award will increase business visibility and credibility, which will help attract potential customers, investors and business partners.
Awardees will also stand to benefit from the appointed strategic partners for each category, who are expected to offer various business opportunities, including incentives, value-added programmes and partnerships to the winners.
PBBA's partners are expected to be announced shortly and will comprise established national agencies and corporations.
"This award does not just seek to give an elevated title to our local businesses. It is also a platform for stakeholders like yourself to become drivers to help our local businesses develop into more sustainable businesses and become role models to newer and rising businesses," said Lim her opening speech at PBBA's launch.
"Hence, the bigger reward that businesses can expect is the opportunity to grow from strategic partnerships through PPBA."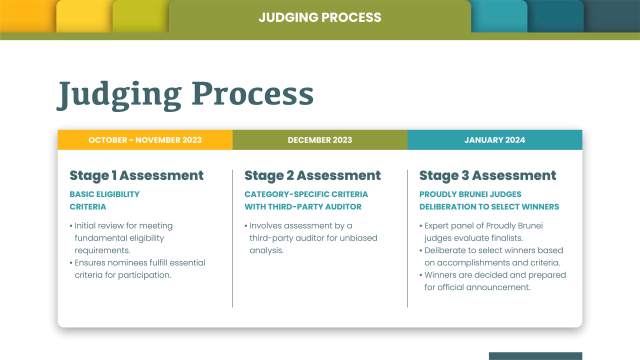 The award's name originated from a campaign under DARe's Bruneian Made initiative which helps local producers through sales channels including a dedicated retail store.
Lim said the phrase "Proudly Brunei" had been used by the initiative for several years to instill pride in local products and producers, which was then developed into a marketing campaign supporting the "buying local" concept, eventually evolving into a business award that not only highlights local producers but high-performing businesses based in Brunei.
To apply or learn more about PBBA visit dare.gov.bn/proudly-brunei. Applications are open until September 30.