It's bustling with activity as people browse through the myriad of foods and items on display backed by the sonorous voices of men and women hawking their wares.
The newly launched Pasar Pelbagai Barangan Gadong is the much-awaited answer to the vendors' plight which was brought to the attention of His Majesty Sultan Haji Hassanal Bolkiah Mu'izzaddin Waddaulah, the Sultan and Yang Di-Pertuan of Brunei Darussalam.
The impressive 5,979 square metre open-air-concept building is within a stone's throw of its old location and the iconic Gadong Wet Market. It houses more than 150 vendors from a diverse background, selling an equally diverse amount of products ranging from food and produce to clothes and toys.
The area has been segregated into three sections: A, B and C, with the vendors categorised as Grilling, Cooking, Non-Cooking, and Fruits and Vegetables.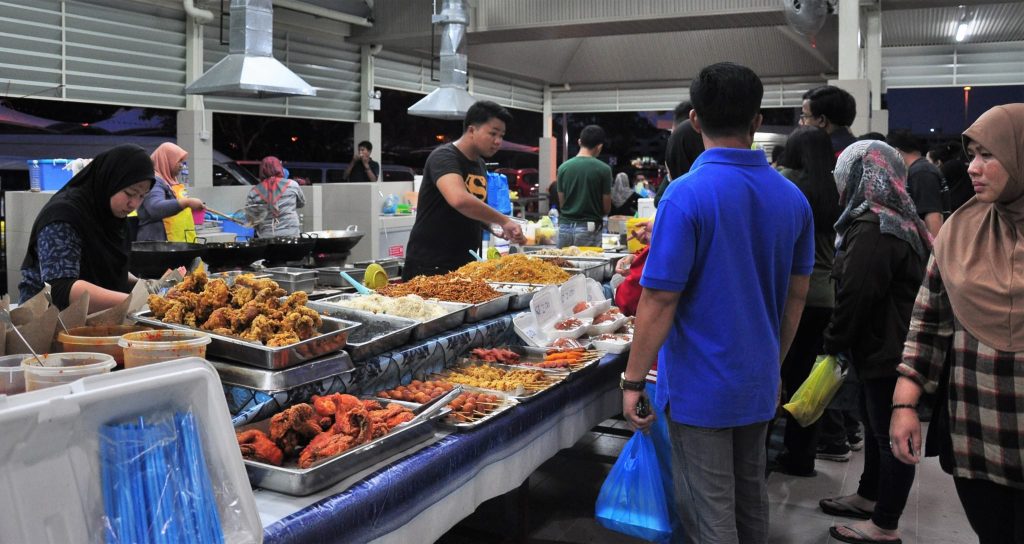 It also comes with the welcome addition of seating, where people can enjoy their food in comfort as opposed to eating while walking or standing around, sinks for people to wash their hands, toilets and even a full-fledged surau where many Muslims can fulfil their religious obligations without having to drive very far.
It's located on some prime real estate not five minutes away from The Mall, so don't be surprised to see a lot of cars parked by the roadside as people come to the market, probably after work or after picking up the kids from school, to get some cheap and delicious street food.
Despite the new look, with its high vaulted ceiling and tiled floors, the night market has retained most of its charms, from the smoky haze of grilled foods that just makes your mouth water, to the friendly vendors who would not hesitate to chat with you as you browse their wares, regardless whether they speak the language or not.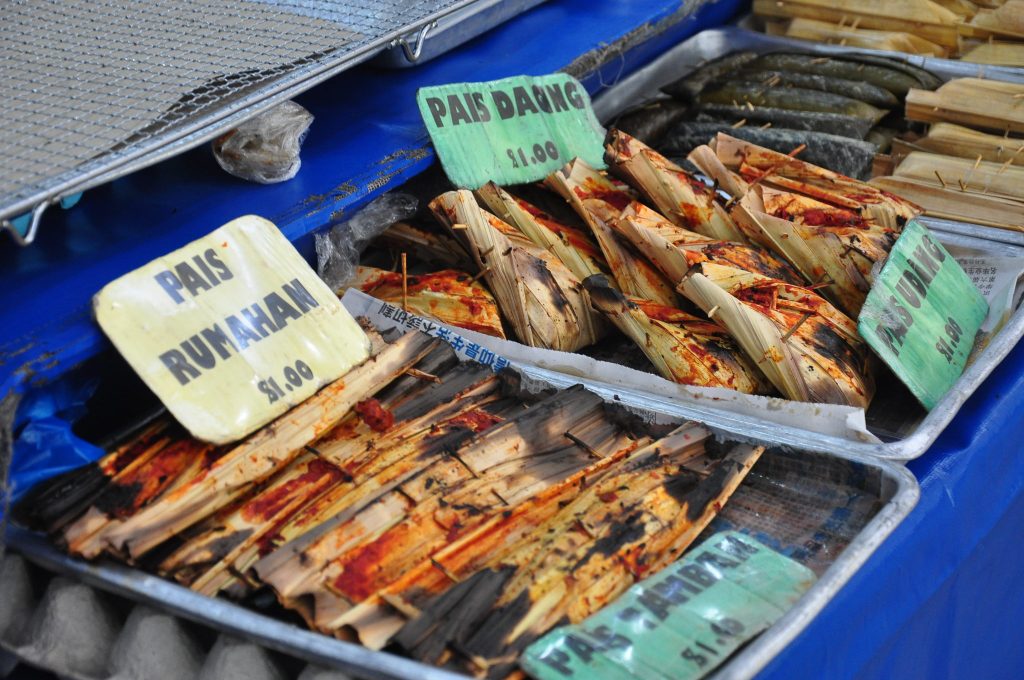 "That's part of the charm. You'd see vendors trying to talk to tourists using gestures trying to coax them into trying something that they may or may not have seen before," said Lee, a mid-thirties male freelancer.
He said that as someone who at times has to find himself stretching a dollar here and there, the night market, whether it was at the old place or here at the new one, is a great place for him whenever he's too lazy to cook.
"I can stretch $5 and get myself some great tasting cendol and soto or whatever I feel like having. There are a lot of choices," Lee said with a smile.
In Sweden they call this a smorgasbord – a grand buffet with everything under the sun. All your local staples: pais, pulut panggang and various Malay kuehs as well as Satay and Mee Mamak.
However, there is one difference between the new and the old and that is the batch of fresh faces that are selling things that many would have been hard pressed to find in the old place such as a stalls that sell fusion foods and specialty coffee among other things.
Md Safwan Md Hamri, a 26-year-old who just opened a stall at B49 along with a two of his friends wanted to serve specialty coffees to the market goers along with a small selection of fusion foods.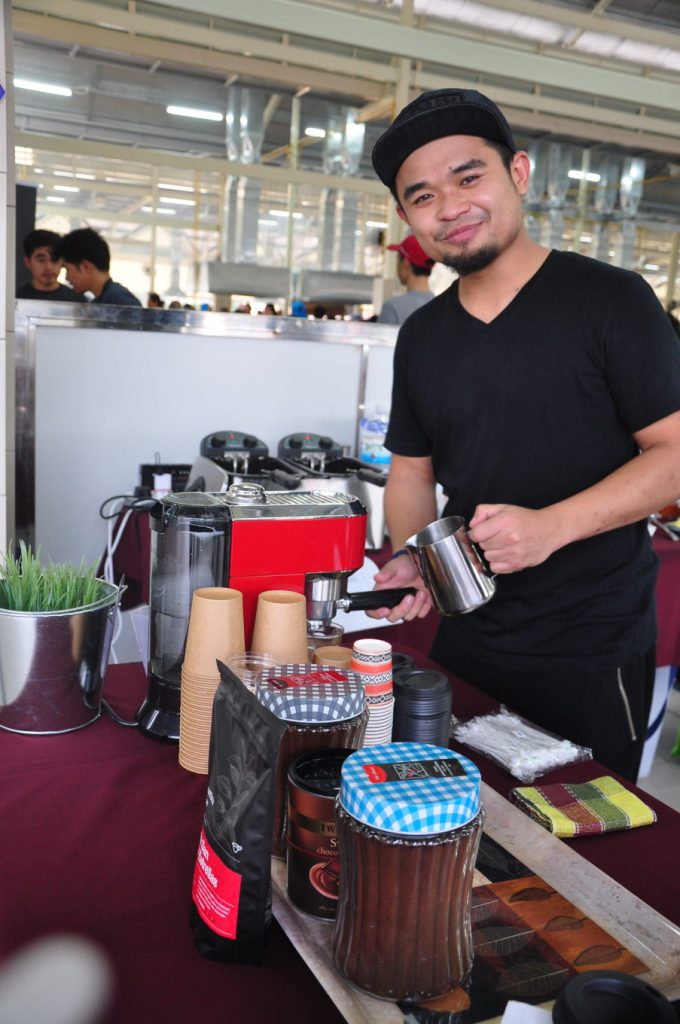 "The market is located in a strategic place and most people come to the tamu for cheap food. So me and my friends got the idea of rather than going to expensive coffee chains such as Coffee Bean or Starbucks for their coffee, we can offer people coffee at a cheaper price," said the black-clad youth.
Then there are youths such as Muhammad Miqdam Zaini, a 23-year-old graduate who plies his skill in writing jawi calligraphy to the market goers as well as taking orders for specialty portraits.
"Alhamdulillah, the new building is more than we asked for and we are very grateful," said the artist.
One of the long time vendors of the market, Hj Awang Damit Hj Ismail or more famously known as Hj Bosnia, is very happy with the new place, especially with the facilities. The charmingly chatty old man has been a vendor for thirty years and he recounted some of his memories at the old place.
"We would have camps located here and there, the conditions of the tents ranging from decent to plagued with holes, and everything dyed an orange tint from the glow of the bulbs," said the dimunitive 60-plus-old man.
"We'd have good days but when it rains, then sales would suffer so I am personally grateful that we have a nice roof over our head," he said.
He has one advice to people visiting the market and his fellow vendors. "Now that we have been given this 'palace for traders (mahligai perniaga)' let us work together to keep everything looking nice and clean."
Those looking to visit the new market can get there by foot from The Mall, which is about five minutes away, or they could take the No. 01, 20 or 22 bus which all stops at the market. Just follow the smoke trail. You can't miss it.