Vendors flocked to thank His Majesty Sultan Haji Hassanal Bolkiah Mu'izzaddin Waddaulah, the Sultan and Yang Di-Pertuan of Brunei Darussalam for providing them with a new home during his surprise visit to the newly opened Gadong night market yesterday evening.
The new 5,979 square metre facility, opened last Thursday, was a direct result of His Majesty's call to answer the issues faced by vendors and to nurture the growth of micro, small and medium enterprises through one of the Sultanate's cultural landmarks and sites of traditional business.
The complex, seen bustling with visitors earlier this evening, houses 156 vendors who sell mostly food and fresh produce along with clothing and other merchandise.
"At the old location, I was facing difficulties with the leaking pop up tents and pavements that were flooded whenever it rained," said 49-year-old Hj Yuzza Hj Shamsuddin, a third generation satay seller. "And when it was rainy business would nosedive. But thanks to His Majesty's intervention – we are given a sheltered space and ample, affordable facilities so that our business can thrive."
Hj Awg Damit Hj Ismail, a veteran vendor of over 30 years was almost in tears when asked to recall his special moment with His Majesty. "His Majesty is a man of the people. For when we were struggling, he came to our aid," said the 57-year-old. "But I was still shocked when I saw him coming toward my stall. Here I was today just smoking the chicken.. it was a one in a lifetime experience."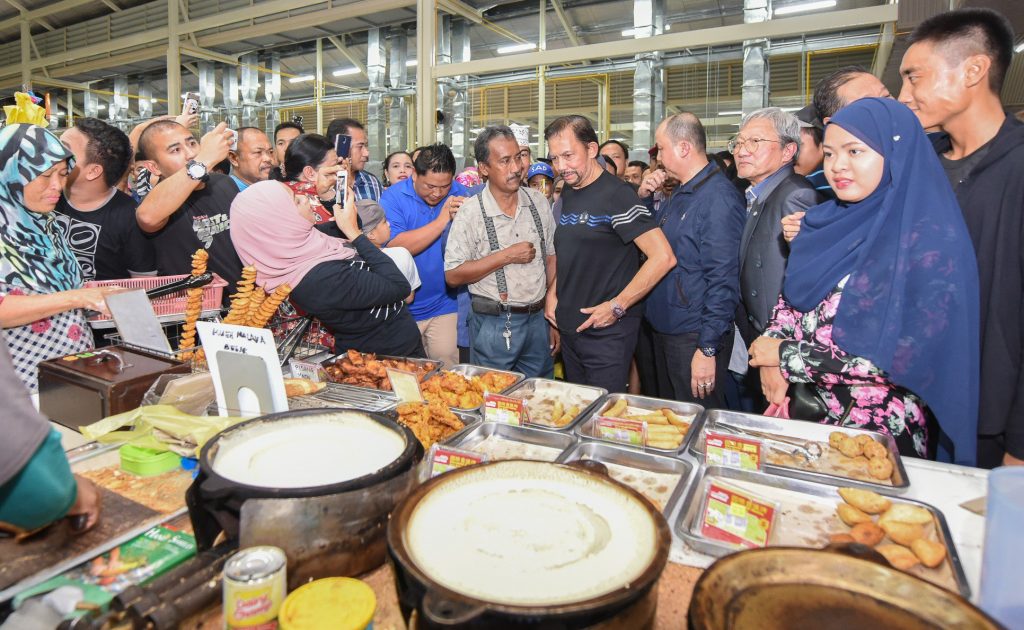 Cooking booths at the new facility come with ventilation fans, while electricity and water storage are standard. With a wide walkway between stalls and designated waste collection areas, the market is expected to be clean and able to accommodate heavy foot traffic. Muslims can also pray in a specially built surau adjacent to the market.
"Our sales have quadrupled (since moving)," said 24-year-old Nor Bazilah Hj Dollah who sells fried fritters and noodles under her business Safar Enterprise. "With the profits, we're hoping to buy more stock to better cater to the demand from our customers."
16 vendors have also been given over $70,000 collectively in low interest loans under Darussalam Enterprise's microcredit financing scheme – allowing them to purchase new equipment to improve their products and services that will ultimately draw more customers to the night market. 34 graduates from higher learning institutions have also taken up 10 booths, diversifying the range of items and palette of food on offer.