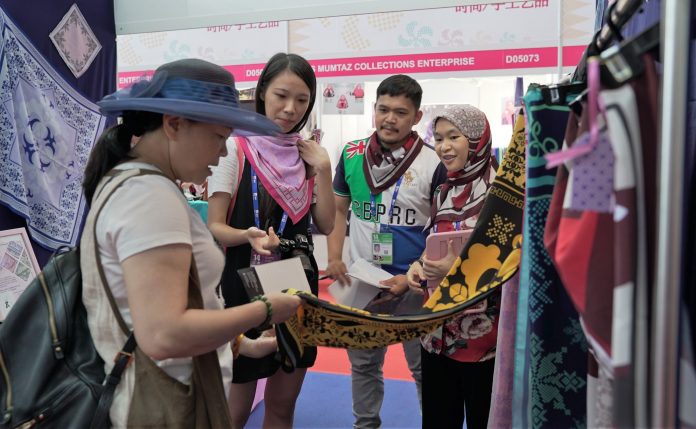 27-year-old Zakiyah Zaini may cap her first 12 months in business with an agreement to supply headscarves to the ASEAN-China Plaza located in Nanning, China, after an invitation by the Plaza's purchase supervisor yesterday at the 14th China-ASEAN Expo (CAEXPO).
Zakiyah, who designs, prints and sells headscarves, ties and bags, was also invited to attend a commodity trading cooperation conference for suppliers organized by the ASEAN-China Plaza – which was launched in 2011 and spans seven floors, with space for 10,000 shops.
"We are delighted to get interested. We came to CAEXPO, which is our first international trade show, to measure what the public's interest in our products are and to see what avenues there are for supply and distribution," said Zakiyah at their booth at Brunei's commodity pavilion at the Nanning International Convention and Exhibition Centre yesterday.
"The response has been encouraging – we are very excited at export prospects. But we need to sit down with the ASEAN-China Plaza to see if it makes business sense for us."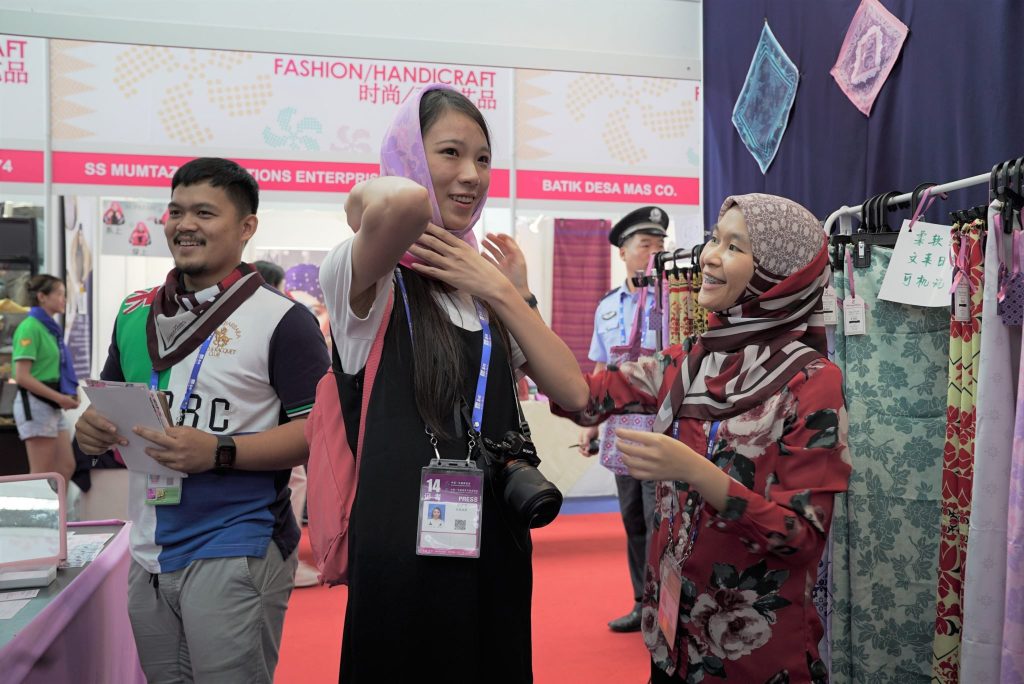 Zakiyah's scarves, which were birthed as part of a final year project for her undergraduate arts degree University Brunei Darussalam, are first designed by hand, then digitalized on a computer, before being printed on a special paper that is later heat pressed onto plain fabric, which she buys from local textile stores. She then sends them off to her relative to help hem the edges.
A similar process applies for her ties and tote bags, which debuted earlier in May. But with a plethora of headscarf and modest wear products booming in Malaysia and Brunei, Zakiyah's unique selling point lies in her design, with fuses intricate traditional songket patterns with modern, floral based motifs to produce striking pieces appealing to both the young and old generations of Muslim women.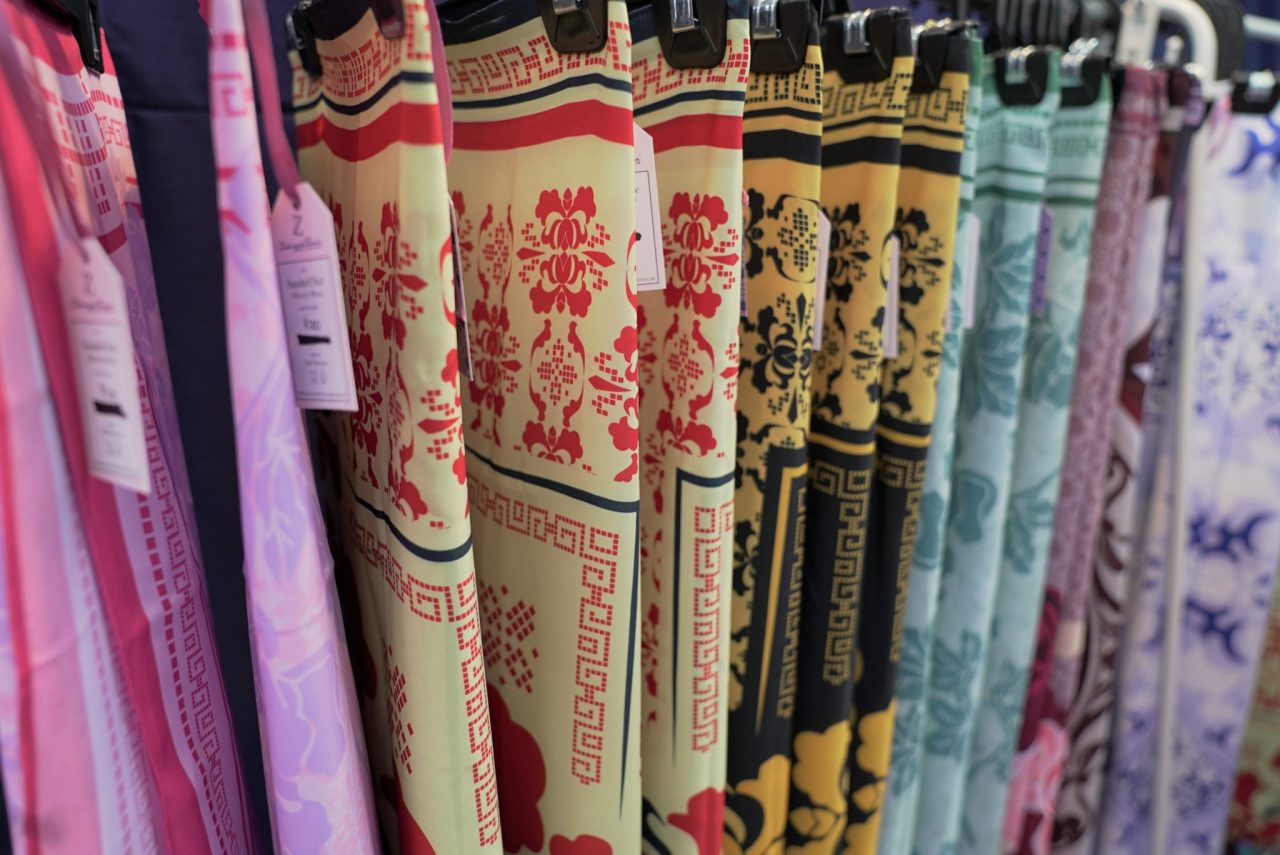 Zakiyah's headscarves are typically priced between BND 30 to 40.[/caption]
The 27-year-old, who has managed to graduate with a Masters in teaching, find full-time work as a graphic designer, and build a growing business all within the span of a year, recently in May invested $30,000 to buy the printer, which puts ZedFam a rung above other fabric, cottage based businesses who normally outsource printing and manufacturing.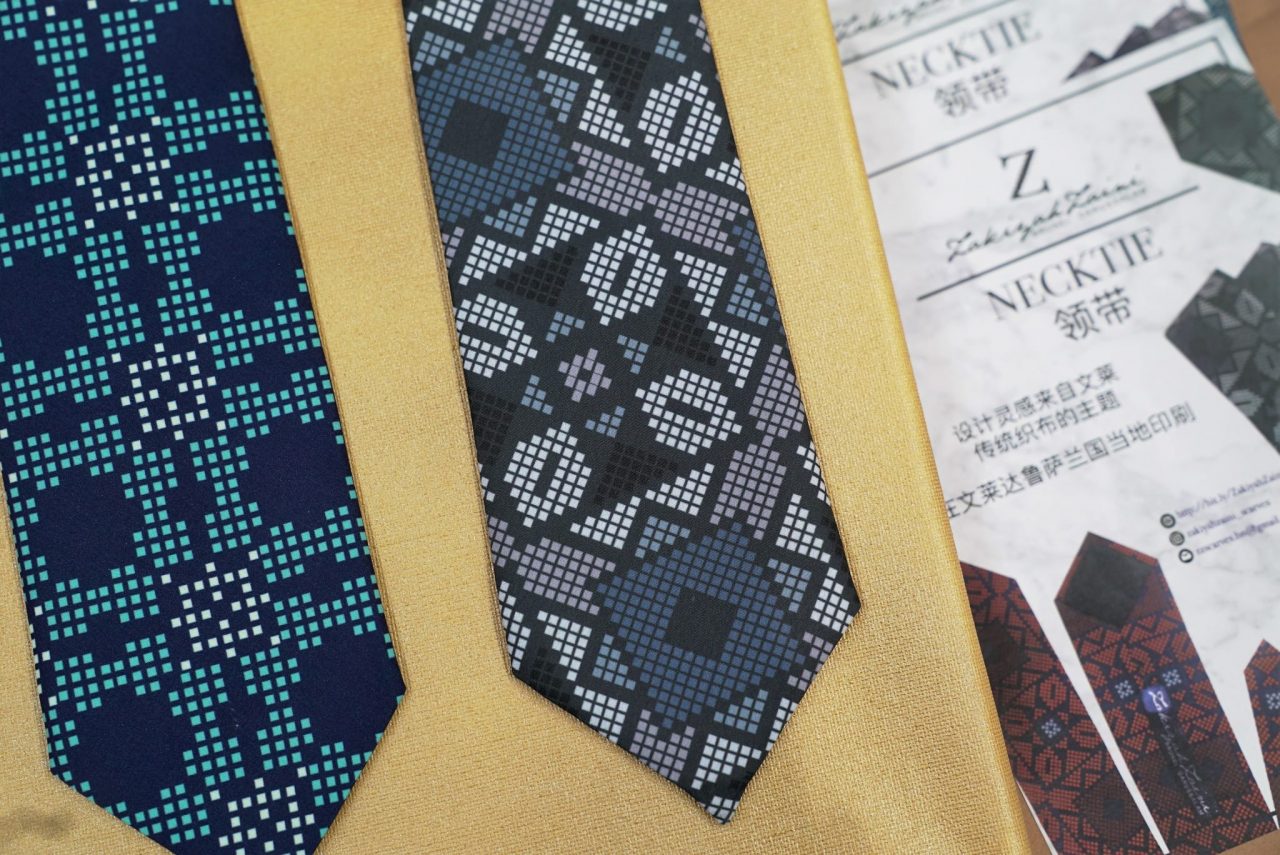 "It (the printer) has really allowed us to increase production and profit margins, although we are still trying to get a better feel of the level of demand to decide how much we should print a month," said Zakiyah, who primarily receives order online and through her mobile phone, and either delivers, meets up or asks customers to drop by her house when their order is ready.
"Currently we are selling all of the 200 scarves we print each month."
To learn more follow @zakiyahzaini_scarves on Instagram or contact +6738810667 to get in touch with Zakiyah directly.