Put on your running shoes and get ready for The Nyirik Perabang Lema organized by Eko Kampung and supported by the Brunei Darussalam Athletics Federation, Brunei Tourism Board and Sinar Tour & Travel which is happening on the evening of December 9 in Tutong Town.
The Perabang Lema, which translates as Night Run in the Tutong Dialect, is part of Eko Kampung's Brunei December Festival 2017 'Nyirik' project that will see participants getting the chance to win up to $250 in cash prizes in three categories. All participants will be automatically enrolled in a lucky draw for a return ticket to Seoul, South Korea.
The categories where runners can win cash prizes are the 5km Open category for runners 18 years old and above, 5km Veteran category for 45 years old and above and the 5km Seniors category for runners that are 65 years old and above. There is also the 3km Family Fun Run category where parents and their children can join in the fun.
The race will flag off in the heart of Tutong's town along its waterfront.
The first 150 runners to cross the finish line in each category will also receive a medal from the organizers.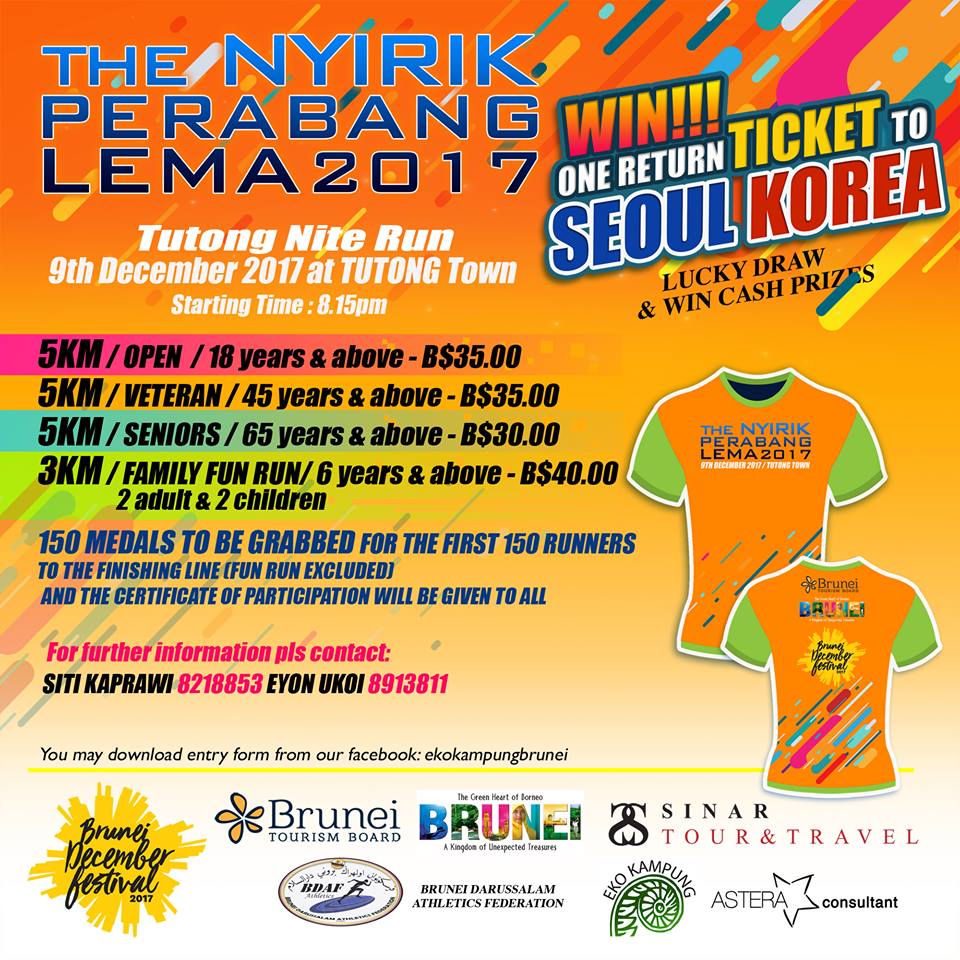 To join, visit the Eko Kampong booth at the 1K1P expo that is currently ongoing at the International Convention Centre until November 5.
There will also be a mini-road show at the Tutong Thursday Market on November 9, from 9am until 11.30am at the area opposite of the food stalls. The deadline to register for the event is 15th November 2017 so don't wait and register now!
If perchance you've missed these two opportunities to register, or you wish to find out more, contact Siti Kaprawi at 8218853 or Eyon Ukoi at 8913811 or email ekokampongbrunei@gmail.com
You can also follow Eko Kampong on Facebook or Instagram at @ekokampungbrunei to find out the latest news and updates. Main photo courtesy of Evelyn Kang.