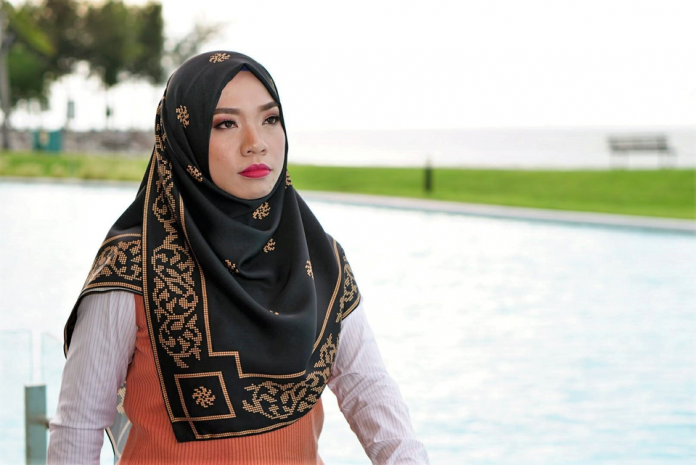 Ariana Collection is looking to market more of their locally designed headscarves after launching and selling 500 pieces in the fourth quarter of 2017.
General manager of Ariana Pg Wafiashady Pg Momin said the response to their six local lines, five which have sold out, paves the way for the business – which began four years ago selling mostly Malaysian brands – to increase production.
"With our own lines we just manufactured limited amounts to see if there would be a response and what for what designs," said Pg Wafi. "In total, we sold about 8,000 headscarves last year so our main sales are still from other brands. But we are now looking to expand our own lines."
Ariana's flagship line is the Golden Songket (pictured main), made of satin silk and retails for $49. "Most of our scarves are in the affordable range of below $30," said Pg Wafi. "But we wanted to test a more premium product."
The design makes use of a solid black or dark brown fabric with a metallic-like sheen and carries the traditional Bruneian Air Muleh motif in gold colour. Production is currently outsourced overseas – and Pg Wafi is hoping to set up a local tailoring shop in the future before testing the overseas market and introducing their own clothing line.
Pg Wafi (pictured below), a former Lieutenant shared that he entered the fashion businesses after retiring from early the military, citing health issues.
With the help of his wife Hjh Siti Hj Moktar, who works full-time, he learned to pick up fashion trends and began buying headscarves from Malaysia that he believed would sell well in Brunei.
"I was looking for a different career path after quitting the military; I tried everything from selling Nasi Lemak to opening a small cube store before my wife inspired me to look into selling tudongs," said the 35-year-old.
The re-selling business was strong enough for Pg Wafi to expand the businesses to a small storefront in Tanjong Bunut in 2016 where Ariana's curated line sold 7,000 pieces in its first year. Mindful of growing competition and saturation in the headscarves market, Pg Wafi said creating their own line was the next logical step.
"I had enjoyed drawing before, usually movies and anime," said Pg Wafi. "I had never designed – but I've somehow grown to really enjoy it."
Ariana Collections is located at Unit 10, 1st floor, Block F, Medan Tanjong Bunut and opens from 10am until 9pm except for 12pm to 2.30pm on Friday. Follow them on Instagram at @ariana_collection_brunei and Facebook @arianacollectionbrunei to learn more.