Master franchisee for Boat Noodle in Brunei MBG Enterprise are planning to open a second branch in Serusop in the second half of 2018 after debuting to a strong response in Little Soho, Batu Besurat in April 2017.
Directors of MBG Enterprise Md Syazwi Shahif (pictured main L) and Md Rashdan Hanieef Hj Marzuki (pictured main R) also hold the franchise rights for Boat Noodle in East Malaysia, and are planning for a branch in Miri next year.
"The first branch has exceeded our expectations and has been consistently performing since we opened in April (last year)," said Rashdan, who engaged the Thai-inspired, Malaysian franchise in 2015, which has now grown to over 40 outlets.
"We've also opened a separate Chill Chill outlet (the desserts and beverage arm of Boat Noodle) at Times Square last December."
The duo in their 20s, who are friends from college, describe themselves as "fortunate" to be the first company outside Malaysia to secure the franchise rights to Boat Noodle, which was started by entrepreneur Tony Lim in 2014.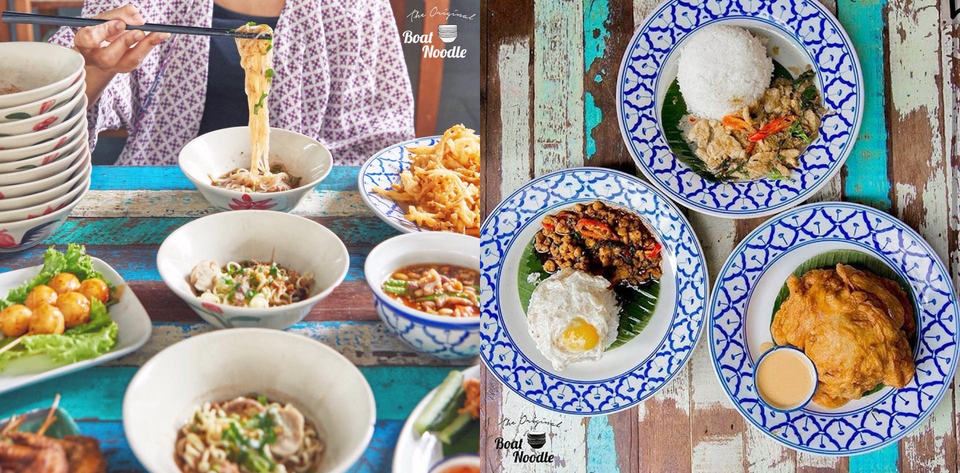 "We are fortunate that we engaged them (Boat Noodle) early on after we saw our friends and family repeatedly posting about them on social media after they visited KL," said Syazwi, who works full-time as a pilot.
Rashdan, who works in oil and gas, had also tried the eatery and the pair believed bringing the concept to Brunei would be successful, claiming that it was different from the more traditional Thai eateries already operating in the Sultanate.
The Boat Noodle franchise focuses on a dish in its namesake, also known as the kuaitiao ruea – believed to have originated by vendors in Thailand who sold soup noodles from small boats to customers, usually in palm-sized bowls for convenience.
At Boat Noodle Brunei, customers can have their noodles in either Pathumtani – a darker soy sauce broth with a sour and spicy flavour, or Ayuttha, a sweeter soup with a nutty taste. One bowl is 90 cents, with an option of rice or egg noodles and either beef or chicken.
As Boat Noodle was MBG Enterprise's first business, Syazwi and Rashdan shared that they had to be persistent in contacting and convincing Boat Noodle in Malaysia that they were the right partner for the Brunei market.
Together with their savings and investment from their respective families, they were able to raise the capital needed to buy the franchise rights and start an outlet.
"When we were granted the rights in 2016, we were thrilled," said Syazwi. "We did not expect to get the rights to East Malaysia as well."
The duo took a month off their professional jobs to undergo training at Boat Noodle's headquarters in Malaysia, and together with mentorship from local franchise owners including Nicky Wong of Gong Cha, Bake Culture and Pan & Wok and Rushdi Ibrahim from Kebab Turki Baba Rafi – they were able to launch last April.
"There were troubles in the beginning; mostly in manpower, when some local staff abruptly quit," said Rashdan. "However we remain committed to having an all-local team, and we've managed to keep it that way. With the second branch on the way, we have the ability to train our new staff at out Batu Besurat branch so the service and rollout at our second branch will be much smoother when it starts."
Follow @boatnoodlebrunei on Instagram and Facebook for the latest updates. Boat Noodle is located at Unit 12, Ground Floor of Little Soho in Batu Besurat, and opens from 10am to 10pm daily, and 2.30pm to 10pm on Fridays.