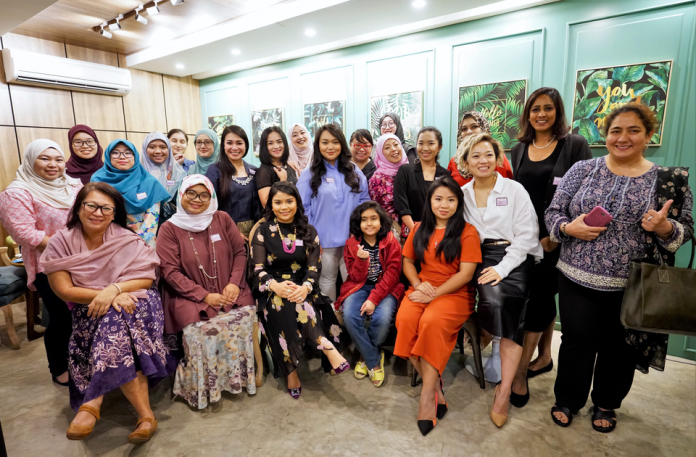 The Brunei Womenpreneur Network (BWN) launched last weekend with a mission to build a community of aspiring and existing female entrepreneurs from the Sultanate to empower and encourage economic success.
More than 20 female entrepreneurs from a range of industries, joined in BWN's first event last Saturday at Coco Cafe in Batu Besurat, where they hosted a sharing session on stepping into business and managing a work-life balance.
BWN was founded by the founder of event management startup Big Begawan Cookout Noorhafizah Rashid, together with the owner of popular Kg Ayer homestay Kunyit 7 lodge Dk Kemariah Pg Duraman and the managing director of oil and gas company Flux O. S. Sdn Bhd, Supna Rania Karwanamurthi. 
The idea for a women's network of entrepreneurs was born after the three women were selected to attend the Global Entrepreneurship Summit in Hyderabad, India last year by the United States Embassy in Brunei – which was themed Women First, Prosperity for All.
"The summit was aimed at supporting female entrepreneurs within the promotion of economic global growth. There were more than 1500 entrepreneurs there – and the majority were women," said Fizah.
"We heard women entrepreneurs from different business fields share their stories of success and struggles, giving encouragement to other women entrepreneurs to follow through with their dreams for businesses. So we thought to ourselves – why don't we should do something similar like this in Brunei?"
BWN's sharing sessions – which will be held once a month – begin with a select group of speakers before the floor is opened to anyone to share their experience or ask questions.
"We want to build a network where everyone can contribute, learn from each other and be each other's mentors," added Fizah.
Dk Kemariah said that through the sharing sessions women would not only connect and learn from each other but form a collective voice that could make recommendations or push for developments that assist the growth of women in the economy further.
Supna, who leads a company in a male-dominated industry, believes that each businesswoman has a unique story to tell – and hopes that by involving women in diverse industries, more women will be motivated and be open to running businesses in different sectors.
"The support given by female entrepreneurs to each other has the ability to build up our participation in different industries," said Supna. "That's what we hope BWN can achieve in the long run."
Membership for BWN is currently free and is open to aspiring or existing female entrepreneurs based out of Brunei, regardless of industries or age.
Fizah said that members should be willing to involve women in their projects and to take initiative in developing the skills of the other female entrepreneurs.
For more information, follow @bwnwomenpreneurnetwork or @bigbwnproject on Instagram. To get in touch contact +6738921498 or +6738164266.