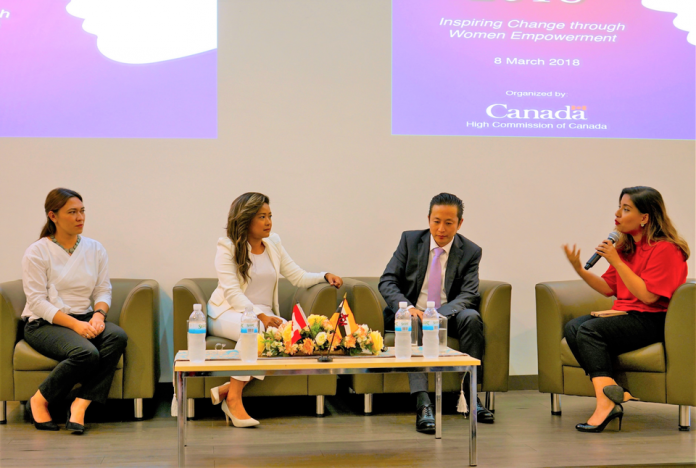 More efforts are needed to raise the profile of women in industries they actively participate in, while simultaneously addressing the imbalance in male-dominated industries, according to a panel of local entrepreneurs speaking at an International Women's Day's (IWD) event last Thursday.
The IWD event at the CAE Multi-purpose Training Centre, organized by the High Commission of Canada, saw co-founder of software development startup Tyne Solutions, Aimi Ramlee, filmmaker and director for Origin Artistic Management Siti Kamaluddin and Brunei Economic Development Board's CEO Soon Loo cover women empowerment in a discussion moderated by The Scoop's co-founder Ain Bandial.
"The CEOs (and senior management) of big corporations in oil and gas and financial industry continue to be dominated by males," said Aimi, with women's participation more widely seen at lower executive levels – an improvement to previous generations, but still with significant room for progress.
"We also need to recognize which industries women are (have more ownership) in, find out what those industries need, improve their scalability and make efforts to develop those industries further."
Aimi said that women entrepreneurs were mostly in the fields of food and beverage, fashion and entertainment, but lag behind male-owned enterprises in size, growth and profitability, signaling a need for gender-specific policies.
"Provide opportunities for them to learn. It is beneficial for these women to have a value-added experience, meeting other women in Brunei and overseas who have similar businesses so they could learn from each other," she added.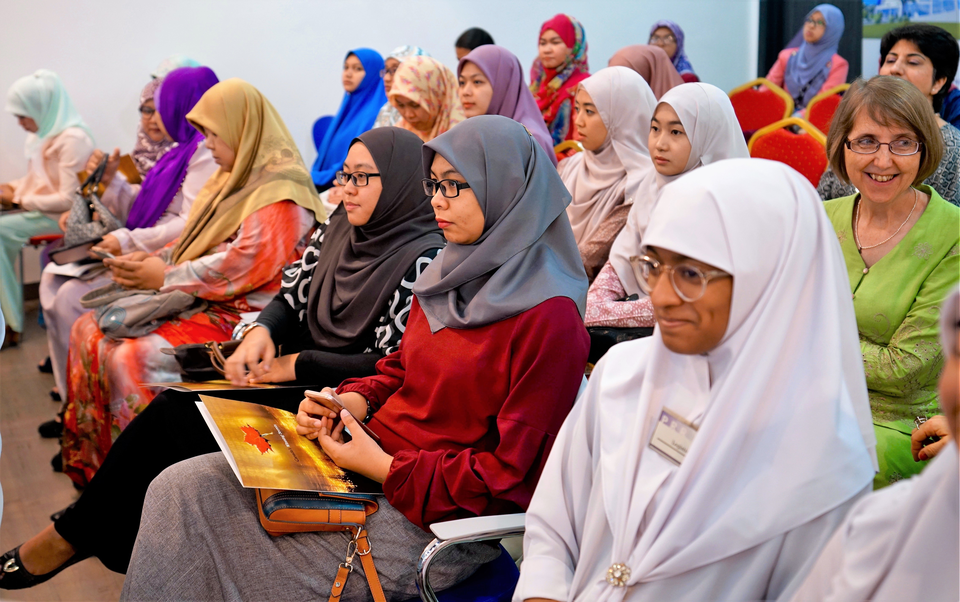 Siti, a pioneering female director in Brunei, also touched on the benefits of developing other unconventional industries locally and shared her struggles of navigating the film industry.
"I'm passionate about building the national cinema to showcase our culture and heritage. We grew up watching American television but what about our culture? We want our youth to grow up watching Brunei on screen and be proud of this country," said Siti, whose directorial debut, Yasmine, has won the title of Best Asian Film at the Neuchatel International Fantastic Film Festival in Switzerland in 2014.
"The film industry is only at its beginning, there is more work to be done to develop the industry further such as building a film council and equipping more people with media technical skills."
Soon shared that more than 50% of micro, small and medium enterprises (MSMEs) are fronted by women and by sharing experiences and building networks they can collectively channel solutions to policymakers and governments.
The International Women's Day event also brought together other prominent female figures from Universiti Brunei Darussalam, Universiti Teknologi Brunei, the Royal Brunei Police Force and Royal Brunei Airlines to share about their professional experiences, with the Attorney General Datin Seri Paduka Hajah Hayati Pehin Orang Kaya Shahbandar Dato Seri Paduka Haji Mohd Salleh opening the event with a keynote speech.