Five local startups are set to grow after receiving $155,000 under the first LiveWIRE Brunei Business Awards Start-Up Funding Scheme (BASFS) awarded earlier today at the Empire Hotel & Country Club.
Temburong poultry farm Hazeeyah Duck Farm received $50,000, bicycle rental company Santai Ride $45,000, catering business Pondok Selera Kitani $30,000, mobile Al-Quran teaching service Al-Huffaz Management $20,000 and Roys Car Wash $10,000.
The financing under BASFS – awarded to local businesses who were recognized at the LiveWIRE Brunei Business Awards – is a grant to be repaid over 36 months without interest.
The founder of Hazeeyah Duck Farm said that she would be using the $50,000 to develop a second duck farm on a 0.7-acre plot of land in Batang Duri where she is targeting to rear another 4,000 ducks.
"Together with our current farm, in our backyard and our new (planned) farm we'll be able to have upwards of 6,000 ducks in three years," said Haziyah, whose entrepreneurial pursuits have lifted her family out of poverty. "Currently we have about 800 ducks producing about 400 salted eggs."
One of the first businesses to rent tandem bicycles at Brunei's parks, Santai Ride is planning to use the $45,000 to mainly acquire eight new, premium multi-rider bikes with leather seats and with roofing.
"We began at the Agro Park a few years ago with just five bikes when it was still open to the public," said Siti Nooridah Hj Muhd Bokhari who runs the business full-time with her husband Abdul Manan Hj Hamid, who was formerly in the military. "Now we have a fleet of over 40 tandem bikes, with most of our rentals at the Eco-Corridor in the capital."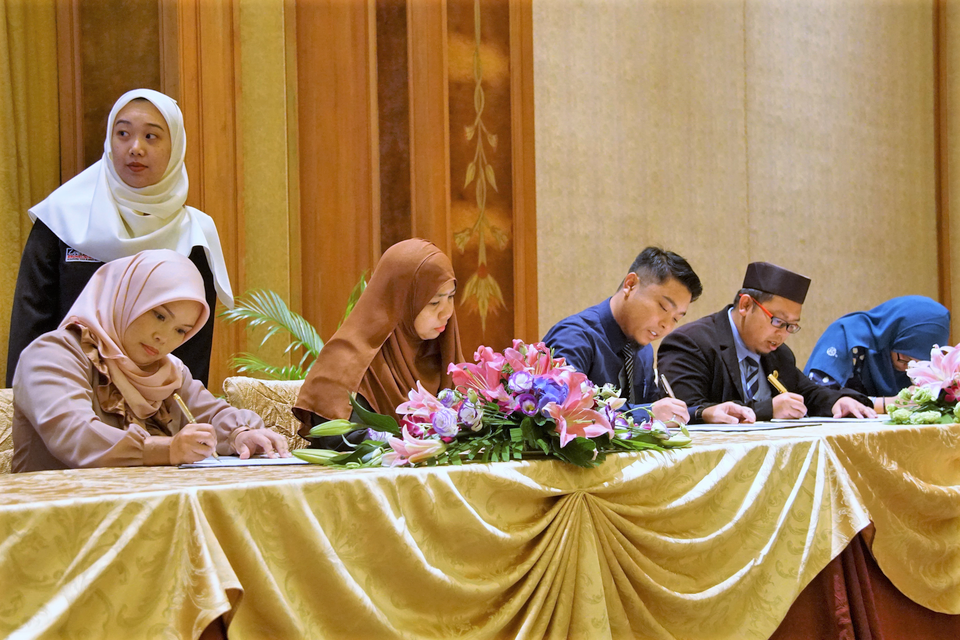 Pondok Selera Kitani, a home-based catering business started by Addie Fadlie Samsudin, will be using the $30,000 to build a central kitchen in the compound of his home.
"Up to this point we've been using our home kitchen, but with business booming we need a bigger space that can also meet the Halal requirements," said Addie, who used to work on offshore fields for an oil and gas company. Needing to find a way to take care of his family, especially his father who had grown ill, the 28-year-old started Pondok by roping in his mother's cooking expertise.
"Alhamdullilah the business has actually helped our family grow closer," said Addie. "With this grant we will be able to produce more, with even better consistency."
Al-Huffaz Management, whose primary business is a platform that matches Al-Quran teachers to conduct classes at the comfort of students' homes, is planning to invest the $20,000 into technology and marketing to expand the platform's reach overseas.
"We've grown the platform (mostly locally) to 150 teachers with about 700 students across Brunei," said founder Hj Loqman Al-Hakim Hj Hamdan. "But through our web platform, we have the ability to cater internationally through video lessons. But we can also expand to other countries (physically) by recruting teachers from that area onto our platform and matching them with customers."
Meanwhile Lambak-based Roys Car Wash, run by retired military member Pg Raithullah and his daughter Dk Nur Hayatul Muta-Wakilah said they would use their $10,000 to procure more professional tools for cleaning.
Chairperson of LiveWIRE Brunei and Head of Supply Chain Management at Brunei Shell Petroleum Hjh Rosita Hj Hassan also added that BASFS is planning to provide up to $300,000 in financing for startups annually, with each company targeted to receive $5,000 to $50,000.
To vie for the financing, startups need to have attended LiveWIRE's business programmes and subsequently enter the LiveWIRE Brunei Business Awards, which is split into two categories: one awarding the best business plans and the other focusing on startups that have been operational from six months to three years.
Present to witness the signing of BASFS earlier today was the Minister of Energy and Industry Yang Berhormat Dato Seri Setia Dr. Awang Hj Mat Suny Hj Mohd Hussein and the Managing Director of BSP Dr Ceri M Powell.
LiveWIRE is a social investment initiative by Shell, with Brunei's programme established in 2001.