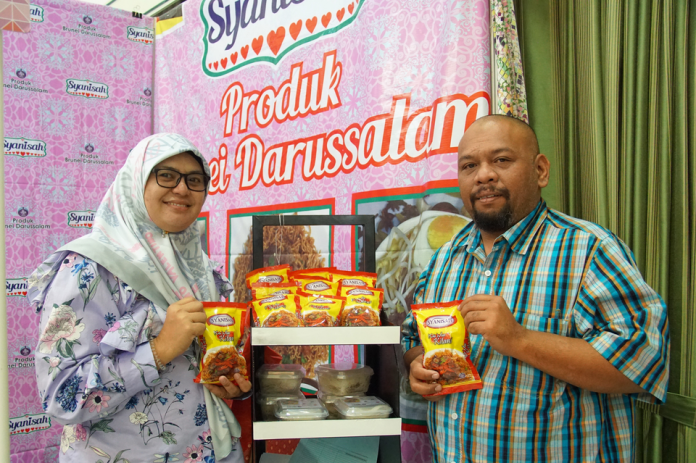 Bruneian instant noodle company Syanisah Enterprise is targeting their first supply to Malaysian hypermarket Mydin in Kuching by the year's end after being selected by the retail giant for their entrepreneurship development programme for mothers providing up to RM 100,000 in funding.
Haimisah Mahli, who runs the business with her husband Sani Bajini from their home at the Lugu National Housing Scheme was an unlikely entrant and winner in the Ibu Nahkoda Hidup programme – now in its fourth edition – after participating in a product showcase in Mydin's branch in Semariang, Kuching in the middle of 2017.
"The participants (collectively) will have access to a fund of RM 100,000; so for us we are getting more equipment that will help us increase our production rate, especially for packing (and sealing) the seasoning and noodle packs," said Haimisah, who explained that the funding would be disbursed after a review process by the programme ogranizers – which also include Procter & Gable and the WOMEN:girls Association – that would require Syanisah to provide quotations for items that would help scale their business.
"Mydin has a huge network of stores across Malaysia, and are targeting a (trial) with a first supply of 1,000 packets of instant noodles to the Semariang branch and hopefully we will grow it from there."
Syanisah's instant noodle line is made up rice noodles or bihun served either in Laksa, a spicy soup of curry, coconut milk and seafood or Soto, a richly spiced beef broth, as well as egg noodles tossed in a sweet and savoury sauce known as Kolo Mee. They're currently marketed in single packets or cups retailing between $1.50 to $1.80, and can be found locally at Sim Kim Huat (SKH), Hua Ho, Supa Save and One Station.
Haimisah said the noodles are currently moving the most at SKH – to whom they supply approximately 2,000 packets a week at their Brunei-Muara branches in Kiulap, Sengkurong, Annajat, Airport Mall and Sg Tilong.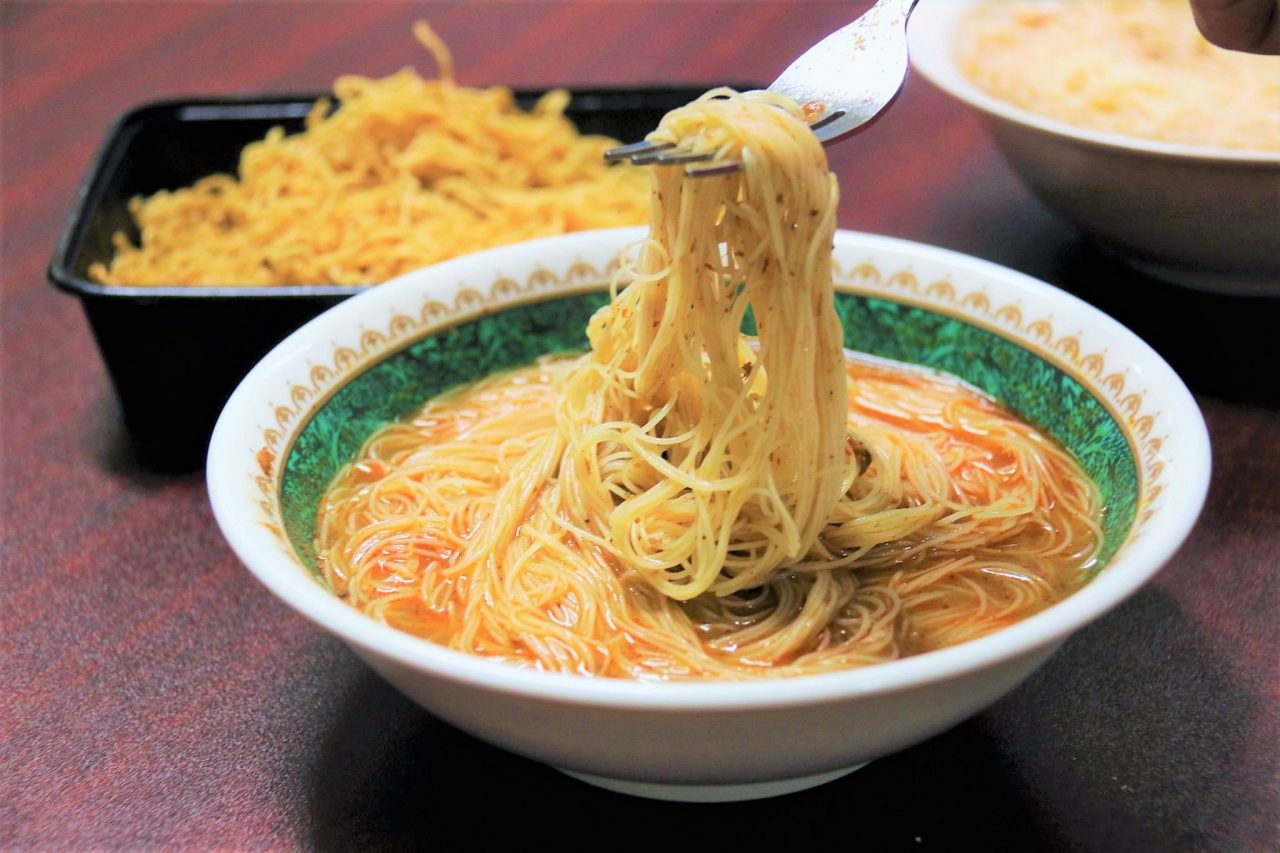 Syanisah's Enterprise began a decade ago as a boutique selling imported clothes and fashion accessories at a small lot at The Mall's shopping arcade. Facing growing competition from online resellers on social media with substantially lower overheads, Haimisah and her husband decided to start developing their own products – their first a baking flour used to make the popular Japanese snack Takoyaki.
"Although we managed to get the Takoyaki (flour) into SKH, the sales were never more than 1,000kg a year," said Haimisah, a Sarawakian who settled down in the Sultanate after marrying Sani, a Bruneian, 18 years ago.
"So we continued to experiment. At the time when I had to travel (to find stock for the boutique) and I was trying to find a way to have easy to prepare food for the family. But we wanted it to still be wholesome and not filled with artificial ingredients like traditional instant products. Noodles were my children's favourite so we found a way to cook down the broth into a paste, along with dry ingredients that could be cooked very easily."
Haimisah, whose manufactures at an extension behind their home kitchen, began marketing her instant noodles early last year online at to small convenience stores. After participating in the first Made in Brunei Market Fair in May, they were able to connect with One Station in Mentiri to make their first commercial supply, and soon expanded to retail stores with the help of Darussalam Enterprise's (DARe) Made in Brunei initiative.
While gaining footing locally, she was contacted by a friend in the Sarawak's Women Association of Versatile Entrepreneurs last year who suggested that she try participating in a Mydin product showcase in Kuching.
"We were unsure at first because we're a Bruneian company and thought it was only open to Malaysian (companies and products)," said Haimisah. "But we still gave it a try. A few months after we joined the first showcase, we received a follow up to participate another showcase at Mydin, this time in KL, and then early this year we were informed that we had been selected.
"It was a shock to us. Insyallah, we will use this opportunity to its fullest."
To learn more follow @butiksyanisah on Instagram and Takoyaki Syanisah on Facebook. To get in touch directly contact +6738198277.