Five months after introducing Brunei's first ride-sharing service, Dart's full-time drivers are reporting earnings upwards of $1,000 a month – with the highest in the region of $2,000.
In a press conference at Progresif's headquarters yesterday,  Dart CEO Zul'Amali DP Hj Idris shared that their platform now has more than 40 active drivers ferrying passengers across Brunei-Muara, Tutong and Belait.
The ride-hailing startup is now encouraging more Bruneian citizens and permanent residents to apply as drivers.
Drivers can earn up to 90% commission
"We need more drivers to grow," said Zul. "The uptake of our ride-hailing services has increased 40%, with our highest daily figure reaching 140 rides within 24 hours."
Dart drivers take home 70 to 90% off each transaction and can choose to sign on as full-time or part-time. Full-time drivers, who are required to put in eight-hour shifts, six times a week, and are able to hit specific ride targets, receive the highest end of Dart's commission range.
To become a driver, Bruneians apply through Dart, who will train the applicant for a test administered by government regulators. The cost earn the license is below $200, and drivers must ensure that their insurance coverage extends to passengers, with the vehicle used being less than 10-years-old.
"We're trying to shorten the time it takes to get certified as a driver (from four weeks) to a week," said Zul (pictured L below).
"We're here to solve problems. We want to help people – whether that's creating jobs for unemployed graduates, helping tourists find their way around Brunei, or expanding Brunei's transport options."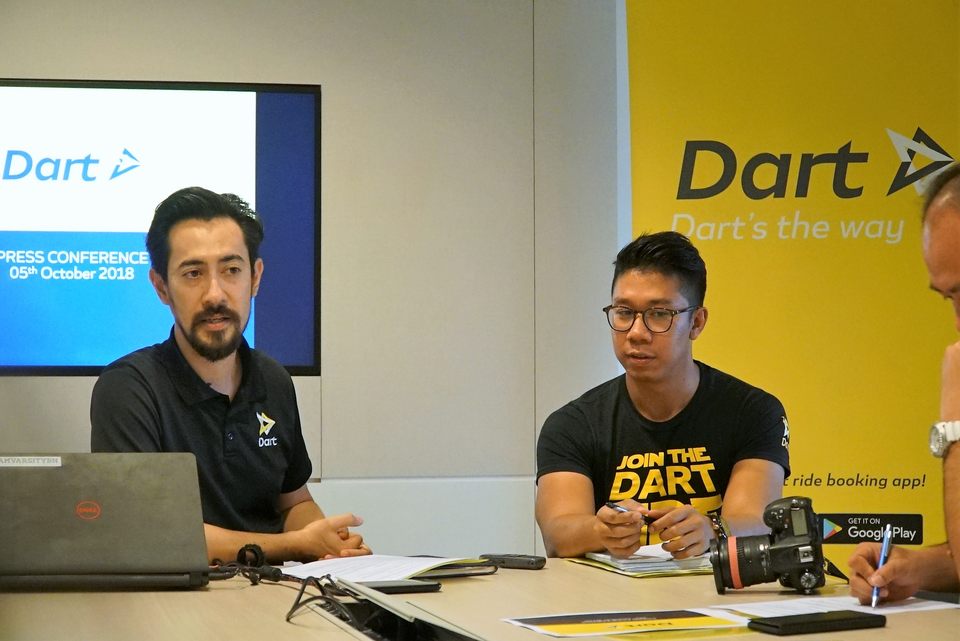 Rates now 30% to 50% lower
Dart went live in May 2017, but was initially approved to operate only as a taxi booking or hailing service by the Ministry of Communications (MinComm). They received the green light to begin ride-sharing services in March 2018.
In this year's Legislative Council (LegCo) session, YB Siti Rozaimeriyanty Dato Seri Laila Jasa Haji Abdul Rahman raised that Dart had invested $250,000 to develop their technology and business and its CEO added that they were nearly going out of business without the approval to operate as a ride-sharing service.
Dart's rates were initially equivalent to the state-regulated taxi tariff, which charges the first kilometre at $3.50, and every subsequent kilometre or minute at 20 cents. The rates received criticism online, with many netizens disappointed that the service did not extend to ride-sharing services similar to that offered Grab and Uber in foreign countries.
Today, Dart said it's able to offer rides below 30 to 50% of the taxi tariff, which has helped spike activity on its application, which has received 18,000 downloads.
60% of Dart's drivers are unemployed
Full-time Dart driver Abdurrahim Hj Othman has been ferrying passengers in his father's Toyota Innova for almost two months, taking them as far from the capital to Belait.
"I earned $100 for that trip (to Belait)," says Abdurrahim smiling. "So far I've been able to earn an HND-level salary (above $1,000)."
32-year-old Jihan Masria Al-Haqam Hj Masri, who's earned up to $1,600 a month, shares a similar story.
"I chose to become a full-time driver after a week," he said. "I first signed up out of necessity as I badly needed a paying job. Dart was the first company that hired me after months of trying to find employment."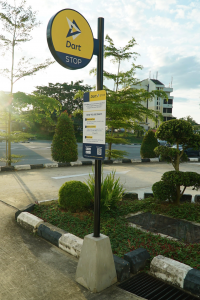 60% of Dart's drivers are unemployed and 68% are between 20 to 34-years-old. According to Dart's data, they cite their joblessness and need to find income as primary motivators – but in a country which has the third highest rate of car ownership in the world – who exactly are Dart's passengers?
The latest data reveals 84% of Dart users are Brunei residents and the remaining 16% are travelers, primarily from Malaysia, The Philippines, Singapore and Indonesia.
"I get a lot of students, who take shorter rides and expatriates (who seem to take longer rides)," said Abdurrahim. Records show that 77% of passengers are between 18 to 35-years-old.
Dart added they are running continuous promotions to draw in more residents to use the app. To cater to more travelers, its CEO added they are looking to gain approval to pick up customers from the Brunei International Airport.
At present, regulations allow only taxi operators to provide commercial car rides from the airport.
"We're allowed to drop off passengers at the airport but not pick them up," said Zul. "But we're engaged in discussions (with stakeholders) and hopefully we can achieve a positive outcome."
Watch: Speaking to Dart's drivers 
Dart is available on Google Play and Apple's App Store. For more information on how to sign up as a driver visit Dart's website.