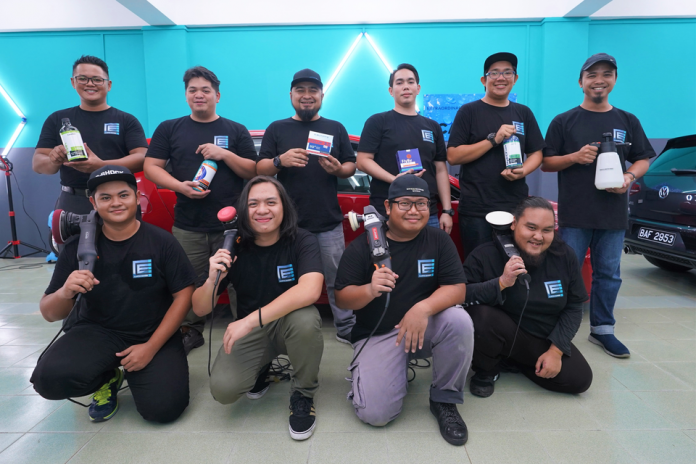 When the latest shipment of Korean-made auto care products from CarPro arrived in the Sultanate, the entire load tipped the scales at two tonnes.
Thousands of soaps, sealants and protective solutions specifically designed for cleaning each component of a car; from its outdoors panels to its interiors, reaching under the hood and into the engine bay.
The payload headed to an unusual distribution centre, located within a residential compound along Simpang 43-8, STKRJ in Lorong 3, Seria.
Sitting on a plastic chair, crouched over a laptop on a folding table is 38-year-old Eddie Hj Matsalleh. Surrounded by stacks of cardboard boxes in a room next to his garage, he begins to inventory.
"We will have a new store soon," he says, as his long-time client and owner of Belait home-based car wash Ultraslick Detailing, Azim Azamain walks in.
"We six home-based detailers will join together to open CarPro Empire in Jerudong. It will be a car wash, detailing centre and product store all-in-one."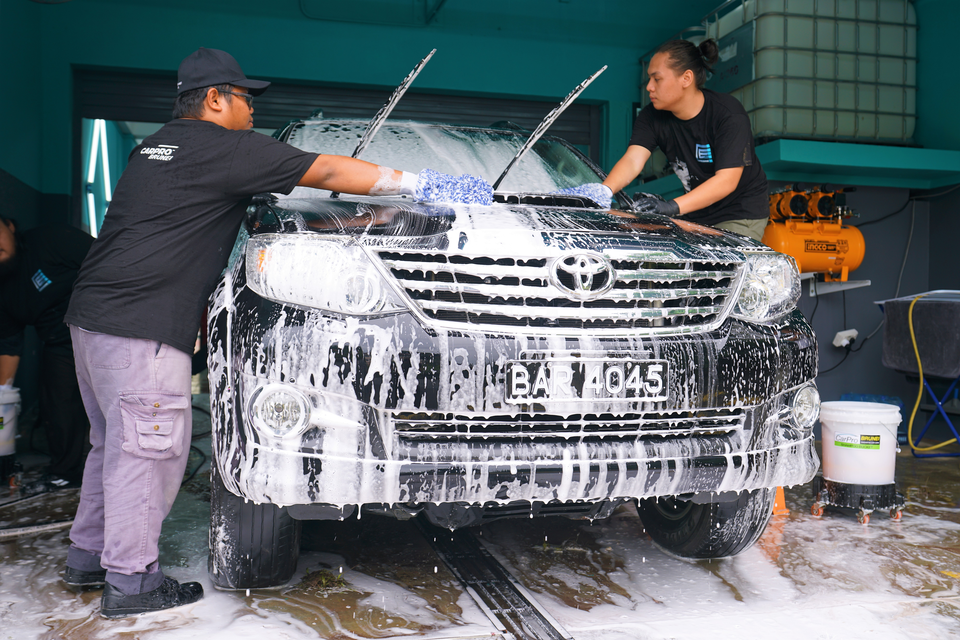 A pioneering detailer
Without market research, it's hard to pinpoint exactly when automotive detailing first started in Brunei. But its enthusiasts and owners generally agree that ten years ago the noun of detailing – had yet to enter mainstream vocabulary.
A specialized service that was once uncommon, auto detailing, in the simplest terms, is car cleaning done to a very high standard. To have your car detailed is restore it to its showroom shine.
Whether it's dulled paint, minor scratches, yellowed headlamps or crusting leather, detailers have the answers to the more stubborn cosmetic problems that regular car washes don't. But it comes at a price.
Eddie attests to being one of the earliest detailers in the Sultanate, dating back to 2001 when he began with a partner to import small quantities of branded car products including Meguair's and 3D.
"As long as I can remember I've wanted to own a car," said Eddie who spent 17 years at Brunei Shell Petroleum (BSP). "When I was able to buy my first car (a Subaru Wagon) it was the biggest deal to me."
Despite progressing to a production operator at BSP, Eddie – a marine engineering diploma holder – always felt his career path would never hold the same promise as a degree graduate.
At the back of his mind, he needed a backup solution. Always enterprising, Eddie tried all manners of business from home, from reselling perfume to breeding exotic pets.
He eventually decided that his hobby of detailing – at that point a relatively unknown pursuit – would be the best fit. But business got off to a rough start when Eddie found himself swiftly beaten for distributorship of car care products twice.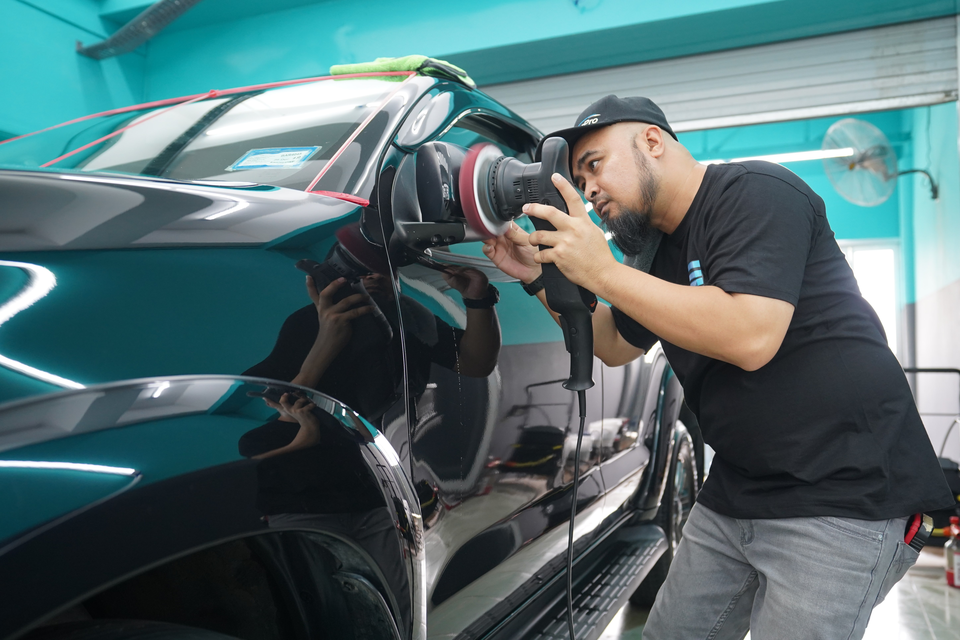 "We were bringing in new detailing products to Brunei on a small consignment basis from manufacturers," said Eddie. "I was trying to build up the cash flow and capital. But once they got even a little popular in the local market, other businessmen capitalized quicker. They simply paid down the money for the MOQ (minimum order quantity) and secured sole distributorship."
Though frustrated, Eddie never spent too much time licking his wounds. In 2013, he discovered CarPro online, and placed an order which included a product called Reload – an innovative spray-on liquid sealant touted as a longer-lasting alternative to traditional car wax.
"My customers were amazed with the results," said Eddie of Reload, which aside from leaving a deep wet gloss is also hydrophobic – enabling it to resist water and dirt.
CarPro also carries an unusual "loyalty" requirement. Sole distributorship is only open to companies who have been retailing their line for at least one year, said Eddie, with proof of extensive marketing efforts.
Racking up over 20,000 followers across Facebook and Instagram with hundreds of videos and posts; Eddie's raw, unedited clips unabashedly documenting and promoting CarPro saw him earn his first exclusive distributorship in 2015.
"You can find my home (address) on CarPro's website," said Eddie, who left his job at BSP this year. "As a home business, it was a huge achievement."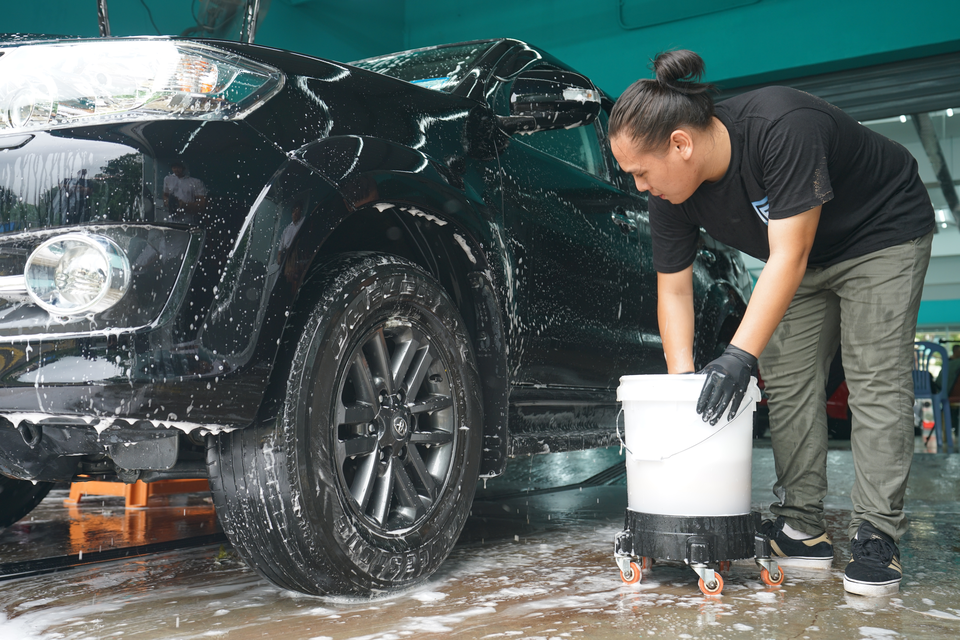 Ultraslick Detailing
In the same year that Eddie earned his exclusive distributorship, the early beginnings of Belait's most prominent auto detailer were starting to take shape.
In the national housing scheme (RPN) of Pandan 7, about a 20-minute drive from Eddie's house, a 25-year-old father with a prematurely born son in need of emergency surgery was facing his biggest test.
"A week after I came back to my office after my son was born I saw a letter from my employer on my desk," recalls Azim Azamain. "It read that they would be exiting Brunei in the downturn. I would be terminated."
Azim frantically applied for jobs while he served his one month notice, but no one called for an interview.
A teenage delinquent who dropped out of school at 13-years-old, Azim's attempt to reform his life had already taken the better part of a decade, beginning with stocking the shelves of Soon Lee for $300 a month.
Similarly to Eddie, Azim slowly climbed the ladder in an oil and gas industry littered with degree graduates. At 24, Azim's career appeared to take its most promising turn when a multinational contractor hired him as a permit holder with a monthly salary close to $4,000. But it turns out that his biggest break was yet to come.
"I got a message one day from a guy looking to buy some quality car products to do detailing from home," explains Eddy of how his partnership with Azim (pictured L below) first started. "He was doing it all by himself. Just like me."
Detailing second's wave
When Azim began pushing detailing to the masses online, marketing premium car washes between $20 to $50 along with detailing packages for several hundred dollars that would be done from his home garage, the first reaction was of ridicule.
"I had a lot of doubts myself. Would people be willing to pay for detailing – something they don't know much about yet – when the economy is not doing well?" said Azim (R).
"But I focused on one customer at a time. I told them that we'd be happy to prove them wrong. I said: 'If you aren't happy with the result, don't pay'."
As orders began to pick up, Azim hired a few youth from the surrounding community, and towards the end of the October 2016, he had a startling reveal when I first interviewed him: he had hit his first monthly gross of $10,000.
The ensuing headline of a home car wash hitting five-figure sales created an explosive reaction. Almost all the detailers I've spoken to since have heard of Ultraslick Detailing, and quite a few in fact – including those with much more sizable capital – capitalized on the opportunity by opening at commercial storefronts after learning of Azim's story.
Determined to not be left behind
Widespread media attention may have piqued the interest of investors in Azim's operation, but the moves – for whatever reason – never materialised.
In the three years that have followed his opening, Azim has been able to hire and train a dedicated full-time team of three, but he hasn't been able to scale much beyond the $10,000 mark from home.
Today, almost every national housing scheme has a set of its own home detailers, and almost every commercial area has one shop lot bearing glistening lights indicating a detailing operation within.
While Brunei has reportedly the third highest rate of car ownership (per capita) in the world, nobody quite knows – including detailers themselves – just how many are willing to fork out a premium to have their cars detailed.
For a service whose market is purely local however, there will be a saturation point, and Eddie and Azim are determined to ensure that they aren't left behind in a wave they arguably played a pivotal role in kickstarting.
"Earlier this year I called my most regular clients who run their own car wash from home," said Eddie. "I told them, we have to make our move before it's too late."
Perhaps it's a stretch to label CarPro's official distributor in Brunei and five car detailers with thousands of followers as underdogs.
But its the aptest description for the motley crew behind CarPro Empire, a group composed entirely of Brunei youth who now find themselves inside their first storefront at the Jerudong complex, without the backing of an investor or the flex of well-moneyed members.
"We're here because I believe we can grow together," sums up 31-year-old Mohd Syazwi Mohd Daud, the founder of Awee Polish formerly based out of RPN Lambak Kanan.
Working shifts at a DES powerplant, Syazwi spends his downtime detailing with his 19-year-old brother Mohd Adib who is now a full-time employee at CarPro Empire.
"My brother's grades were too poor for him to continue his studies after O-Levels," said Syazwi. "But he's been able to make himself a name through detailing; detailing has been good to us. But we both also want to learn more about business, and being here in a storefront is the best way to do it."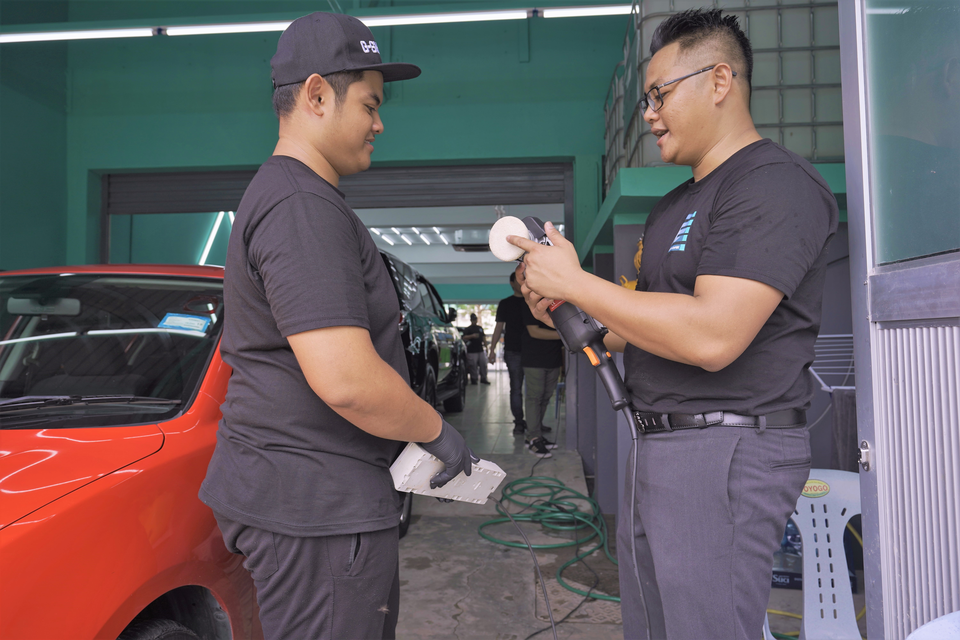 CarPro Empire is located at Unit 9, Ground Floor, Block D, Jerudong Complex, Spg 508 along Jalan Jerudong and is currently offering detailing packages between $199 to $599 and premium car washes at $39 (which are further discounted for bulk purchases).
Follow @caproempire on Facebook and Instagram for the latest updates. Contact +6738130800 to get in touch directly.