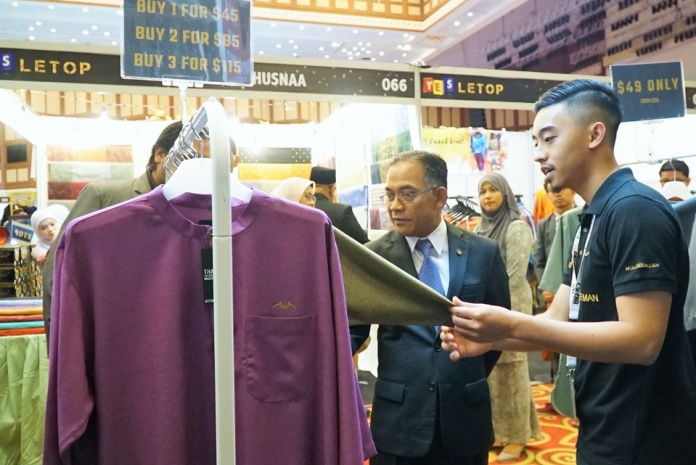 Battle Pro Marketing and Management Services are targeting to draw 35,000 visitors to their four-day sales event YES Letop which kicked off at the International Convention Centre in Berakas earlier today.
Now in its third edition, Battle Pro's founder Hj Syed Mohd Yassin Hj Syed Anayatullah Shah said YES Letop is looking to strengthen its position as the premier year-end sales event in the Sultanate with the addition of a special wedding exhibition called Kawin Letop held concurrently.
"In the first YES Letop (2016) we drew 20,000 visitors and 30,000 in 2017; it's become an event that's not only frequented by the public but is also a hit amongst local entrepreneurs because of its high traffic," said Syed.

"With (the addition of) Kawin Letop, visitors will also get to browse for services for weddings – from wedding halls to photography services to dresses and pelamin (wedding reception platform)."
YES Letop features over 90 businesses spread across ICC's Plenary, Delima and Perpaduan halls as well as the connecting concourse area, selling mostly fashion, electronics and consumables.
Syed said YES Letop is positioned as Battle Pro's second largest event of the year, behind pre-Hari Raya shopping event Letop Lebaran which has drawn over 60,000 visitors.
The Minister of Primary Resources and Tourism Yang Berhormat Dato Seri Setia Awang Haji Ali Apong who officiated the ceremony, said on the sidelines that he hoped YES Letop would help entice Brunei residents to spend locally to help boost the economy.
YES Letop is being held in conjunction with Brunei December Festival, a month-long series of events and promotions held to promote inbound and outbound tourism in the Sultanate.
Shoppers at YES Letop will stand a chance to win over $30,000 in prizes as well as a Peugeot 208.