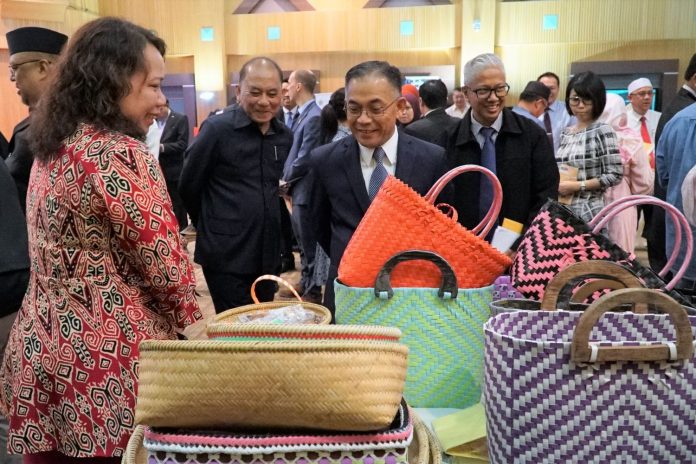 More than 40 local businesses in the tourism and hospitality industry have joined the Ministry of Primary Resources and Tourism's (MPRT) domestic tourism campaign Selera Bruneiku (a taste of Brunei).
The businesses will collectively be offering more than 50 activities across four districts for this year's end to provide Brunei residents with staycations, dining, and recreational activities as the nation maintains its ban on non-essential inbound and outbound travel as the global COVID-19 pandemic continues.
Selera Bruneiku is based on the concept of each district having its own unique cuisine and fresh ingredients, with 10 eateries and accommodation establishments developing promotional menus to give residents a wide selection of traditional dishes.
The main anchors are Park View Hotel, Rizqun International Hotel and Tarindak in Brunei-Muara; AZ Back 2 Nature, Stoneville Hotel, Trandie, Freme Rainforest Lodge and Sumbiling Eco Village in Temburong; Eco Ponies Gardens and The Lanes Hotel for Tutong and V-Plaza Hotel for Belait.
These anchors are also providing staycation packages or tours, to visit areas of interest within each respective districts in partnership with other tourism service providers. Other activities including camping, paintball and diving.
In total, 10 hotels, 12 tourism agencies and 26 tourism service providers are participating, creating more than 100 employment opportunities for Bruneians.
Continued domestic spending will be critical for the sector in the absence of tourist arrivals, which dropped by more than 70% in March before virtually ceasing since.
MPRT Minister YB Dato Seri Setia Awang Haji Ali Hj Apong said increasing domestic spending would not only help the tourism industry but food producers and eateries.
"This (domestic spend) will also help open up more business opportunities for our local entrepreneurs in the fields of agriculture, livestock and fisheries industries, as there would be a higher demand for meat products, poultry, fish, seafood, vegetable and the likes in local restaurants," he said.
MPRT has also been conducting customer service programmes for tour operators that incorporates Islamic values with training institutions including SEAMO VOCTECH and Seri Begawan University College of Religious Studies.
Cultural experiences hope to leverage on food promotions to pull crowds
Acting Deputy Director of the Tourism Development Department Salinah Hj Mohd Salleh said Selera Bruneiku was developed from their research showing that residents primarily base their travels around the country surrounding where and what to eat.
An example of the anchor provider partnering to offer cultural experiences is The Lanes Hotel in Tutong, who are working with more boutique, cultural sites such as Lamin Warisan and Eco Ponies Garden.
The hotel's Tutong Delicacies menu features items such as Nasi Lemak Pandan Seri Kenangan which consists of deer meat rendang served with a side of fragrant rice cooked in coconut milk and spiced chicken.
As part of its staycation package, guests can visit Lamin Warisan – the home of the former penghulu mukim Bendahari Hj Ghafar that's been turned into a small museum where people can learn about Tutong's dialect, food and culture.
The Chairperson of Lamin Warisan Nornaqibah Abdul Hamid said the pandemic has lead to greater cooperation amongst local providers that can bring wider exposure to lesser-known sites.
Another community-based tour operator Kommunihub Co are organising classes for making parang (machete) making, traditional cooking and woodworking in Tutong taught by the local community.